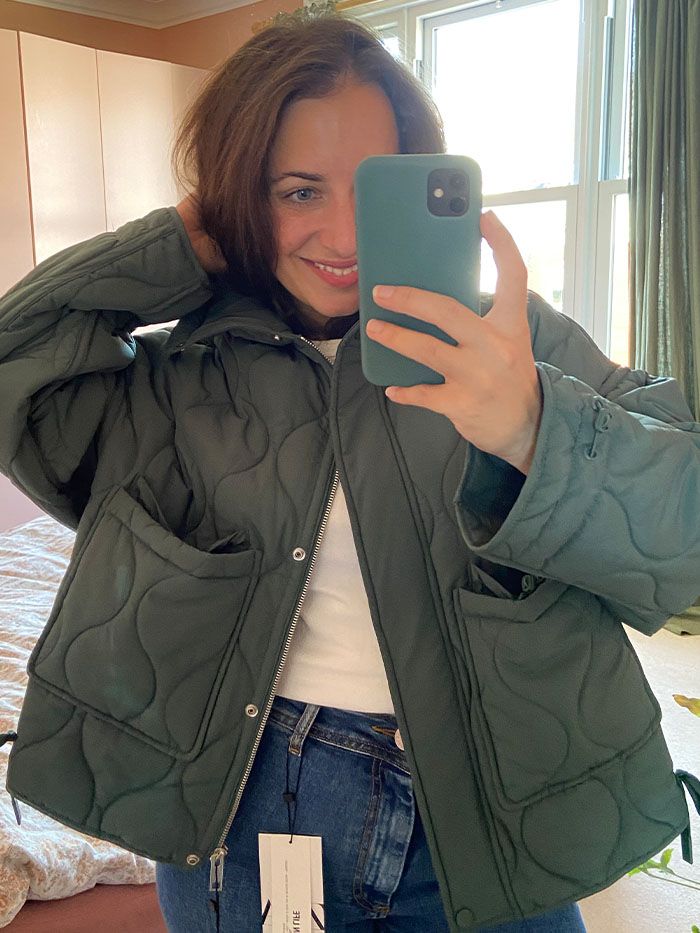 Welcome to The Great Try-On. With autumn well and truly in the air, we seized the opportunity to try on some of the best new-in pieces from some of your favourite brands, documenting the process along the way. We believe that the best way to shop online is to see an item IRL and to read candid reviews, so we hope that this leads you to your most successful purchases on the year.
I'm a very fussy shopper. Whether I'm shopping high-street or high-end, I spend so much time deliberating my purchases that I often miss out on items selling quicker than I can make up my mind. The reason the pieces I buy are very considered is that I have enough in my wardrobe already. Its bulging doors speak for the 15 years I've worked in the fashion industry, and no matter how much I resell, lend or give away, the collection doesn't seem to diminish. So something has to be really, really good to make its way onto the busy, hallowed rails. Items have to work extra, extra hard if they're from the high street because I feel the weight of responsibility to buy less, buy better and get plenty of wear out of anything I own, old or new.
I'm not the kind of person who feels comfortable doing a smash-and-grab kind of haul, and I've never gone wild in the aisles of Zara, but I can fully appreciate the strengths of the brand and why others love it so: It's adored for its ability to turn around trends with incredible accuracy and speed, and that's not just about copying the high street but generating its own cult moments. The megastore is rooted in its tailoring, so those pieces are always guaranteed winners, and it's introduced an increasing amount of super-premium pieces over the past few years, leaving some younger-looking high-street labels in the dust for anyone who is over 25.
I ordered two giant boxes of Zara pieces to come to my house—here's what I thought was worth recommending.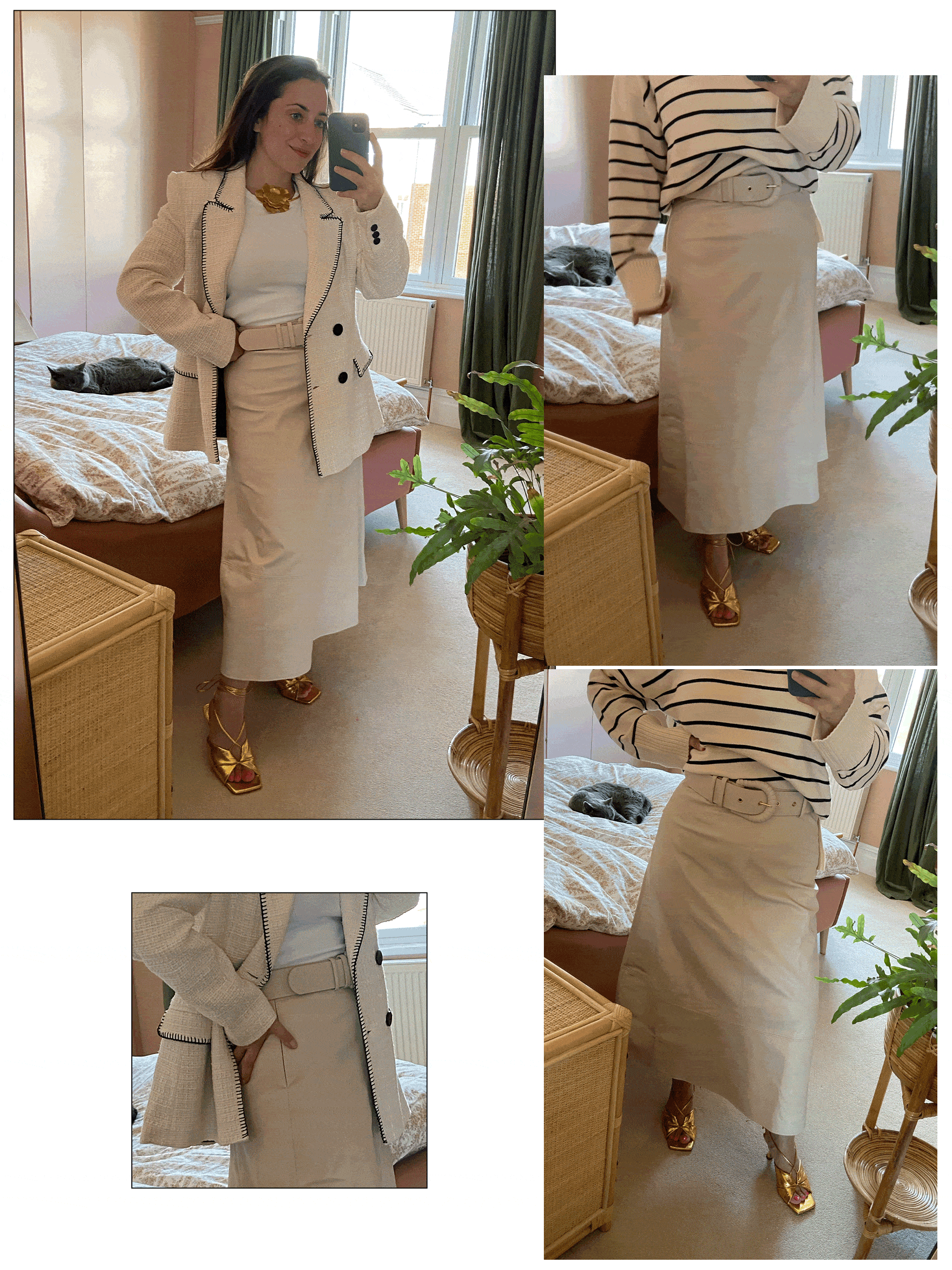 My review: Let's start strong with a piece I ended up buying! I didn't set about this journey thinking my experiment would convert to a purchase, but I am always on the lookout for comfortable pieces that seem polished. I have a sticky-handed toddler to roll about on the floor with before and after work, so the fancy clothes I used to wear to the office are a bit much for my current lifestyle. This means a cream skirt would usually be out of the question, but this, in faux leather, can be wiped clean. Ta-da! Practical.
It wasn't just the fabric that hooked me in. The exaggerated A-line fit (note the additional wide panel at the bottom of the skirt for extra volume) and detailed leather-wrapped giant buckle gave this some '70s flair, which I'm always in the market for.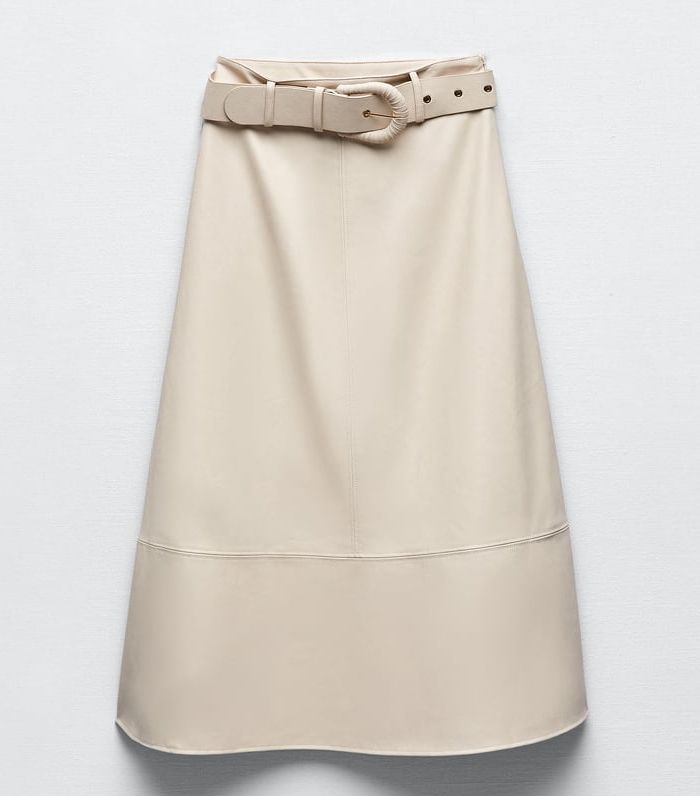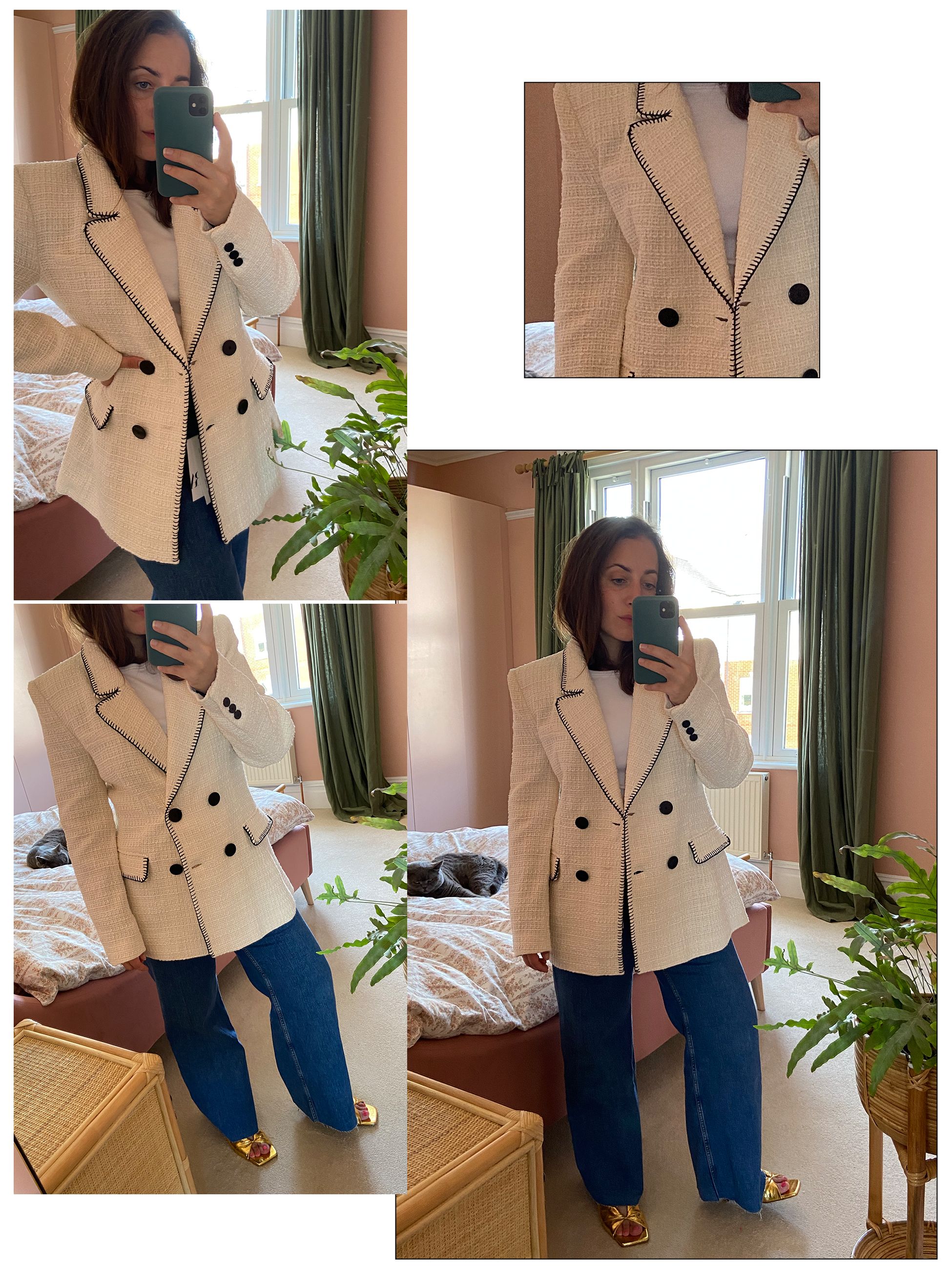 My review: Zara's bouclé jackets have become something of a classic in their own right. Many editors I know still have iterations from a good decade or so ago, and they look just as good today. So I was keen to try on this whipstitched iteration and thrilled with the result. The fit is impeccable (and this comes from someone who is petite and hourglass and normally struggles with sizing), and I really appreciated the sharper, '40s-style shoulder pads for a little extra drama than your average blazer. It looked good both undone and buttoned-up, which is the true test of a useful jacket!
What tempted me to try this style over anything else was the fact it is monochrome, ergo much more likely to go with a lot more in one's wardrobe than something that has other colours woven into the tweed. I tried it on with multiple looks (as you'll see through this gallery), and it didn't let me down. This jacket features at least 15% recycled cotton (would love to see more!) but an acetate lining, which slightly undermines the sustainable efforts here.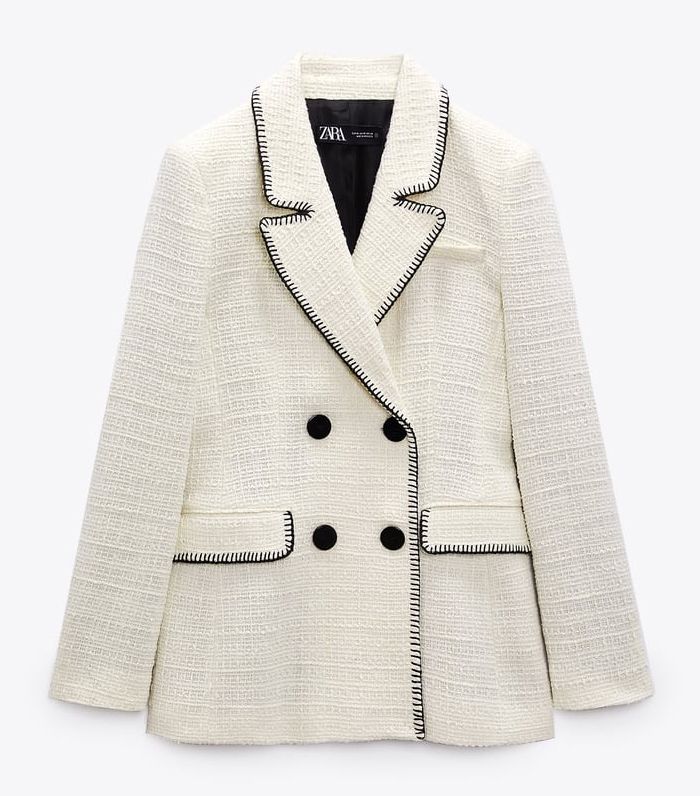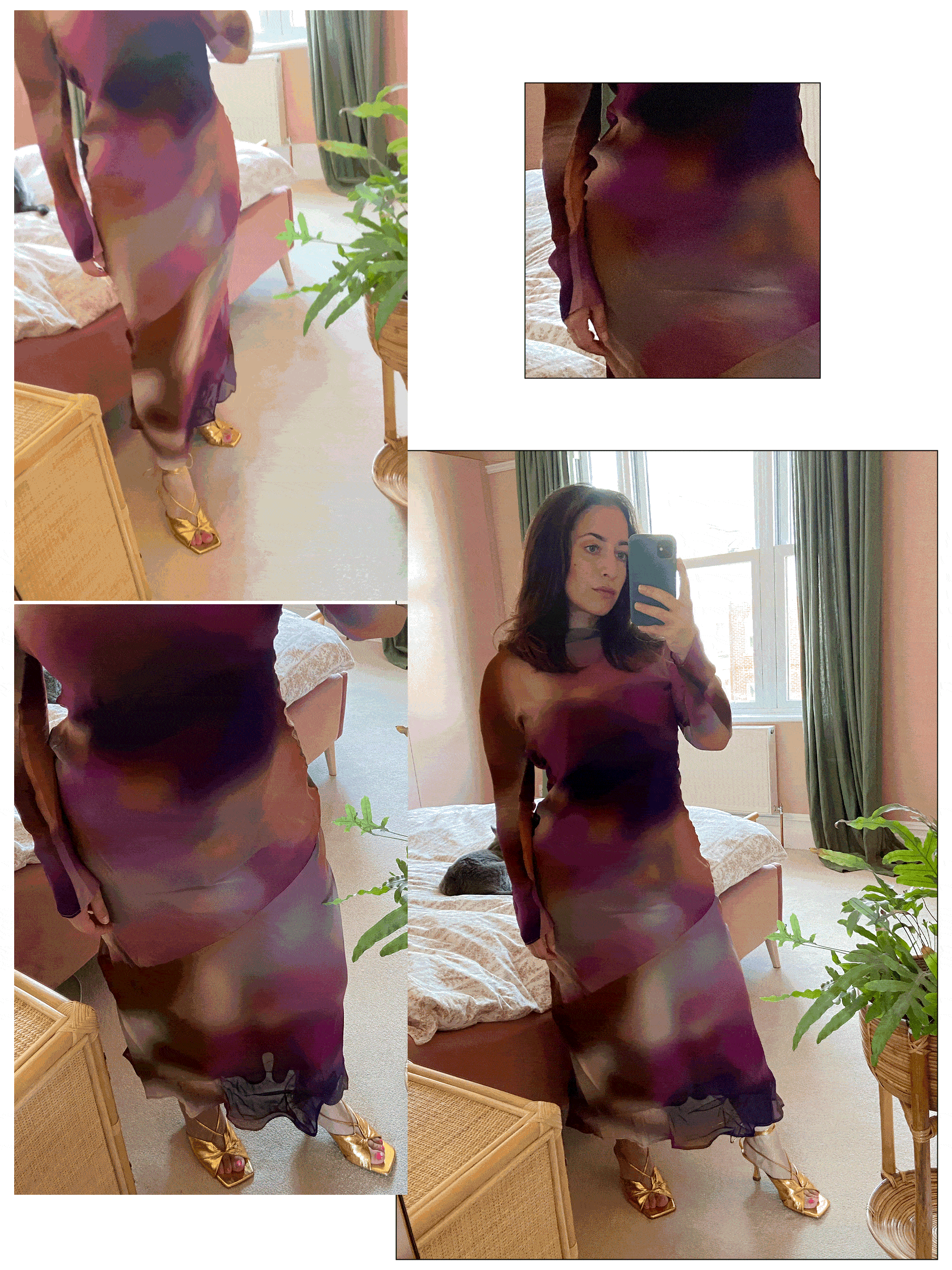 My review: There were very few dresses from Zara that I felt I wanted to try on, mostly because everything I was interested in kept on selling out too quickly! Zara's printed mesh tube dresses have been my number one focus, but they are flying off the virtual rails quicker than I can hit "add to basket." So I went for the next best thing: this tie-dye, bias-cut, chiffon number.
What I loved about it was the incredible, romantic colour palette—so rich for autumn yet still the kind of lightweight dress you could easily wear in the summer with sandals, especially as it has a strappy back. That leads me to what was problematic about this very pretty style—it is a tricky one to get in and out of. I was happy to learn that it did have a built-in slip to protect my modesty, but how that does up alongside the backless ties is still a slight mystery to me. I didn't really have the time to untangle myself to properly work it out, so if you're after a throw-on-and-go kind of dress, this is not the one. Additionally, it was a little bit tight on my upper arms despite fitting nicely elsewhere. To size up would've ruined the overall effect, so it's more of a keep-in-mind anecdote if, like me, you don't have super-slim arms.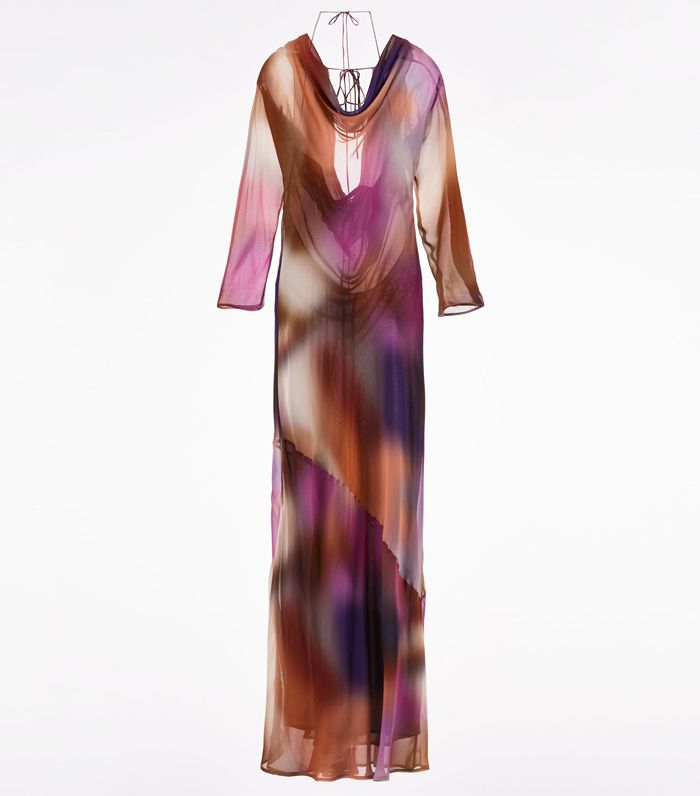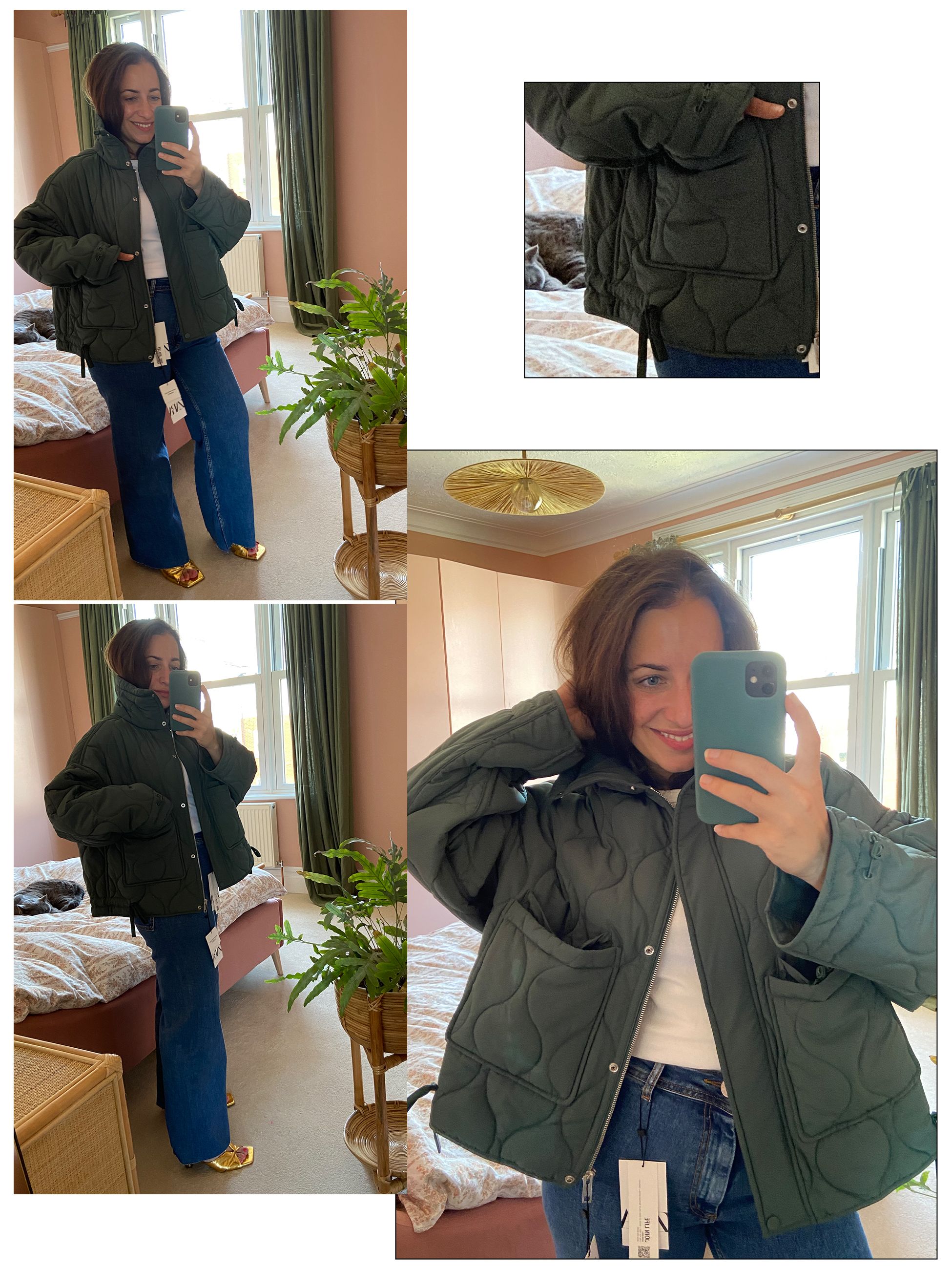 My review: I didn't know I was a padded-jacket girl until I tried this on! I've watched from afar while The Frankie Shop's Ripstop jacket has taken over the fashion world but never felt it was the trend for me to get involved in—the silhouette is very oversized, and I know it would swamp me. However, what's better for my frame about this quilted jacket is that it is much shorter in length. There is still that swingy volume at the back, but it cuts much higher up, which helps balance out my proportions.
This jacket promises to be water-repellent (that's not totally water-resistant, note the language!) and I hope it lives up to its label because this could be a really handy little number for the autumn months and rainy-day walks. I appreciate the extra detailing in this style that warrants its more premium price point in comparison to other quilted jackets on offer at the store—double patch pockets, a structured collar and bow-tie drawstrings on the hem all add extra character. Yes, I bought it. And yes, my mum bought it too!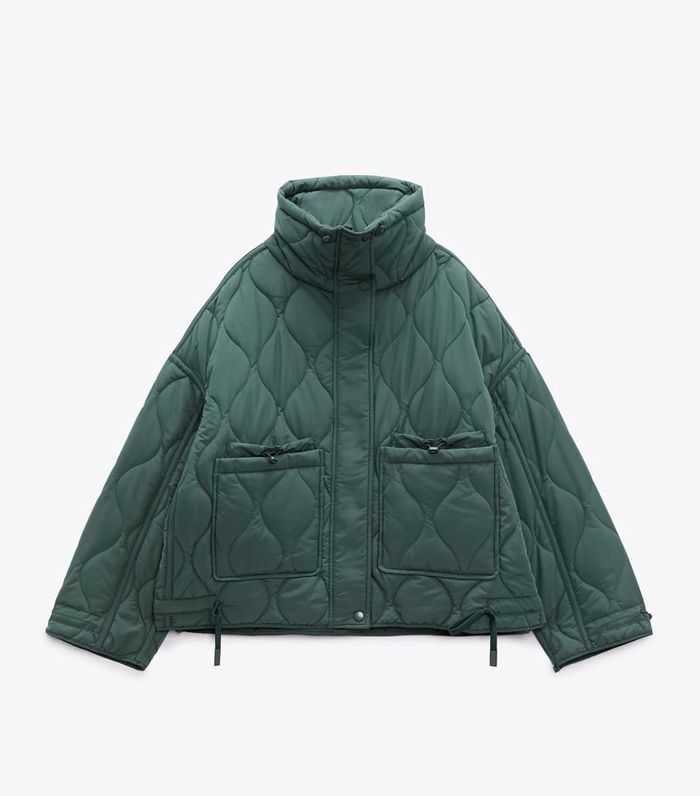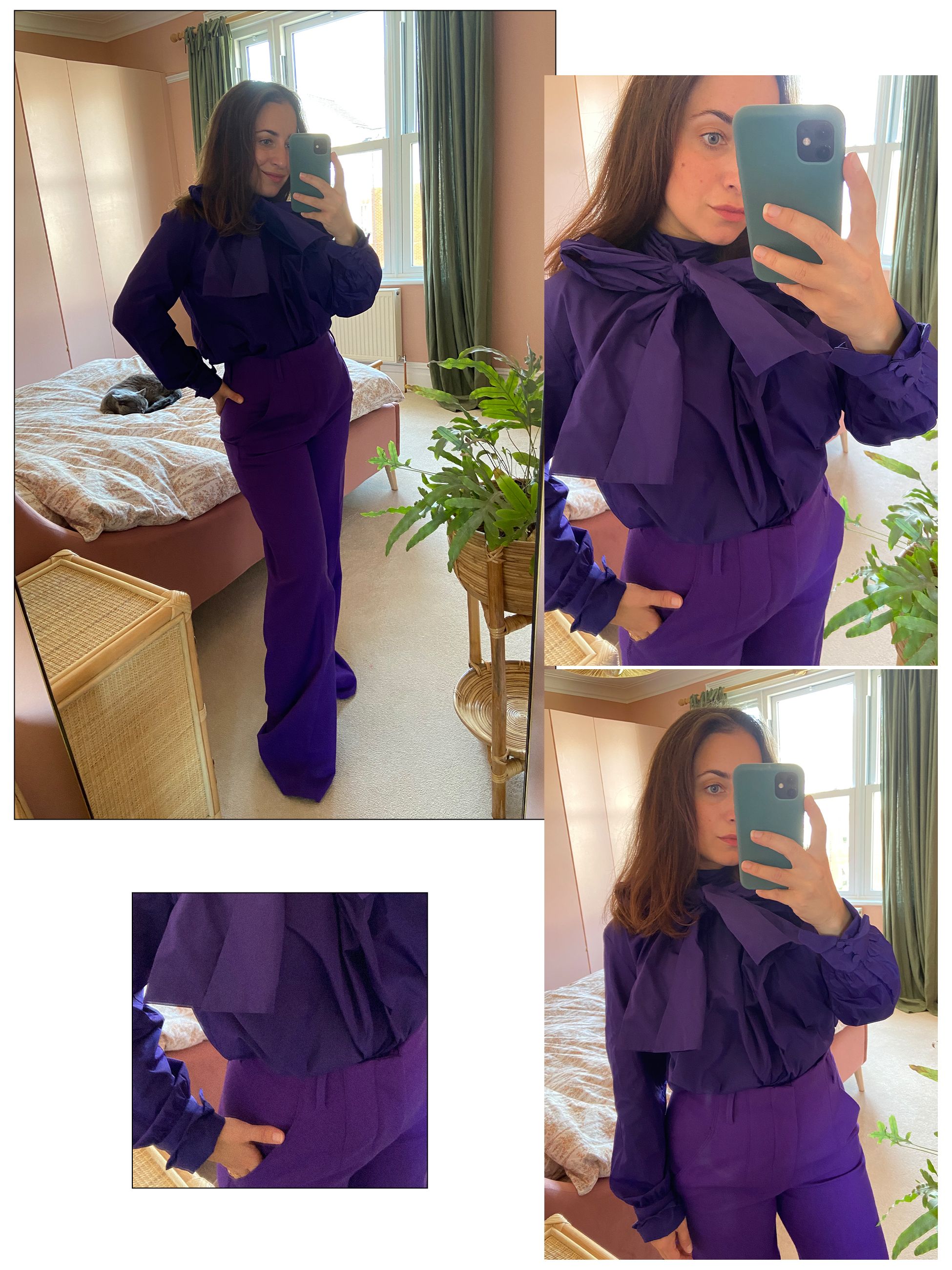 My review: Purple is making a big splash for A/W 22, so I had to try on this punchy pussy-bow blouse and matching tailored trousers for size. Naturally, the trousers were about 18 miles too long for me (all high-street trousers are, and they're supposedly made that way for the very purpose of you tailoring them to fit perfectly), but the colour was undeniably fun! The trousers were snug on my thighs,, but to size up would destroy the fitted waist.
The blouse's taffeta fabrication was satisfyingly weighty and crunchy (if you know, you know), and the bow held its place well unlike other flimsier fabrics that could have easily drooped—what's more is that it is made from recycled polyester, which is a far better option for the environment than new polyester. It is quite oversized in the body, so I would recommend sizing down if you aren't as keen on a voluminous fit and want to tuck this in. The sleeves are suitably dramatic, if a little too long on my shorter arms.
As for the trousers, they reminded me of when Victoria Beckham went through that colour-blocking phase a few years ago. She would often wear very long, wide-leg trousers with stacked heels underneath and a matching or clashing top. It's a bold look for the office or a night out, but you could easily tone each piece down with more neutral hues. I always appreciate a decent pocket (a real pocket!) on trousers, skirts and dresses, so these were a bonus in such a smart pair of trousers. Ideally, you'd want your tailoring in natural, organic fibres (these would be great in a wool mix, for example), but as they are, at least they are predominantly recycled polyester with a viscose blend.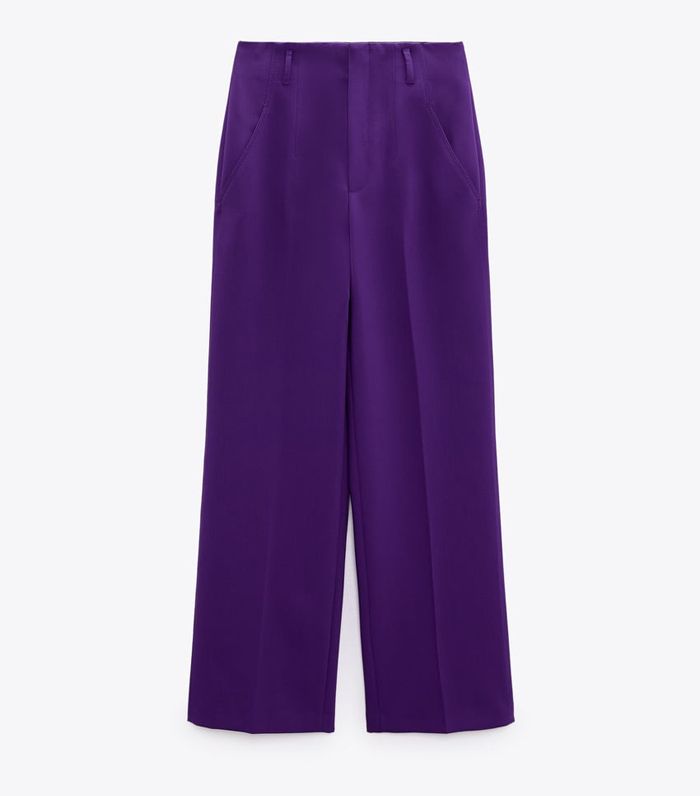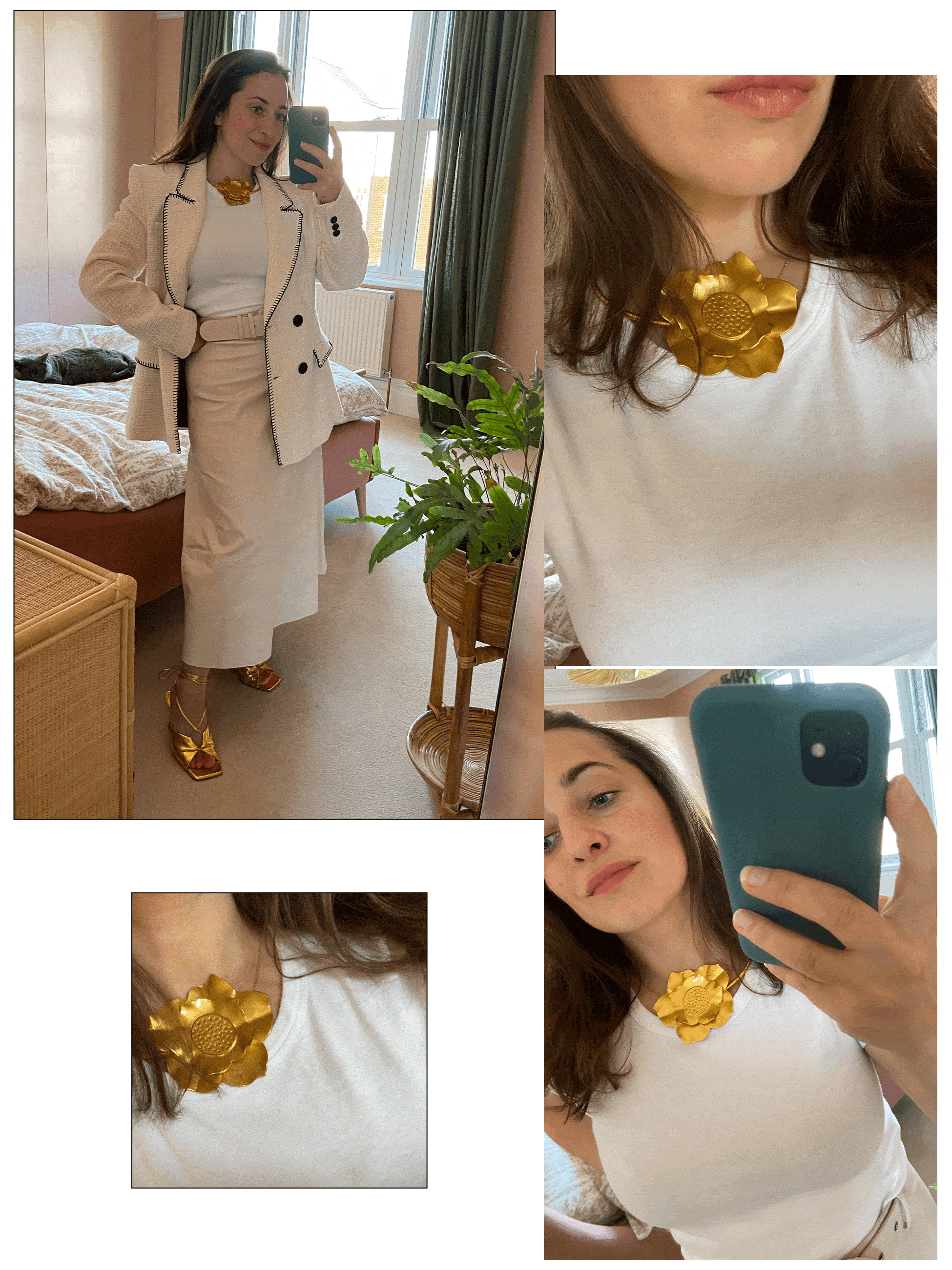 My review: I'm a sucker for gold jewellery, and there was something so trend-less about this unique, quirky piece that I thought it would make for a handy piece to add to my collection. Structured, sculptural pieces like this don't come onto the high street very often, so it definitely has the air of a more expensive buy. The choker is very lightweight and comfortable to wear and makes the simplest of tops look more interesting for day. I know this would also work well with a black dress, bare décolletage and red lipstick after dark.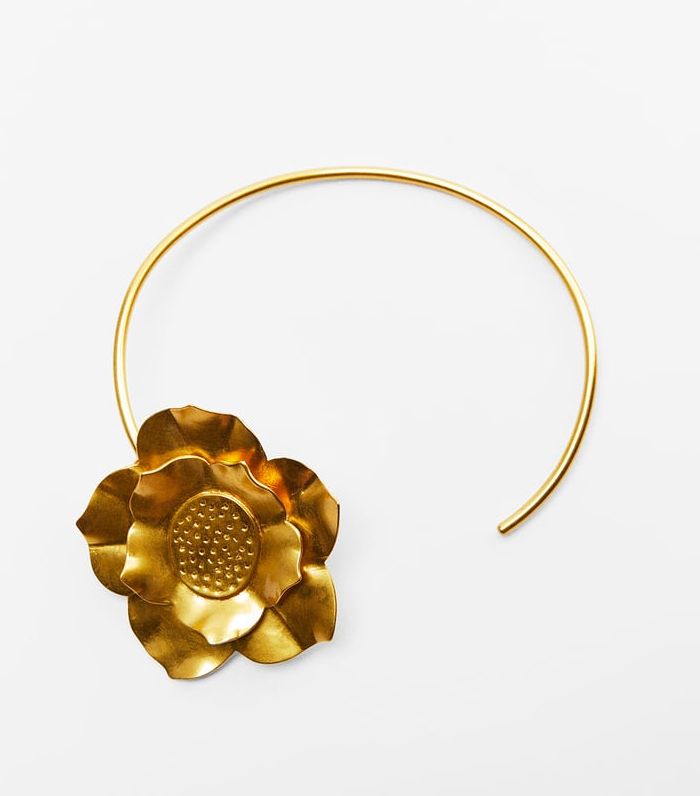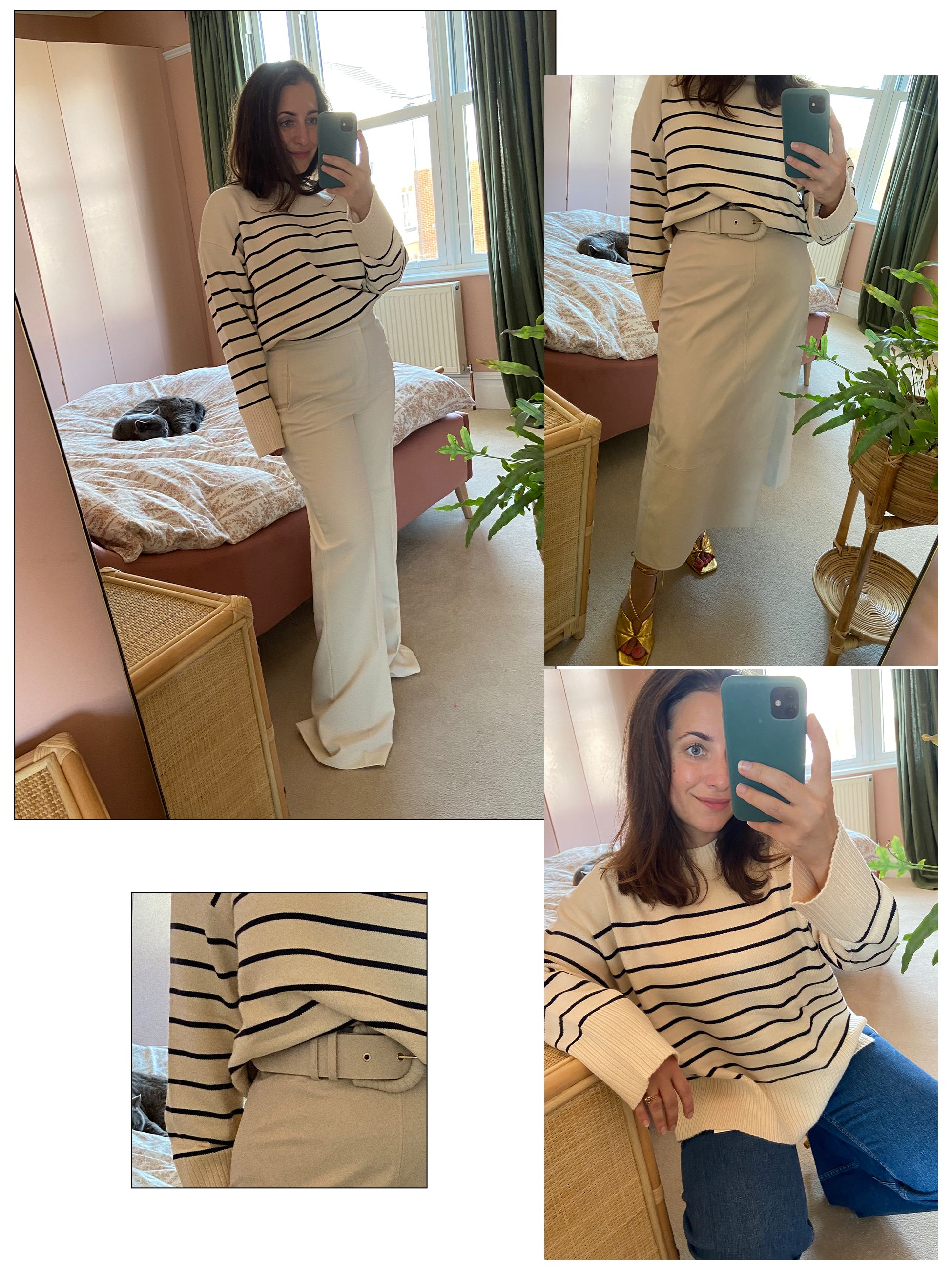 My review: One striped sweater is much like another, but I appreciated the slouchy fit and super-soft knit on this one. The deep ribbed hems, cuff and neckline also add a premium feel. This is predominantly composed of viscose, which is a more sustainable and environmentally conscious fabric—you can see see more details on composition on each product's landing page on Zara.
This jumper worked with a lot of the pieces I tried on, from the faux-leather skirt to jeans to tailored trousers. It'd also be good layered over a slip dress or knotted around one's shoulders on a warmer autumn day. You could get heaps of wear out of this.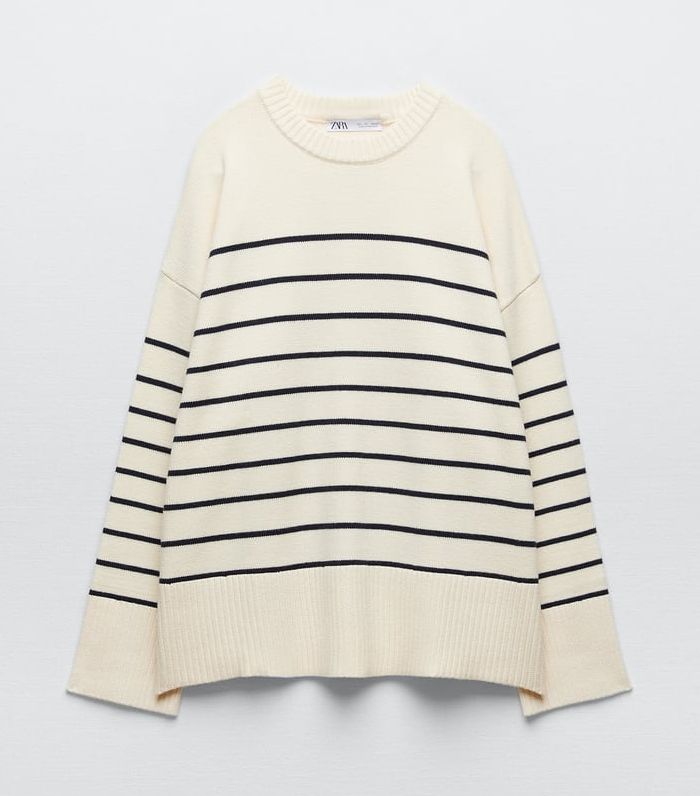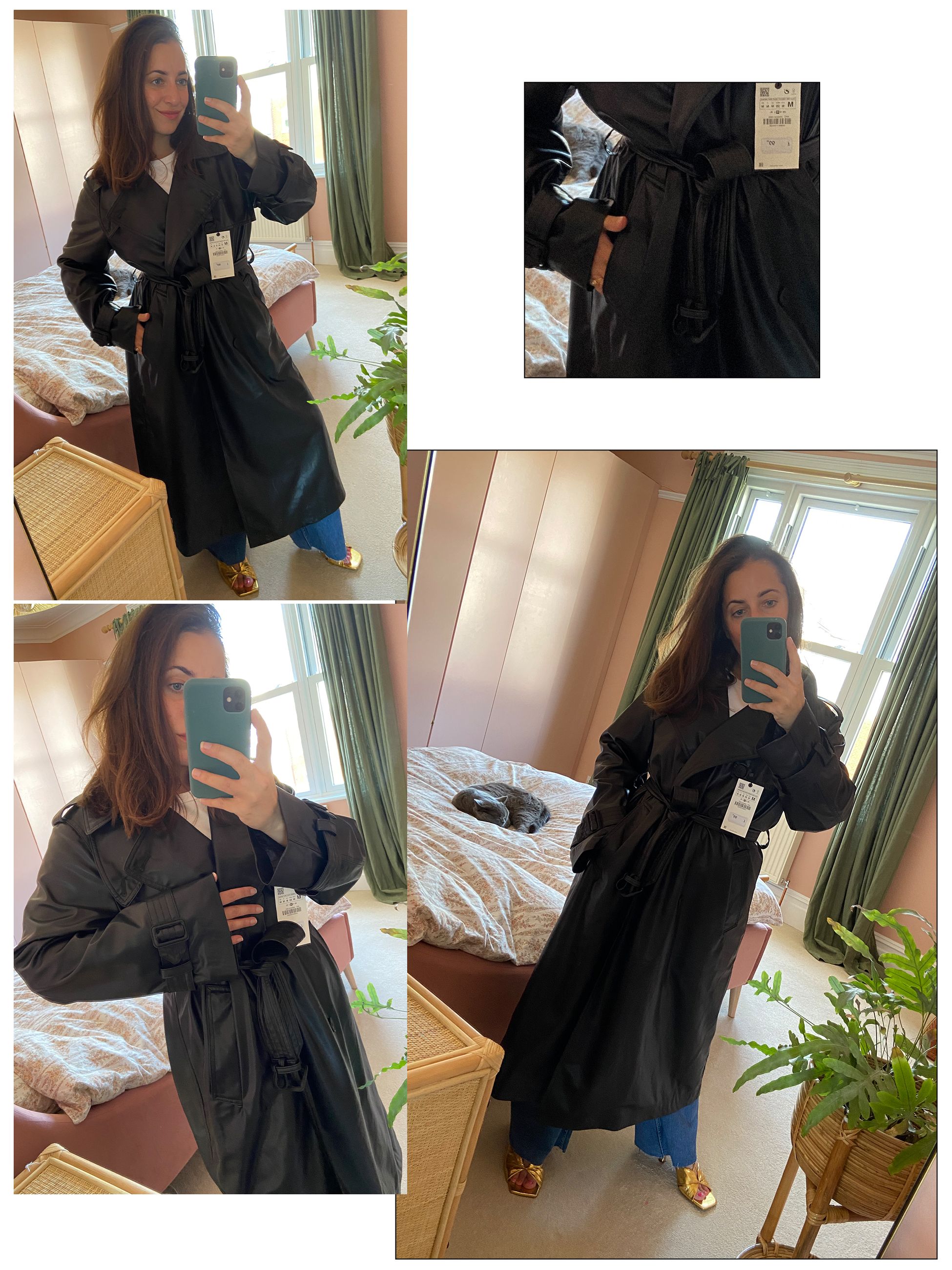 My review: Upon unboxing, I was almost totally tricked into thinking this was real leather. This coat is so (enjoyably) heavy and big that it required its own box, separate from the rest of the delivery. The feel is convincing, and for those of us who might not be able to splash out on a leather trench but feel it is something we'd get lots of wear out of, then this style from Zara makes for a good alternative. Some faux-leather fabrics are too shiny and plastic-looking for my liking, but this was muted, supple and more matte.
It's this details on this particular faux-leather trench coat that stood out to me. The wraparound buckle for the neck, the stitched cuffs and belt, the epaulettes. It's a roomy fit, and you could definitely wear it into the winter with chunkier layers underneath, but it looks all the cooler for being a little more louche and relaxed rather than a super-form-fitting kind of trench coat.
On the model, it hits to just below the knee; on me, it was more of a maxi style. So an average-height person would probably find this coat hem reaching mid-calf, and I think you could afford to go down a size if you don't want that looser silhouette.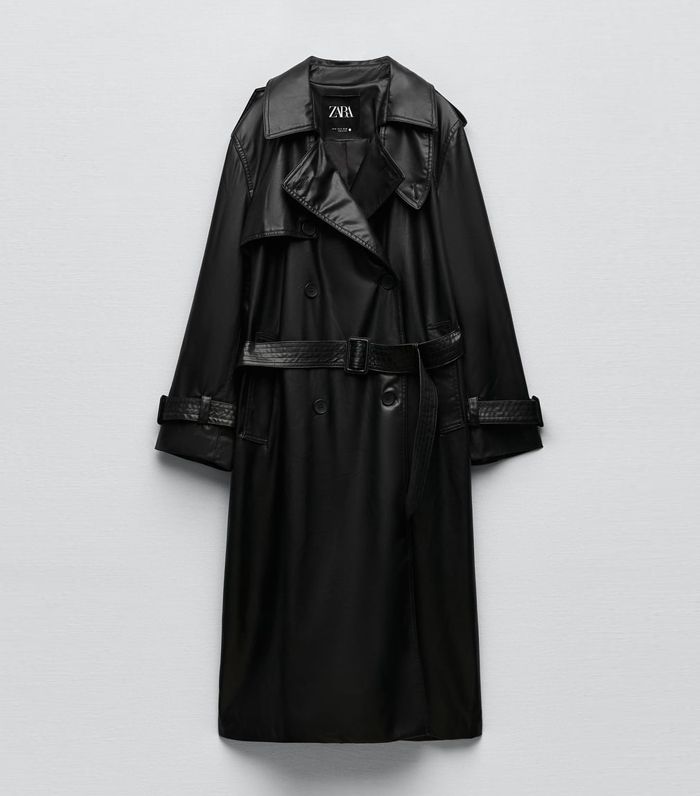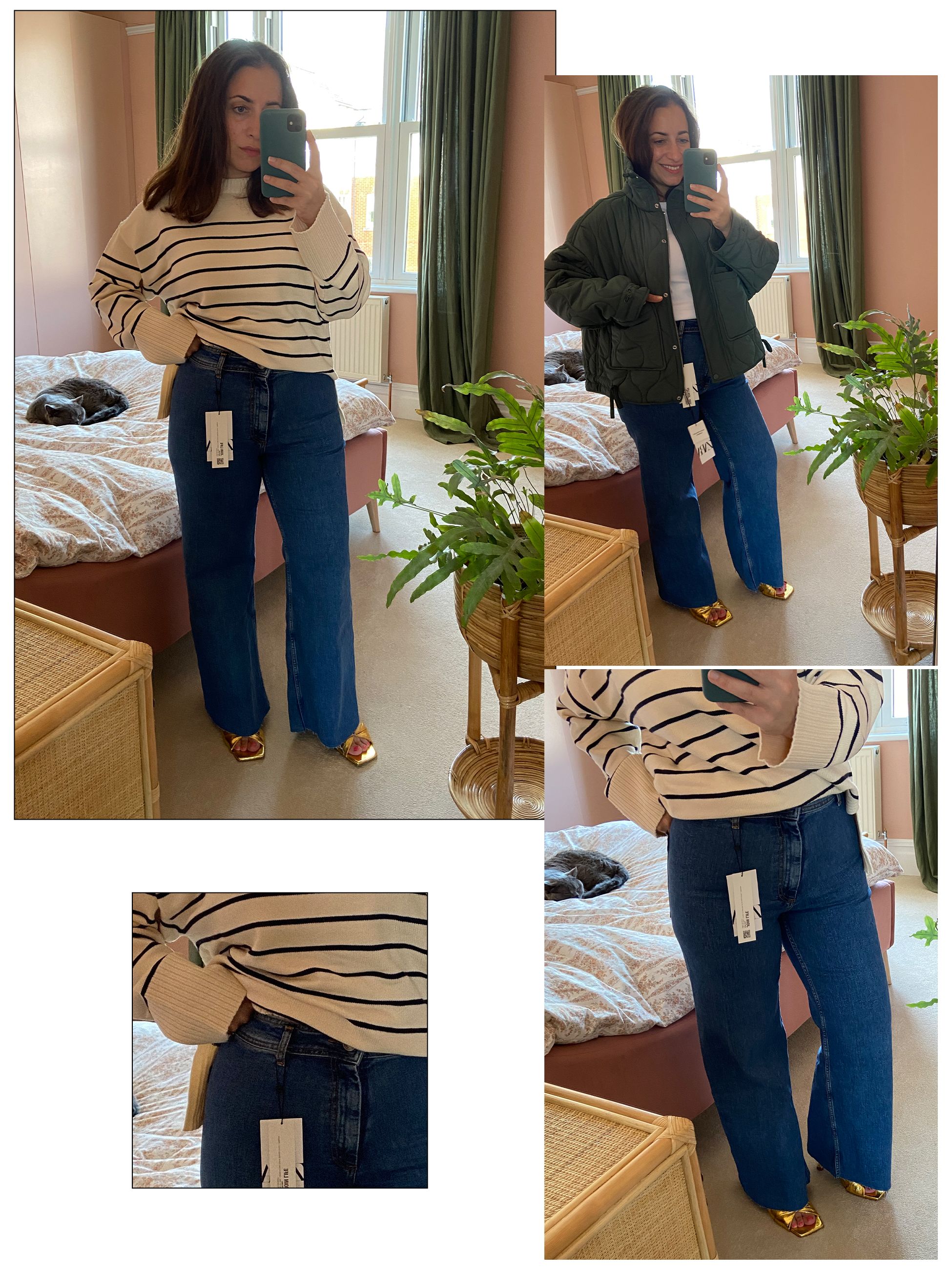 My review: Zara's trouser department and I… We've had a rocky relationship over the years, and it doesn't look like we've quite overcome all of our issues! I really enjoyed the feel of the jeans (the waist was a perfect fit, and the stretch is preferable to a rigid for denim for me personally), but I definitely needed to go a size up from what I would normally order. Because these hugged my thighs a little too closely, I felt I lost the effect of the wider-leg silhouette. I am wearing a 12 but should really have a 14.
I wanted to try these after spotting them on our regular columnist Monikh's Instagram, and I can see why she liked them, as they are a comfy classic shape, and if you buy the right size, you'd get plenty of use out of them. For us petite people, it's a good idea to lop the hem off, but that's easy because it's a raw-cut hem already, so no stitching or faffing required.
I liked the wash name of these—Basta Blue—basta meaning "enough" in Spanish, and I agree they were just the right shade of true blue!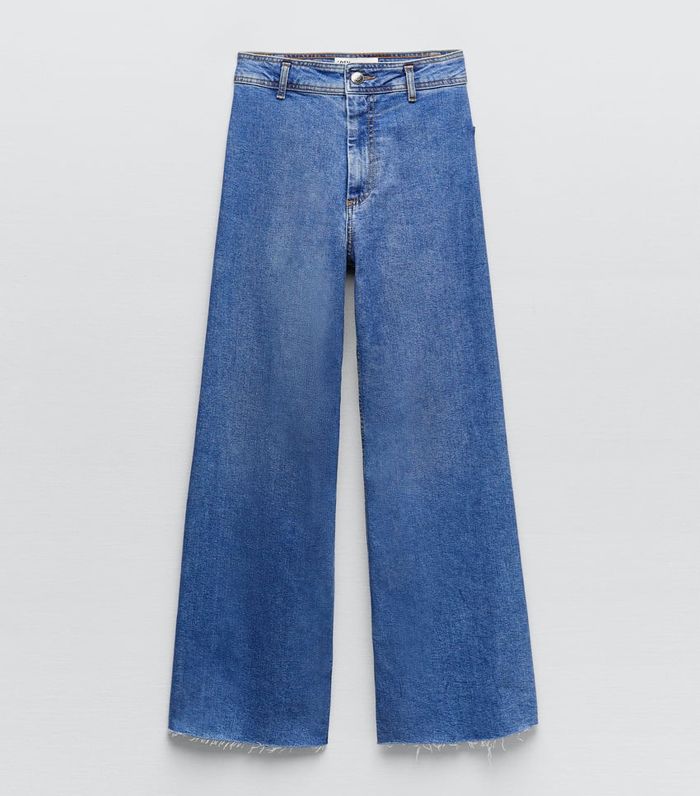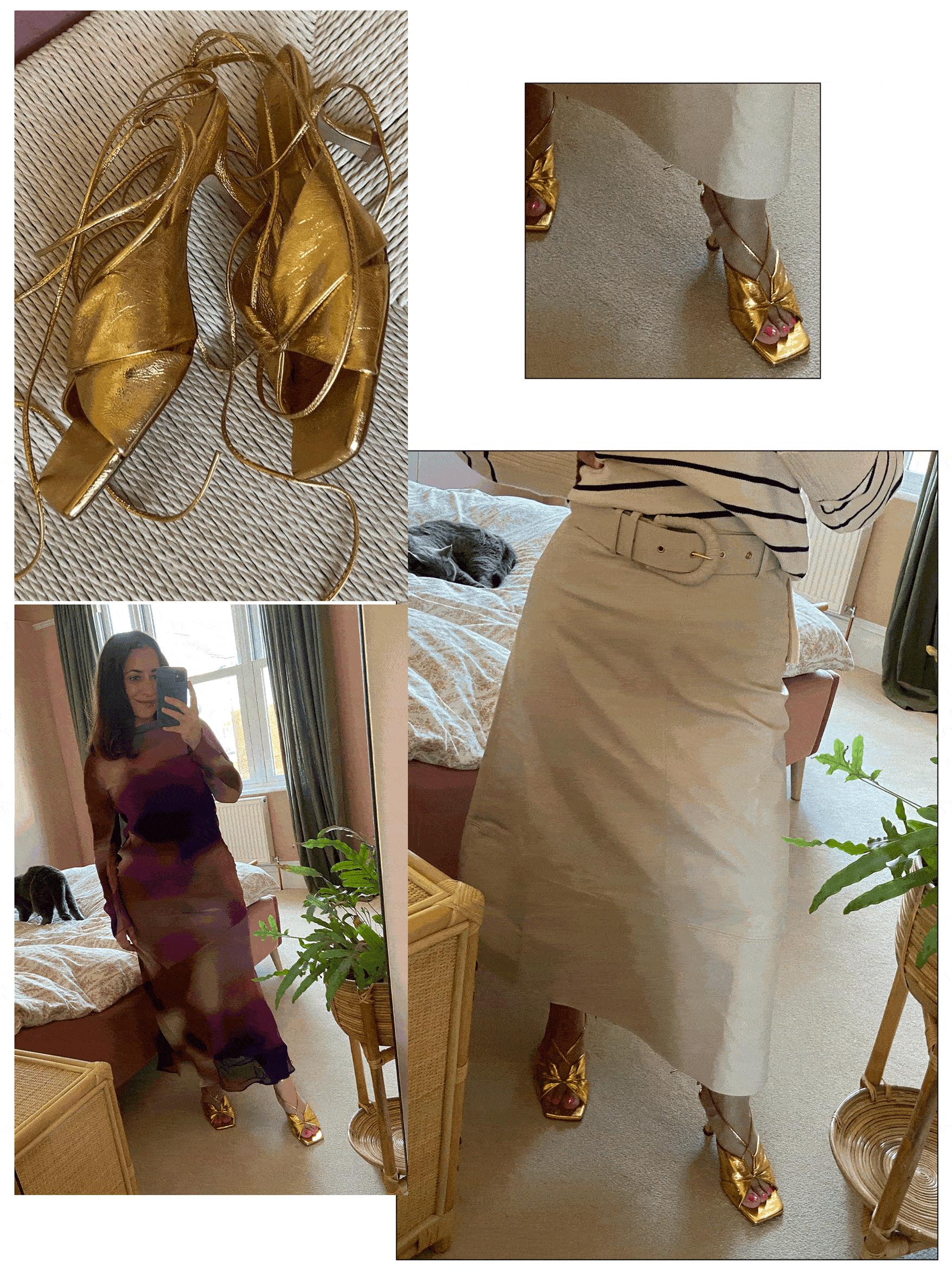 My review: You might have noticed by now that all of the Zara looks have been styled with a pair of strappy gold sandals. These are actually mine, from Zara, that I bought a month or so ago ahead of Copenhagen Fashion Week, a wedding and a party that I needed to attend. Gold (or silver) heels are like the fashion person's nude shoes—they go with everything. But what's great about these is that they're made of real leather (and very soft leather at that), wide-fitting (I'm cursed with wide, flat feet—how glam), and easy to spend all night dancing in thanks to their kitten heel.
So good are these Zara sandals that I actually saw them in every colourway on the Baum Und Pferdgarten runway when I was in Copenhagen! It looks like it's only the pink and gold that are still available, but if you like a low heel and want a pair of fancy shoes that look great with event dresses as well as jeans, these are the pair to check out.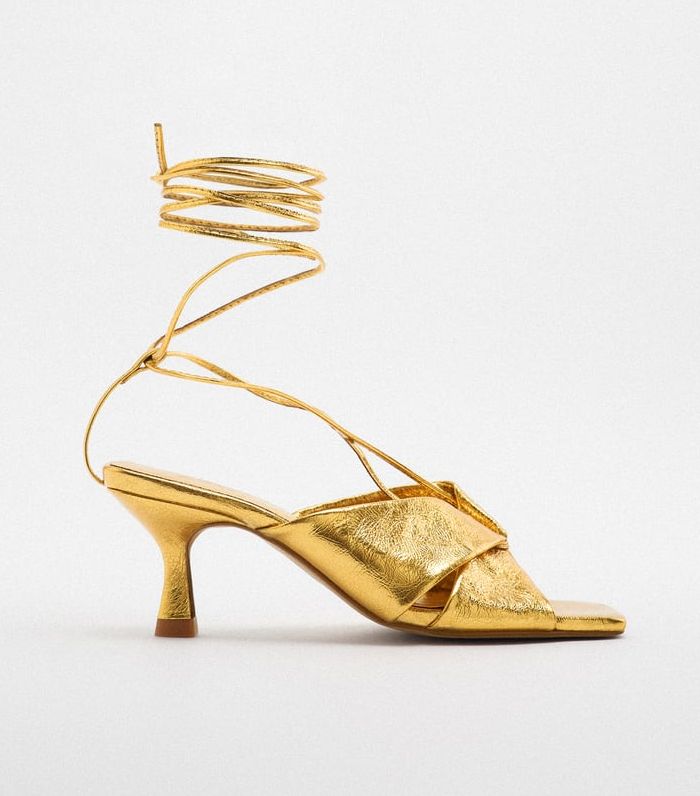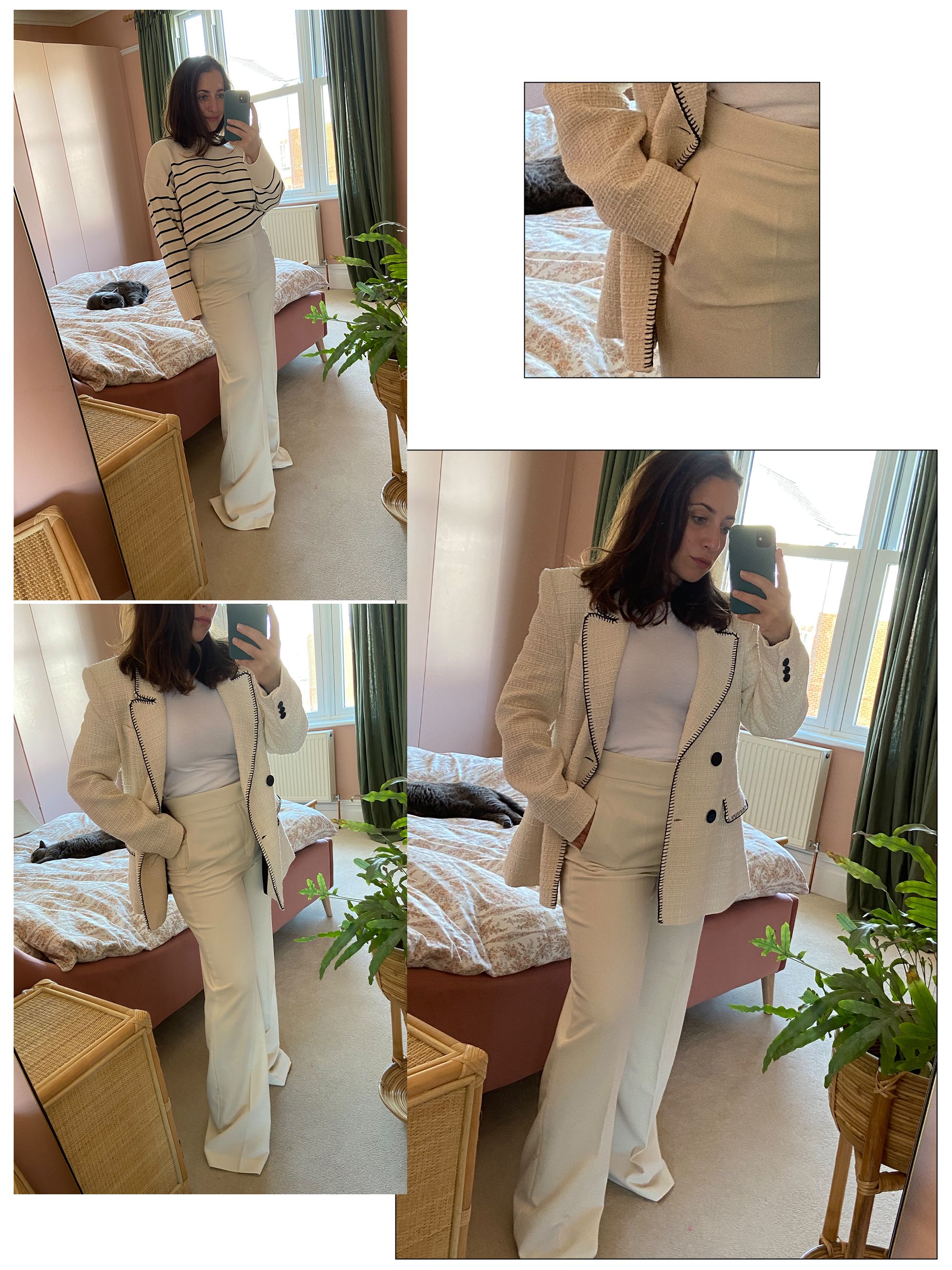 My review: I don't really know what "regular fit" is supposed to mean, but I liked these trousers regardless! I aspire to look like one of those rich-and-unbothered people who are chaffeur-driven and can easily get away with wearing cream head to toe. This pair of slacks gets me one step closer.
They don't really look up to much in photos, but in real life, they were lovely to wear, actually fit in my size (halleluljah!) and worked with various tops and jackets. They make for a nice variation to black trousers for the office, and you could still get additional mileage out of them in the summer and spring months. They are made of ECOVERO viscose and recycled polyester but actually felt more like a natural wool mix, which was a nice surprise. These do come with a matching Minimalist Blazer (£100) should you be interested in replicating a Bianca Jagger kind of aesthetic.