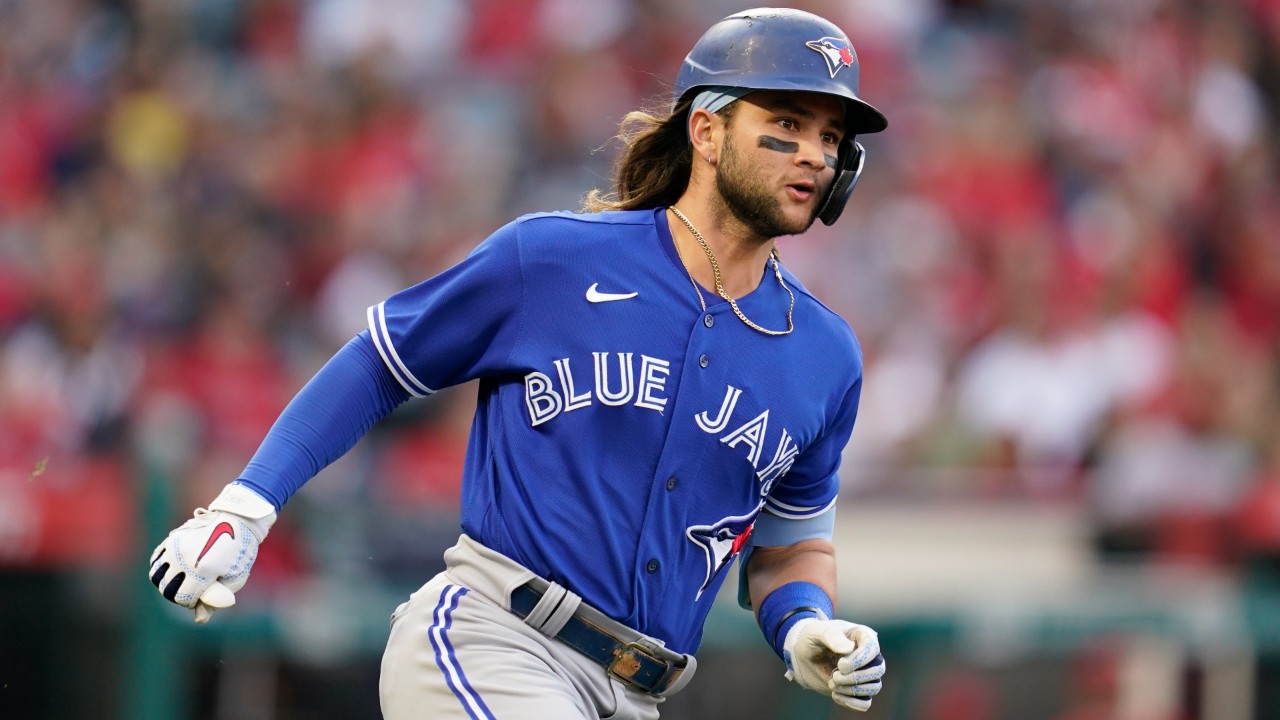 So, yeah, Lourdes Gurriel, Jr., should have called off Bo Bichette louder and quicker on Thursday and avoided the collision that cost Bichette a start on Friday.
But you can blame me if you want, too, because – and this is truth – I spent the previous two days talking to people about how it is that, in an organization so heavily into high performance, load management, managing sleep patterns, water intake, grip strength and the like… Bo Bichette never gets a day off.
"Bo is built differently," said Toronto Blue Jays manager John Schneider. "One sixty-two is a real number to him."
That would be 162 games – as in a full Major League season. Going into Friday, just four Major Leaguers had appeared in all of their teams games: Dansby Swanson and Matt Olson of the Atlanta Braves, and Freddie Freeman and Trea Turner of the Los Angeles Dodgers.
Last season, just two players appeared in all 162 games: Marcus Semien of the Blue Jays and Whit Merrifield of the Kansas City Royals. Vladimir Guerrero Jr. was one of two players to appear in 161 games. Bichette played in 159.
One sixty-two in 2022 disappeared for Bichette on June 17 when he sat out a game against the New York Yankees with a foot contusion. But even in a season of diminished – in some cases drastically diminished – offensive returns, Bichette is still out there every day and in every game come statistical Hell or high water.
And there he was again Friday: not starting because of what Schneider referred to as a "tender" left shoulder, but stepping in to pinch-hit against the Detroit Tigers closer Gregory Soto, lining out to end the game.
Two days earlier I'd asked Bichette how a discussion would go with him if the team wanted him to take a day off for something other than an injury.
Not that I was hinting, but … you know.
The 2022 season has been a grind for Bichette.
Going into Friday, his batting average is off his career mark by 40 percentage points, he's hitting .209 against lefties compared to .340 in 2021, and his OPS is .727 compared to .850.
His offensive season is perhaps best summed up by his 13-game hitting streak, which saw his batting average go from .256 … to .256. His high-water mark for average was .270 on June 12. He has two home runs this month, the most recent on July 10, and his batting average with runners in scoring position was .204. He was moved into the cleanup spot in Schneider's second game as manager as part of a shift that saw Guerrero move into the No. 2 hole, and since then he has gone 11-for-40 (.250) with four runs batted in.
Defensively, Bichette is middle of the pack in OAA (outs above average) and DRS (defensive runs saved); UZR is less favourable to him. But the sum of the Blue Jays' infield defence is more than adequate. The eye test says he's better helped, no doubt, by the stability provided on either side of him by Santiago Espinal and especially Matt Chapman.
Ninety-seven starts at shortstop. One as designated hitter. Out early every day – every day – an hour or so before the clubhouse opens to the media, doing a battery of drills.
So … how would that talk go?
"I would express that I would like to play," Bichette responded, "and whatever they decide is what they decide.
"I feel it's my job to go out there every day and compete, whether I feel good physically or mentally," Bichette said, continuing. "It doesn't make it right or wrong … but I have to be out there for my team. That's how I look at it. The game can be tough at times, for sure, but I enjoy the process of competing no matter how I feel. I enjoy just grinding through it and I'm not sure there's much else to it, to be honest.
"I saw it represented last year by Marcus (Semien.) And the players I looked up to growing up, they posted pretty much every day. Derek Jeter would play 159 or 162 every year. I just think it's important to do as a leader on the team."
As Mark Shapiro started to put his imprimatur on the organization, a point of pride and public emphasis was the teams burgeoning 'High Performance Department.' And like every other organization in baseball, the number of specialists darting around the Blue Jays clubhouse and on the field has grown.
It was a talking point as the organization transitioned from grumpy old thirty-somethings to a core of players in their early 20s, and at times resulted in much eye-rolling: 'So and so isn't in the lineup after an off-day.' Eye-roll. "HP" became the muttered answer.
Dudes like Kendrys Morales coming up sore after doing 'kettle-ball' exercises or some such thing? You guessed it: HP. It became a punch-line, helped along by some players and staff and even manager John Gibbons, who'd do little to cut off any merry-making.
Players – especially veterans – and agents were at times slow to buy in. But HP followed its older sibling Ana Lytics in winning the day. After all: there's no luxury tax on the collection of proprietary information.
And so it's natural that as Bichette grinds through a season of diminished offensive returns, some wonder why he doesn't get a little load management, maybe an odd DH day. Santiago Espinal could spell him at short, especially now that Cavan Biggio is contributing.
The issue, of course, is that with Alejandro Kirk and Guerrero and George Springer needing that position to keep their bats in the lineup for their load management, there's no room at the inn.
Plus, keep in mind that it simply isn't innings pitched, games played or pitches thrown. None of us outside the organization know all the ins and outs of HP. General manager Ross Atkins pointed out to the field during batting practice earlier this week, motioning to where pitchers were stretching and throwing, he noted that "it's all the things these guys are doing out here right now."
Note the phrase "all the things."
"It's about monitoring workload," Atkins explained. "There's more to it than just how many games have they played. It's also: how are they managing their recovery? How are they managing their preparation, and how is that impacting their overall workload? And then we make a decision with the player on what we think is best."
Asked about Bichette specifically, Atkins chuckled slightly, shrugged and said: "Bo likes to play."
Bichette's father, former Major Leaguer Dante Bichette, spoke to us on Blair & Barker in early May as his son was crawling out of his sluggish April.
"There's two Bos," he said. "There's the Bo that swings at everything but can hit everything and then there's the Bo that when he's not going right … he swings at everything and can look ridiculous. But if you understand the way he is, you know that he thinks the way to go is to stay aggressive and swing his way out."
There will be all manner of excitement in these parts as Tuesday's trade deadline approaches, and there should be, because doing nothing substantial – really substantial – is not an option for Atkins. Look at who's in play. Look at the quality of the names and look at who wants them and where they're going.
A non-playoff appearance is another wasted year of Vladdy and Bo and the window they provide at a time when the ground is shifting like mad. There is an underlying element of financial combustibility created by the Blue Jays' year-to-year contractual approach with these two, and at some point, it will manifest itself.
But make no mistake, unless something happens that shakes this roster to its core – I mean, is anybody really untouchable these days? – Bo Bichette will be out taking early work at Tropicana Field as that 6 p.m. trade deadline approaches.
He's a slave to the grind, with the Dog Days of August calling and two months between the Blue Jays grabbing a playoff spot and experiencing post-season success, or a bunch of folks starting to wonder whether time's-a-wasting. A different kind of grind, that.