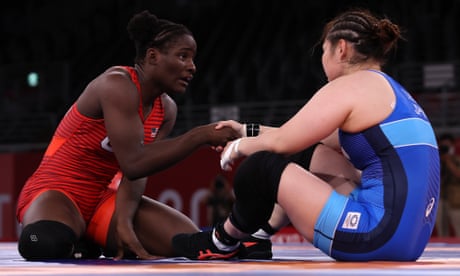 The American is into the women's 68kg freestyle wrestling final. And she is more than happy to count her blessings in life
At an Olympics where infection rates are studied as closely as medal tables, smiles must be inferred from subtle crumples in face masks and signs in near-empty venues warn spectators not to mingle, Tamyra Mensah-Stock would like to make it clear that she is having a good time in Japan. A great time, in fact.
That was true even before she secured a medal by progressing to Tuesday's women's 68kg freestyle wrestling final with a statement win over Alla Cherkasova, a former world champion.
Related: 'Just magical': joy for Tamberi and Barshim as they opt to share gold in men's high jump