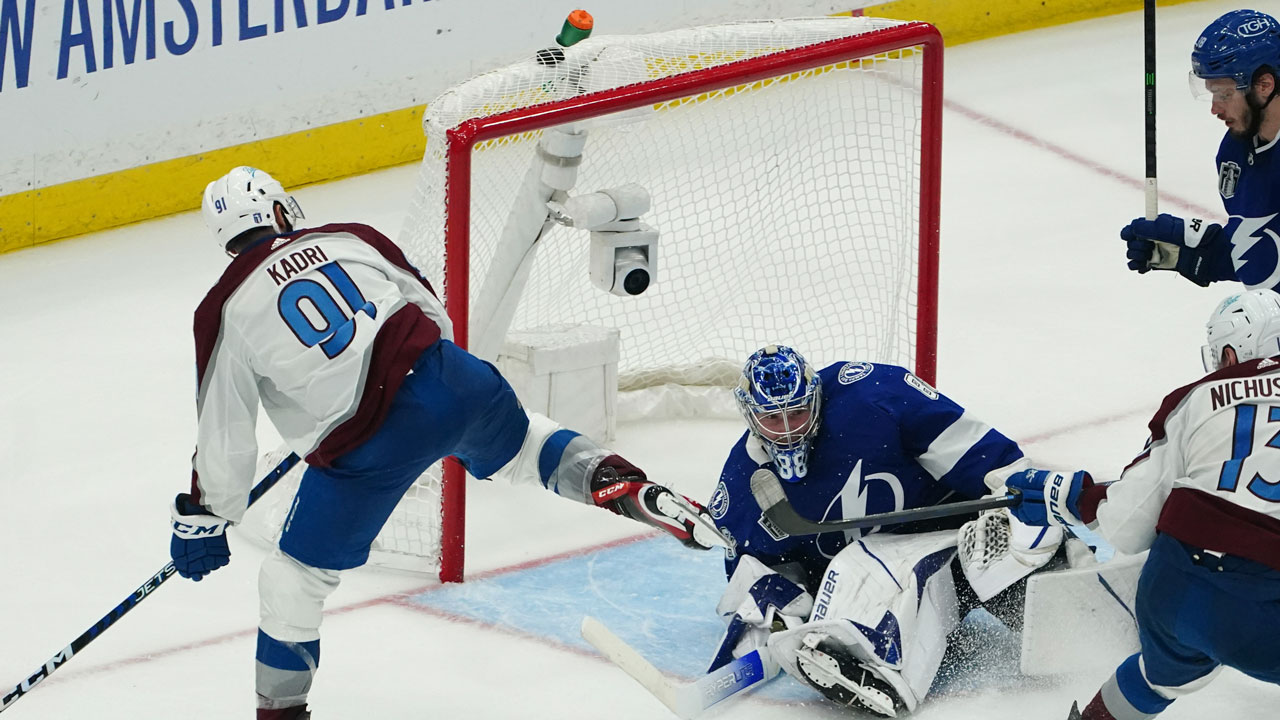 TAMPA – Jon Cooper was 10 seconds into Wednesday's first post-game press conference answer when he stopped, drew a long pause, and changed course.
He had a speech to make. A bone to pick.
Something to get off his chest after a hard-fought but gutting 3-2 overtime loss that has the two-time champions down to their last life, and hockey fans scouring replays.
"You know, I love this league. It's the greatest league in the world. The people that run it are amazing. Everything about it. It's like a dream come true for me, especially being a Canadian kid growing up and everything that's gone on," the Tampa Bay Lightning coach began, holding emotion behind his measured tone.
"You know, I've been part of some heartbreaking losses and defeats to the teams that took us out and been with a group that just fights, fights, and fights. And they fought their way to a third Stanley Cup Final in a row. And in a cap era when it's so damn hard, and the rules are put against you because the league wants parity. And I love that about the league.
"And that's what makes it tougher. And just watch this team, what they've gone through and the battling that's gone on, and we're all in this together. Players, coaches, refs, everybody. But this one is going to sting much more than others, just because it was taking on… it was potentially… I don't know."
Cooper resisted saying what was on his mind.
"It's hard for me. It's going to be hard for me to speak," he said, holding up his hand. "I'll speak with you tomorrow. You're going to see what I mean when you see the winning goal.
"And my heart breaks for the players. Because we probably still should be playing. I'll be available tomorrow."
Then Cooper rose from his seat and the podium and walked out of the interview room, leaving his audience curious and confused.
A closer look at Nazem Kadri's overtime dagger reveals the Game 4 hero accepting his pass in the middle of the ice at the blueline about four seconds before Nathan MacKinnon — whom he was replacing — gets back on the Colorado bench.
Cooper was suggesting an illegal line change led to his group losing its first home game since May 6 and falling behind 3-1 in the final — a seemingly insurmountable hole against a team as fast and committed as the Avalanche.
"I'm not sure what he's thinking, why it shouldn't have counted. I mean, that kinda confuses me a little bit," Kadri said.
"The puck hit the back of the net. End of story."
Avalanche coach Jared Bednar said he saw no issue with the goal: "I didn't hear any confusion."
Lightning assistant coach Derek Lalonde was more explicit.
"They were able to get an interesting change for the game-winning goal, and that was the difference," Lalonde told Dave Randorf on-air. "It's going to get ugly. We're probably talking about a 50-feet change. Obviously, Kadri changed for MacKinnon.
"It's a pretty bad look. Unfortunately, we're on the bad end of it."
NHL hockey operations released the following statement prior to the game, which shifts blame on the stripes:
A too many men on the ice penalty is a judgement call that can be made by any of the four on-ice officials.
Following the game, Hockey Operations met with the four officials as is their normal protocol. In discussing the winning goal, each of the four officials advised that they did not see a too many men on the ice situation on the play.
This call is not subject to video review either by Hockey Ops or the on-ice officials.
Errors happen in hockey. Teams get away with things.
The Lightning have benefitted from bad but undetected line changes in the past. (Just ask Barry Trotz how he felt about the Lightning scoring with too many men on the ice in the 2021 Eastern Conference final.)
But that doesn't mean this won't cast shade over Kadri's gleaming moment.
Cooper sounded like a man who understands his group desperately needed Wednesday's win to keep its threepeat bid alive.
The Avalanche controlled the puck throughout overtime and were swarming in their attack, stuffing the Bolts into their own zone before completing the comeback.
"At the same time, when we got pinned like that, you leave yourself vulnerable to something like that. That's why they changed the rule of the overtime, changing ends [to create a long line change]because of that potential look," Lalonde conceded.
"Stings a little bit right now."
Now Friday threatens to sting even harder.
Fox's Fast 5
• Tampa is getting slaughtered on special teams.
The Avs have six power-play goals, plus one shorthanded in this series. The Lightning have just one 5-on-4 goal. That's a six-goal swing, and it's taking a toll.
"It's easy to point to that now. They scored a bunch of power-play goals. We want to keep it 5-on-5 — that's where we're our best," Victory Hedman said. "Our power-play is struggling, not scoring goals, but I feel we're creating momentum."
• Scary moment for Anthony Cirelli, who jetted off the ice in the second period clutching his arm. It appeared his biceps may have been cut by Alex Killorn's skate:
"Listen, [Erik] Cernak left the game. Cirelli left the game and came back. Everyone is sacrificing this time of the year," Steven Stamkos said. "No one outside the dressing room — you guys sometimes think you know, you don't. It's challenging for both teams. You have guys playing through a lot of stuff right now. Guys are just battling."
• Love this idea.
• Play is whistled dead when a goaltender loses his mask — unless there is an immediate scoring chance for the opposition.
Which is why Cirelli's opening rebound goal stood up after an Erik Cernak shot dislodged Darcy Kuemper's mask.
"Make the save," former NHLer Mike McKenna tweeted, with a link to this video:
• Mikko Rantanen is quietly having a heck of a series: eight assists, to lead all skaters in points.