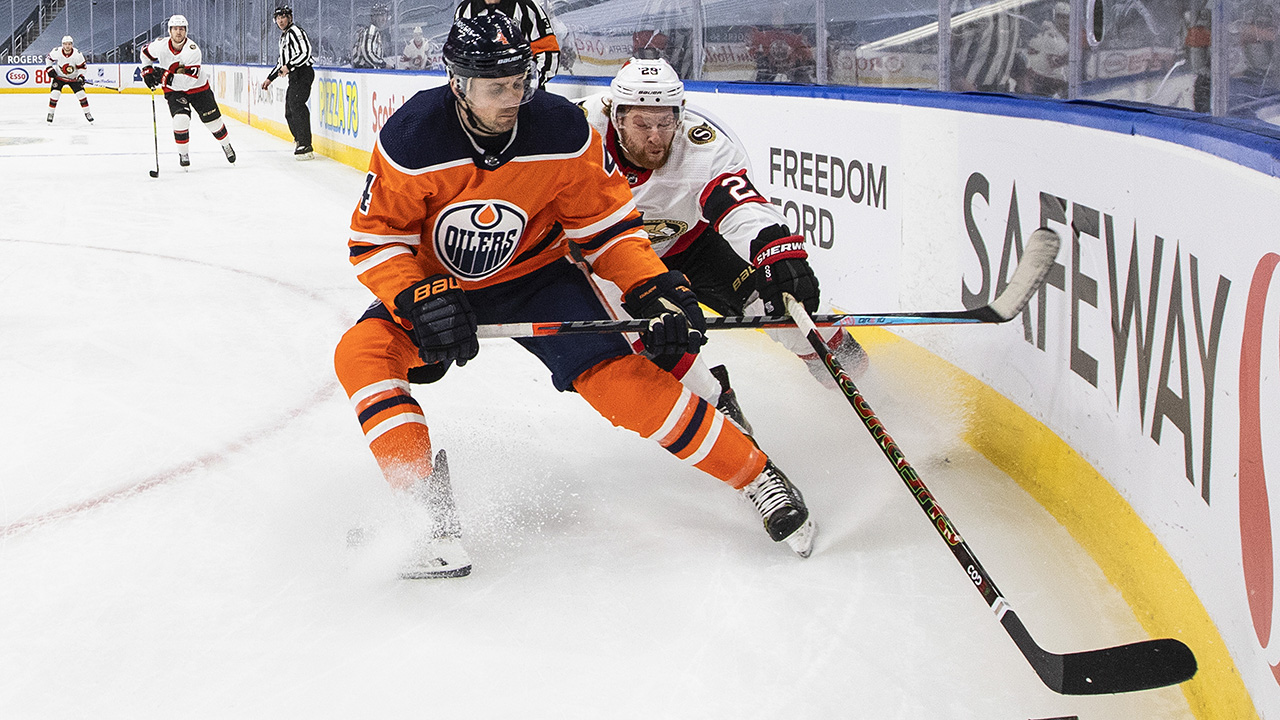 What do they give Kris Russell when he officially becomes the all-time National Hockey League leader in shots blocked Saturday night in Vegas?
A sterling silver ice bag?
A giant portrait of him skating off the ice, bent over, a thought bubble hovering over his head that reads, "#@&%!!!"?
He is the prince of pain, and should wear a 'C' on his chest — not for "Captain," but for "Courage."
"I came in as kind of an offensive guy," began Russell, who needs two blocks to get to 1,999 and pass Brent Seabrook for the all-time lead in shots blocked, a stat they began charting for the 2005-06 season.
Stream every Oilers game this season with new pricing options! SN NOW STANDARD and PREMIUM let you choose how much hockey you want to watch.
It's hard to believe that he was a point-per-game defenceman for the junior Medicine Hat Tigers, twice named the WHL's Defenceman of the Year and winner of the league MVP in 2006-07. In junior he was a star. A cross between Phil Housley and Reijo Ruotsalainen, and the Blue Jackets drafted him with hopes he might run their power play one day.
"I tried that in Columbus, tried working my way up trying to be that same player. Things had to change," the 34-year-old said. "I wasn't playing as much, and then I got traded to (St. Louis), and they kind of put me in more of a defensive role. I just grabbed it, trying to do anything I could to play Top 4.
"It bought me a few more years. I'm thankful for it."
This is the story of an under-sized country kid in search of something he could do better than all those academy kids and big-city players. Something that could buy him more time in the National Hockey League, when it became clear that the guy he was in junior was gone, and wasn't coming back.
What did he have that all those (predominantly) rich kids did not? What could he do to, as he says, "play in the Top 4?"
After St. Louis he ended up in Calgary, 125 km from his hometown of Caroline, the Central Alberta village of about 500 folks that gave us figure skater Kurt Browning, and the Bros. Vandermeer, as tough a hockey family that has ever cracked a cold Canadian in a cinder block change room.
In Calgary, there were four jobs up for grabs behind Mark Giordano and T.J. Brodie. The coach was Bob Hartley, who was all about shot-blocking. "I thought if I could bring that to the table I could jump into the Top 4," Russell said.
He is small — five-foot-nine, maybe 5-10, 170 pounds. What he'd never have on the rest of the NHL was size and strength.
But his pain threshold? That, he would discover, was perhaps the one thing the good Lord gave Kris Russell that very few others could match.
"I'll be the first to admit," said Zack Kassian, as burly a man as gears up in the NHL, "when I block a shot — if I ever do — it hurts, bad. I'd rather take a punch in the face."
Kassian is tough, but not in the same way as guys like Niklas Hjalmarsson, Dean Kennedy, or Lee Fogolin — who once extracted his own filling on game day with a hotel curtain hook.
Russell is country calm. Quiet, with a panic level as low as a proverbial snake's belly in a wagon rut.
But his pain threshold? It's higher than an owl on a grain elevator.
Russell comes by it honestly. His father, Doug "Shaky" Russell, was a bull fighter who worked four Canadian Finals Rodeos as that guy who jumps into the face of the bull after he's bucked off his rider. Sometimes he'd slap that bull — which weighs between 1,200 and 2,000 lbs. — right in the kisser to divert its attention from the fallen cowboy.
Doug quit the rodeo when twins Kris and Ryan were born — he didn't want them in that rodeo lifestyle. So Kris went off and found something even more painful, blocking shots at a rate of 7.01 per game, highest among players with 1,500 blocks or more.
Upon the occasion of passing Seabrook and likely becoming the first to log 2,000 blocks Saturday night in Vegas, Russell was asked: Whose puck hurts the most?
"I took a few," he mused. "(Shea) Weber always has that heavy one. They were loading up Dion (Phaneuf) in those early years there. So, yeah, there are some big boys who can really lean into 'em."
What's the worst shot to block?
"Guys who are in those flank positions on the powerplay," he said, "because you don't have as much time to react to it. It's kinda like, you're gonna take it where you're gonna take it. Those are the tough ones."
By nature, Russell's teammates have been keeping closer tabs on his pursuit of the record than he has. Those who under-value shot blocking have never been around NHL players, or known the appreciation they have for a guy who sacrifices the way Russell has for 889 games.
"They're usually the ones checking the game sheet to see how many I have," he admits.
Jeff Marek and Elliotte Friedman talk to a lot of people around the hockey world, and then they tell listeners all about what they've heard and what they think about it.
Tonight, for career game No. 890, Russell will be a top pairing defenceman for Dave Tippett's Oilers, who are missing the entire left side of their blue line, with Darnell Nurse, Duncan Keith and Slater Koekkoek all injured.
Tippett has always been a bit skeptical about stats like hits, giveaways and takeaways, criteria that tends to change with the different off-ice stats crews from building to building. "But when a guy blocks a shot," he said, "he blocks a shot. And Kris Russell has been doing it for a looong, time."
As for those who pooh-pooh shot blocking, well, maybe they should step in front of a piece of vulcanized rubber flying at around 90 mph some time. Just to get a taste for what "meaningless" feels like.
"It's a commitment from a player to put his body on the line to help the team win," Tippett said. "And there's something to be said for that."