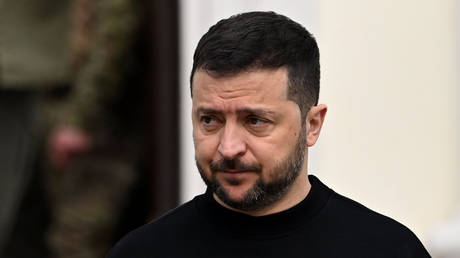 The Ukrainian president is absent from the Jerusalem Post's ranking this year after topping the list in 2022
Ukrainian President Vladimir Zelensky has not been included on this year's 50 "most influential Jews" list, which is compiled annually by the prominent Israeli Jerusalem Post newspaper. Zelensky topped the list in 2022 amid the ongoing conflict between Moscow and Kiev.
This year, the top spot on the newspaper's list went to Sam Altman, the CEO of the US-based OpenAI IT company that created the ChatGPT chatbot. The entrepreneur is followed by Israeli Prime Minister Benjamin Netanyahu and US Foreign Secretary Antony Blinken, who occupy the second and the third places among the "most influential Jews" of 2023.
The Jerusalem Post also gave an honorable mention to the deceased Russian businessman and founder of the Wagner Group private military company, Evgeny Prigozhin, although it ranked him just outside the top 50 in 52nd place.
The entrepreneur, who had a "Jewish stepfather" turned a "hot-dog stand into an upscale restaurant empire," the paper said, adding that his legacy had been "cemented" by his role as the Wagner Group chief.
Zelensky's name is now nowhere to be seen on the list. The Post did not provide any explanation for its decision not to include the Ukrainian leader on the list this year.
In September 2022, the paper ranked Zelensky first on the list before moving him to second place, behind Israel's then-prime minister, Yair Lapid. At that time, it said Kiev's conflict with Moscow had promoted him to the status of an "icon," earning him comparisons with Britain's World War II-era prime minister, Winston Churchill.
The Post did note, however, that before the conflict, the Ukrainian leader had been "regarded as a curiosity if someone outside Ukraine thought about him at all" due to his past as a comedian who played the president of Ukraine in a local sitcom.
Since then, Ukraine, still led by Zelensky, has launched its largely unsuccessful counteroffensive against the Russian forces, failing to bring about any meaningful changes to the front lines despite massive military aid provided to Kiev by its Western backers.
In July, the Ukrainian leader condemned NATO for what he called its "indecisiveness" over the lack of a clear roadmap for Ukraine's membership into the US-led bloc. His words reportedly angered US officials to the extent that they briefly considered withdrawing Ukraine's invitation to join the bloc.
In June, Russian President Vladimir Putin denounced Zelensky, calling him a "disgrace to the Jewish people." He blasted Kiev for openly celebrating Ukrainian nationalists like Stepan Bandera, whose organization was responsible for mass killings of Jews and Poles in Ukraine during World War II.