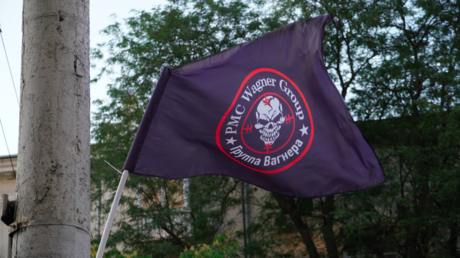 Supporting the Wagner Group in the United Kingdom is now punishable by up to 14 years in prison
The United Kingdom on Friday officially declared the Wagner paramilitary group to be a terrorist organization, a move that makes it illegal to be a member of, or profess support for, the military contractor operation.
"The Russian mercenary organization, Wagner Group, has been proscribed as a terrorist organization today after an order was laid down in Parliament on Wednesday, September 6," a statement from the UK Home Office said.
It adds that the order, which comes into force with "immediate effect," outlaws any form of support for the group and affords the Crown the power to impose a "potential jail sentence of 14 years, which can be handed down alongside or in place of a fine."
Support for the group is defined by various terms, including membership, attending or organizing meetings to further the group's ambitions, or displaying the Wagner flag or logo.
Announcing the planned legislation last week, UK Home Secretary Suella Braverman said that Wagner was a "threat to global security" and that the group's "destabilizing activities only continue to serve the Kremlin's political goals." The Wagner Group is now added to a list of 78 other illegal organizations in the UK, including Hamas, ISIS (IS, Islamic State), al-Qaeda and Boko Haram.
The Wagner Group has been a prominent actor throughout Moscow's offensive in Ukraine, often working in tandem with Russia's military in various operations throughout the conflict. It also has a significant presence in Syria and various African countries.
Wagner's future appeared in doubt in June when its then-leader, Evgeny Prigozhin, orchestrated an ultimately failed mutiny against Russia's military leaders. Prigozhin, who founded Wagner in 2014, died in a plane crash alongside some of the group's other leaders near Moscow on August 23.
On Friday, Kremlin spokesperson Dmitry Peskov rebuked claims that an investigation into the cause of the fatal plane crash was progressing at an unsatisfactorily slow rate, saying that it is "not a simple investigation, not a simple incident."
He added: "The investigation is underway, so it would be premature to make any comments now."
The formal proscribing of the Wagner Group by UK authorities is expected to make it more difficult for people linked to the group to move money internationally, while it is also expected to provide a legal basis for people to use the British court system to pursue legal claims against the group.