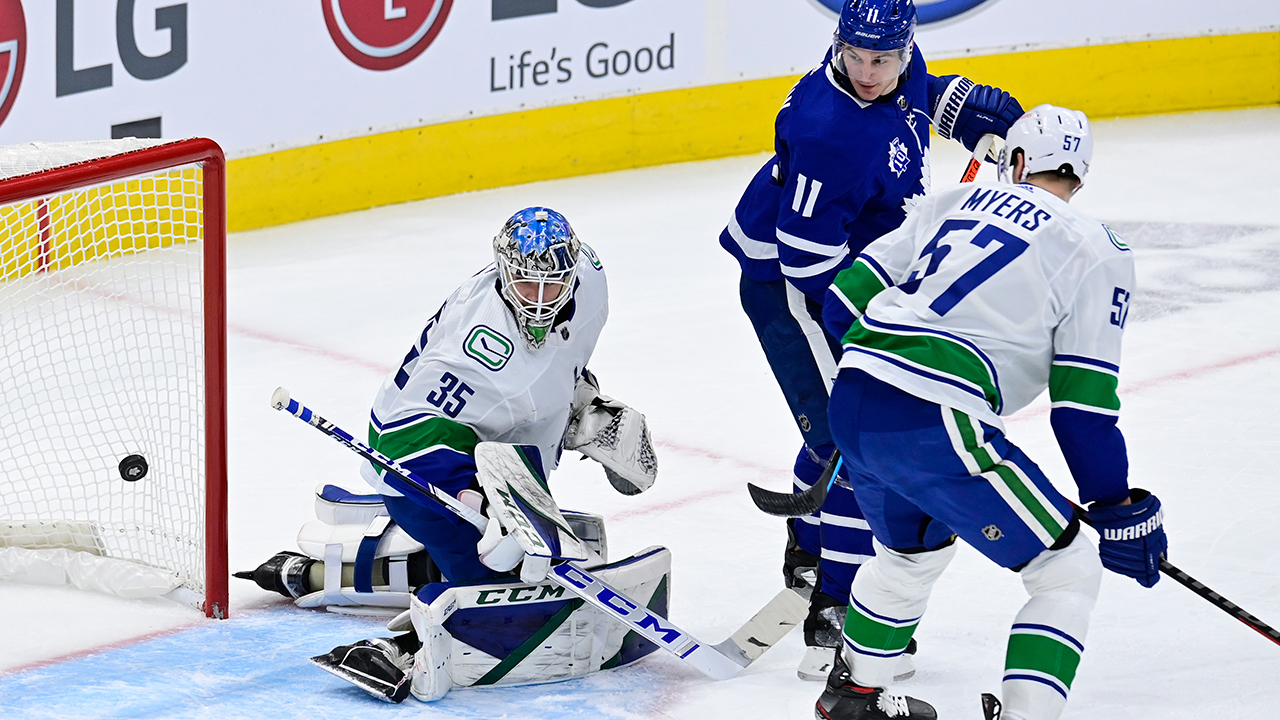 Losing confidence is one thing, losing faith quite another. Right now, it's hard to tell which it is with the Vancouver Canucks.
The team is lost.
It's not about their systems play or turnovers, nor about their special teams or goaltending. It's no longer even about the underperformance by some of their best players. And it's not really about their inept defending, either.
This team just looks lost. All the things the Canucks had going for them during last summer's playoff breakthrough are gone. That team seems to have vaporized – and, surely, not just because the organization allowed three or four guys to leave in free agency.
Thursday's 7-3 loss against the Toronto Maple Leafs emphatically reinforced how far the Canucks have fallen, how distant they are right now from the top teams in the North Division, how much they've lost their way.
Stream every Vancouver Canucks game this season with Sportsnet NOW. Plus, SN NOW+ subscriptions now include access to NHL LIVE!
If you want to put a word to it, try this: character.
It's still in the Canucks somewhere. Extremely few players are good enough to coast to the NHL without working for it, without focus and sacrifice and understanding that the sum must always be greater than the parts for a team to have success.
But the players had better find that character soon because the Canucks are already one-quarter of the way through this pandemic-shortened season and each dismal loss takes them further from being the team they want to be – the one that feels some nights like just a vague memory.
Right now, after eight losses in 14 games and 18 goals allowed in the last three, it's hard to know whether the Canucks have lost only confidence or something far more vital.
"We've got a lot of guys in the room that have played really important hockey and know what it takes to win," captain Bo Horvat said after the Canucks weren't close to competing with the Leafs. "We proved it last year, and guys have proved it in the past on different teams. I'm not worried. We've got a really resilient group in there, guys that have a lot of character. I have a lot of faith in our group.
"I'm not going to make excuses for ourselves; we've got to be better. I've got to be better. All four lines and all of our players, we have to find it within ourselves to win hockey games and do whatever it takes to win. That's everybody buying in. That's everybody wanting to be in the battle, wanting to get better, wanting to win just as bad as the guy next to him. We have that group in there. We just have to find it."
The Canucks' survival this season hinges on it. Their visit to Toronto includes two more games against the formidable Maple Leafs, including Saturday on Hockey Night in Canada. As bad as things are for the Canucks, the Leafs could make it much worse.
It's not difficult to imagine the Canucks ending their six-game road trip with five straight losses and returning to Vancouver early on Tuesday four games below .500. Outshot 38-19 on Thursday, the Canucks are last in the NHL in shots allowed and second-worst defensively with 3.93 goals-against per game.
They're losing without playing anywhere close to their best.
"It's very frustrating," winger J.T. Miller said. "You know, for myself, it kind of brings the worst out of me when you're trailing and you start playing a different game, and then you start being negative or whatever because we're not getting what we want. But ultimately, it starts with us. We need to work harder and need to be more assertive, tenacious. I think it just comes down to working hard and everyone wanting to win a little bit more."
It took Toronto less than three minutes to take the lead when Miller, filling in for pinching Quinn Hughes, miscommunicated with Canucks defenceman Jordie Benn and found himself flat-footed and one-on-one against Auston Matthews. The Leafs star quickly torched Miller and deposited the puck in the gaping gap Vancouver goalie Thatcher Demko left between his pads.
Hughes, the struggling star who said after the morning skate that he wanted to be known as more than just an offensive defenceman, was on his way to another one-assist, minus-three performance. The Canucks were outshot 10-3 with their best blue-liner on the ice at five-on-five.
Other than a solid night for the Elias Pettersson-Tanner Pearson-Nils Hoglander trio, it was difficult to identify anything redeeming about the Canucks, who played themselves out of the game in the second period after closing the deficit to 3-2. Vancouver has allowed 25 second-period goals in 14 games.
They trailed 6-2 when Miller scored on the power play halfway through the third.
"No one's going to be happy after a game like tonight," coach Travis Green said. "It's one thing when you lose and you put your best foot forward. But a game like tonight, it should hurt. I think we've got strong character in our room. When you ask me if I'm worried that they're not feeling great about themselves, well, I'm not worried about it – they're not feeling great about themselves. No one should feel great about themselves after a game like that. It's how you respond to the next game."
Then a reporter tried to ask Green about second-pairing defenceman Chris Tanev leaving in free agency last October (for a contract the Canucks would have been foolish to match).
"I'm not going to talk about guys that aren't here now," Green said. "I'm worried about the guys that are in our room. We've got strong character guys inside our room and we're worried about this year."
A lot of people are.