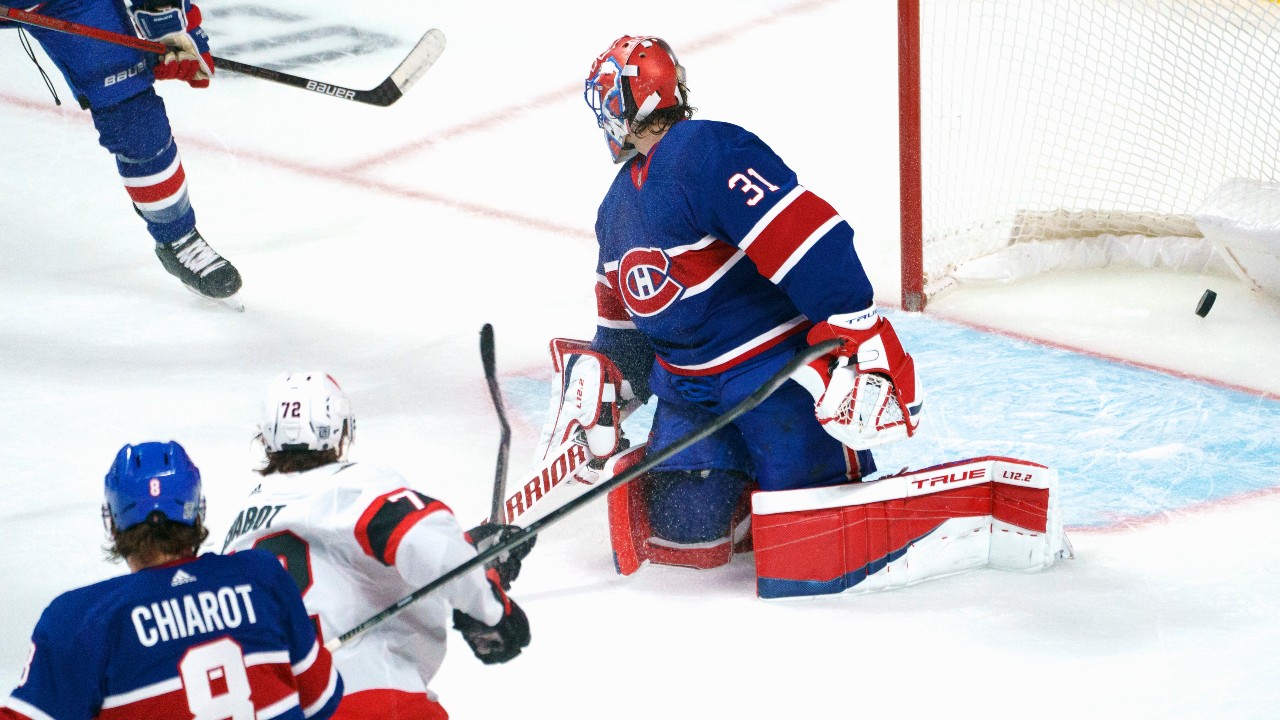 MONTREAL — It was Reverse Retro, Role Reversal Night at the Bell Centre Thursday, with the Ottawa Senators snapping a nine-game winless streak with a 3-2 win over the Montreal Canadiens, who looked nothing like themselves — from the jerseys they were wearing to the way they played.
You usually don't win if your best players aren't your best players — even if you have the best record in the NHL and you're playing against the team with the worst one. And you definitely don't win if your best players show up as your worst.
If the Canadiens came into Thursday's game with a 7-1-2 record, it was in large part thanks to the elite performance Nick Suzuki had authored as their No. 1 centre. But, against the Senators, he looked nothing like the guy who played wise beyond his 21 years, the guy who played a patient, cerebral and highly-effective game at both ends of the ice.
"It was definitely a tough night," Suzuki said afterwards. "Definitely my worst game of the year so far. I was fighting the puck a bit."
SN NOW+ subscriptions now include access to NHL LIVE! Livestream over 500 NHL games, blackout-free, plus the 2021 Stanley Cup Playoffs.
He was at war with the puck in the faceoff circle, where he lost all but four of 15 draws — including one cleanly to Connor Brown that led to the setup of the game-winning goal, which Brown himself tipped in after he shook Suzuki in coverage.
"Can't be losing that many draws — especially on that third goal there," Suzuki said. "I lost it pretty clean and it ended up in our net.
"Tonight I was struggling to read the play a bit," he added. "There was a few times where I was getting lost in the defensive zone, and that's not something I'm used to, so I gotta definitely clean that up."
Many of the players who helped Suzuki and the Canadiens off to their torrid start have some polishing to do before Saturday's rematch against the Senators in Ottawa.
Tyler Toffoli, who came into the game as the NHL's leading goal scorer (9) didn't touch the puck outside of five relatively harmless shot attempts — only one of which came from less than 25 feet out.
Josh Anderson drew a penalty with a solid drive down the middle in the third period, and he scored his seventh of the season shorthanded with 1:29 remaining, but he was stuck in neutral through the first 40 minutes. Actually, he was stuck mostly in the defensive zone over the first two periods, where he, Suzuki and Jonathan Drouin got hemmed in and gave up 13 shot attempts versus the four they generated at the other end.
Jeff Petry, who came into the game leading all NHL defencemen in scoring (13 points), said after Monday's win over the Vancouver Canucks, in which he registered two goals and an assist, "There's times the puck's your friend."
On Thursday, the puck was Petry's enemy, as he juggled it and struggled to connect on the passes he usually makes with his eyes closed. It wasn't kind to him when it rang off the post on a late Montreal power play, either.
At least Phillip Danault (two assists), Brendan Gallagher (one goal) and Tomas Tatar (one assist) brought it after not factoring in as much as some of the other players through the first 10 games.
"They were our best line by far," said Canadiens coach Claude Julien. "Those three played well, and we saw some of the chemistry they've shown in the past."
They were dominant throughout, but particularly in a first period that saw them produce nine shot attempts and eight scoring chances to one against their Senators opposition.
The one the Danault line allowed? A good shot from Thomas Chabot with 39 seconds to go in the opening frame.
Was it great? Let's just say it wasn't as good as the one Senators rookie Tim Stützle scored on 18 seconds later, with Petry looking on from the penalty box.
It would be fair to say Carey Price would've liked to have had one, if not both of them — as he once told us after a tough loss in Tampa Bay several years ago, "I believe I should stop them all."
Price definitely wants to stop the ones where he has a clear line of sight on the puck, even if the shots are top quality.
He's supposed to be Montreal's best player, but he hasn't been that too often in the early portion of this season, with his .899 save percentage being a reflection of that. He has been good enough to win four of his seven starts, and had he been a bit better on this night, he could've made the difference.
Not that Price was the reason the Canadiens lost. Far from it.
"I thought that we were fighting the puck tonight," said Julien, who was pointing out what was plain to see. "Even if the first period wasn't that bad, them scoring two goals in the last minute of it hurt. In the second, we weren't there at all from a performance standpoint. We fought the puck even on simple plays and passes. We came back in the third, but it wasn't a big game from us."
Jeff Marek and Elliotte Friedman talk to a lot of people around the hockey world, and then they tell listeners all about what they've heard and what they think about it.
Perhaps the biggest evidence of that could be found on the power play, where the Canadiens whiffed on four opportunities —including a 5-on-3 in the second period. They took seven shots with the man-advantage, and Senators goaltender Matt Murray had a clean look at every single one of them.
Julien pointed to cleanly-lost faceoffs as one issue in that department. But he also acknowledged there was another problem there.
"We're moving the puck around, but I think at some point there we've just gotta find a way to finish," he said. "You gotta create some chances, and sometimes it's just a little adjustment here or there as far as the mindset is concerned. Not so much what the plays we're utilizing or trying to use during the power play; it's more of a mindset, and we've gotta find ways to get maybe that little hunger at trying to finish around the net area or scoring those goals when you do get the scoring chances."
The Canadiens were about as hungry on the power play as John Candy after eating that 72-ounce steak in "The Great Outdoors," which is to say they weren't hungry at all (and if any of you youngsters haven't seen "The Great Outdoors," get on it).
The guys in the blue retro jerseys just didn't have it on this night. And the guys wearing white, red and black, who haven't had it in a month, showed up and played a good game.
"Give Ottawa credit for playing hard and competing well," said Julien.
His Canadiens will have to recapture what they had before this game come Saturday, when they're back in their traditional jerseys.