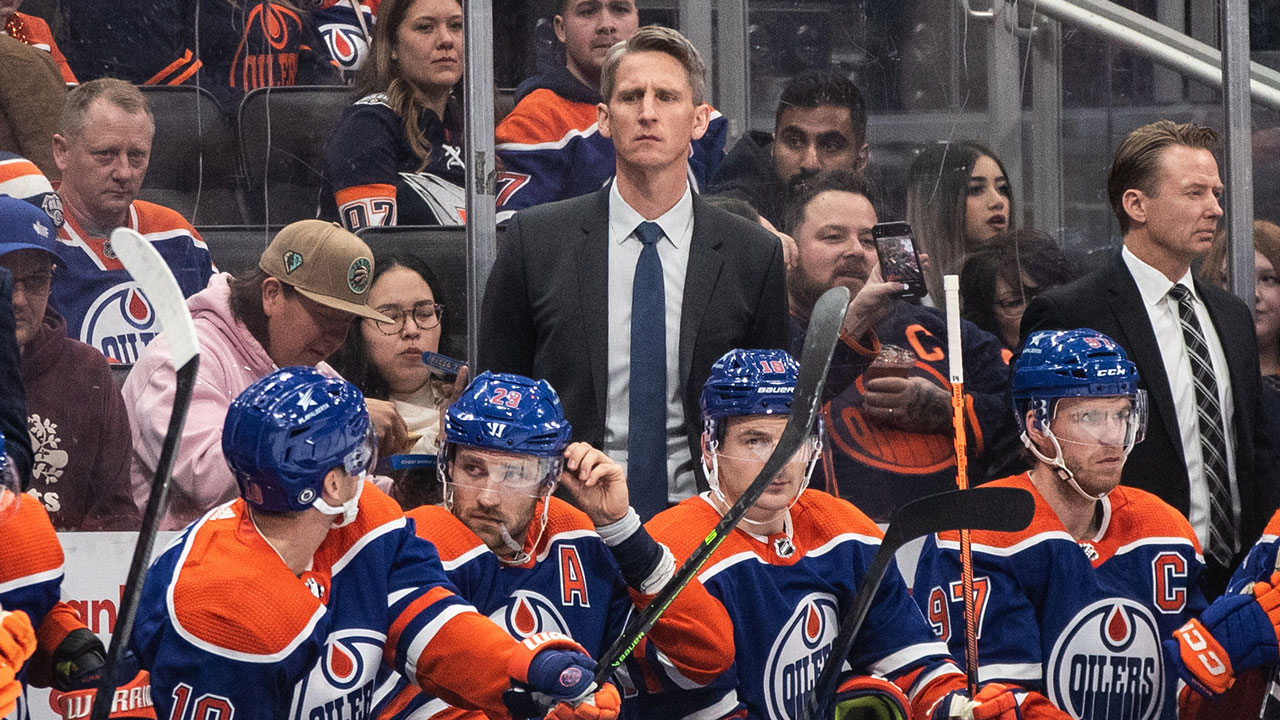 SUNRISE, Fla. — If you'd have asked a 19-year-old Kris Knoblauch what his real-life job was going to be one day, well, it certainly wasn't as the 18th head coach of the Edmonton Oilers.
"I always thought — always — that I was going to be a police officer," said the 45-year-old Knoblauch, in a wide-ranging sit-down interview conducted Sunday afternoon in Florida. "My sister is a police officer with the RCMP. My (junior) billet in Lethbridge was RCMP. My billet in Cranbrook was RCMP, and my billet in Edmonton was Edmonton City Police."
Alas, today, he's the sheriff in Edmonton, a softer-spoken, thoughtful coach who we suspect will do more teaching than yelling. He has an education degree from the University of Alberta, where he starred for five seasons — the final three as an assistant captain — and won a national championship, racking up 100 goals and 254 points in 208 games as a Golden Bear.
He's a teacher by nature. Always was.
"When I was in high school … in my spare time, I didn't study as much as I should have," he admits. "I would go down to the elementary classes and be with elementary kids. Whether they're doing arts or math or whatever, that's what I did with all my free time."
Knoblauch got his first WHL job in Prince Albert because he was the only guy willing to work for a salary as low as the one they were offering. Today, he's taking over a Stanley Cup-or-bust project that is teetering dangerously close to the latter.
So much so that the Oilers fired head coach Jay Woodcroft and replaced him with Knoblauch.
Who is this tall, professorial-looking coach from Imperial, Sask.? The guy they call "Chuck," after the big-leaguer of the same name?
Let's get to know him.
(Answers have been edited for brevity and clarity.)
Sportsnet: Who nicknamed you Chuck? Can we all call you Chuck?
Kris Knoblauch: I don't mind at all. I usually get "Knobber" or "Chuck."
In Philly, Dave Hakstol would say "Chuck" in his interviews, but Kelly McCrimmon was actually the first one who started calling me Chuck when I was coaching in the Western Hockey League.
SN: Tell us about your family.
KK: I'm married. Met my wife (Autumn) when she was in university. I was playing hockey for the Edmonton Ice. We got married in 2004, had our first child in 2007. Our son, Marek, was born in Cranbrook. Then my daughter, Emry, was born in Cranbrook in 2010. She is 13 years old, in eighth grade (in Hartford). Or Grade 8, here in Canada.
SN: Describe life growing up in Imperial, Sask.
KK: A lot of sports, with the same group. You know, my friends were the same friends I had from when I was two years old, to the time I left.
There were not very many teams at our (indoor) arena, and my dad (Bob) ran the arena for 10 or 15 years, so I pretty much got to go skate whenever I wanted to.
I lived on a farm eight miles (outside of town), but my grandparents lived in town. So, when my mom and dad couldn't drive me back and forth, I think in the wintertime I spent more time staying at my grandparents than I did in my own home.
SN: What did your dad do for a living?
KK: My dad worked for CP rail, then he got into farming, and then he worked for the municipality of Imperial. Mostly doing road work.
SN: How good a player was your dad, Bob?
KK: My dad was a pretty good senior player. Growing up, my goal was not to play in the NHL, but to play senior hockey with my dad for the Imperial Sabres. I couldn't wait to do it — and I never got the chance. I moved away before I had the opportunity.
I had a lot of pride watching my dad play. Yeah, he was a pretty good player.
SN: You were a seventh-round pick of the Islanders, ahead of Shawn Thornton, Andrew Ference and Ladislav Nagy. What do you recall about draft day in 1997?
KK: I was told not to go the draft, because you never know if you're going to get drafted or not. I went to some lake with my billet — I can't remember which one. I got the call, I told everyone, and I remember them throwing me in the lake. That was my celebration.
I remember coming back to Edmonton and seeing Jay Henderson, who was on my (Edmonton Ice) team. He was the last pick in the draft. He's a good friend of Andrew Ference, and I remember the three of us being together.
SN: Assess your game. Why didn't you make it?
KK: Skating. I was a terrible skater. I couldn't get up and down the ice. That's it. I was really a terrible skater. That was 100 per cent it — or 95 per cent. Looking back, I just wanted to play the game. I didn't look at the technical side of it.
SN: If you could do it over again, and train differently, could you have made it?
KK: A lot of it is your physical attributes. I'm big and skilled, had good hands. I think I had a good awareness. I was good at sports because of my brain, but not because of my athletic ability.
If I'd had more purpose, and I worked on my skating, I probably could have dabbled into professional hockey, maybe got into a game or two in the NHL. I could have got a little more out of it, but not that much more.
SN: Why did the University of Alberta work out so well for you?
KK: Everyone figures out things at a different age. I was 20, had just been traded to Lethbridge. … I remember not really knowing what to do — go play pro or go play university hockey. I felt enough people weren't pushing me to go play pro, which is probably a good tell that maybe you should go to school.
But I also had a pretty good incentive to. There was this girl (Autumn) who was going to university too, and that also persuaded me. So, between having my girlfriend there, going to a prestigious school like the U of A, and having it paid for (by WHL scholarships), I thought it was the right decision.
SN: If you could inject an element of the Golden Bears into this Oilers team, what would it be?
KK: Confidence. You're ranked No. 1 all those years, when things didn't go well, you just knew you'd turn it around right away. Just the confidence and being proud to be part of the organization.
SN: You get the call from CEO of hockey operations Jeff Jackson about coaching the Edmonton Oilers. What went through your mind at that moment?
KK: 'Wow, am I ready for this? What do I need to do?' There's a lot of planning. The first few days, I think I did all the things we do over the course of a summer, like two or three months of work, I was grinding into two days. Not properly, but getting our video, the presentations, coaching responsibilities, meeting times and all that …
SN: You're the coach of Connor McDavid — again (Knoblauch coached McDavid in Erie of the OHL) — the greatest player in the world. But now it's in the NHL. What does that realization do for you?
KK: There's more attention (than in Erie). I realize there's more pressure on myself, and him. Before, he was a young kid playing a game, and people were just waiting for him to go to the NHL. Now it's, 'What more can you do?'
As a coach, it's our responsibility to provide that structure and accountability throughout the team. To make sure that, when they're coming to the rink, whether it's Connor McDavid or Calvin Pickard, that they feel happy to be here, are proud to be part of the team and want to contribute to the success.
SN: You got emotional at that first morning skate. Could let fans in on why?
KK: It was an absolute whirlwind, getting little sleep in the last few hours or a few days. Having the opportunity to be a head coach of an organization like the Edmonton Oilers is very inspiring and emotional as it is. The other part is, thinking about my family and the sacrifices they've made, allowing me to pursue this dream. And having to leave them behind (in Hartford).
SN: Anything you'd like to say to Oilers fans?
KK: I love the passion, and I don't want to discourage that at all. As for the organization, anything that was done right took time and patience. And I think they'll find out that it'll be worth the wait, and it'd be a good ride.