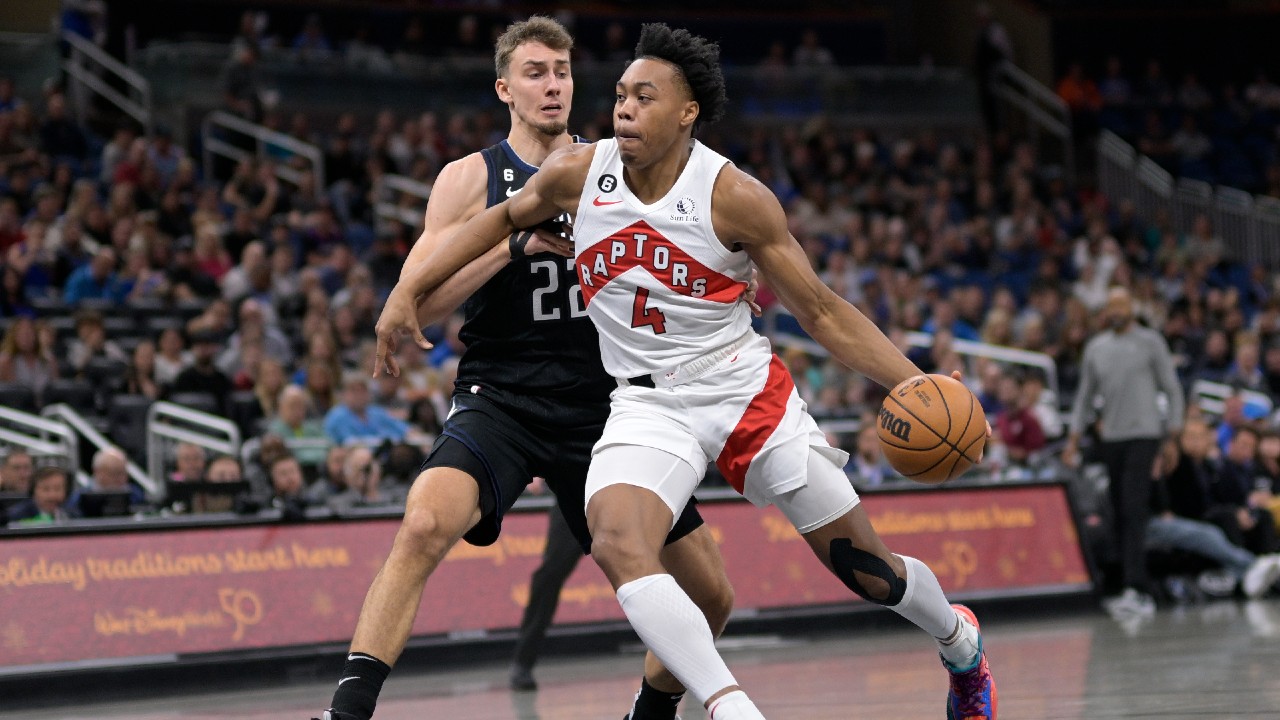 When the Toronto Raptors agreed to let then-general manager Jeff Weltman out of his contract in May of 2017 — allowing Weltman to become the Orlando Magic's new president of basketball operations — there were two conditions.
The first was that the Raptors would receive a 2018 second-round pick that the Magic had previously acquired from the Los Angeles Lakers. The second, imposed by the NBA, was that the Raptors and Magic could not engage in a trade for one calendar year.
While the pick was ultimately sent to Brooklyn to help unload DeMarre Carroll's contract, the second condition was unlikely to ever matter much.
After all, it's probably hard to trade with a team that sees the basketball world so similarly and is trying to acquire the same type of player to build the same type of system. Maybe there was a brief window where the timelines were disparate enough for Weltman to send a win-now piece to his old boss and his successor — Masai Ujiri and Bobby Webster, respectively — for future help.
Now? The Raptors and Magic are mirror images of the same idea, slightly askew in execution, headed for an in-season tournament matchup Tuesday and, perhaps, a spiritual battle of wits and application for years to come.
The similarities between the two programs start with the way different skills and traits are valued. For years, the Magic have drafted for size, length, wingspan, and any other descriptor of a player's natural Vitruvian ability to manipulate the space around him on a basketball court. Traditional positions are out of style. If a six-foot-nine forward has enough playmaking to be moulded into a six-foot-nine guard, the value is greater than that of the original forward or a nominally sized guard. Size is and always has been basketball's great differentiator, but the modern NBA demands that size come with commensurate skill. The Raptors and Magic believe that size is an exponential multiplier if the right level of skill can be developed within it.
For Toronto, that philosophy began back in their championship 2018-19 season. Defensively, Nick Nurse used the four-position size advantage of his roster to frustrate stars, suffocate the paint and force turnovers.
When Kawhi Leonard left, the Raptors over-indexed on toolsy forwards regardless of fit or spacing concerns, leading to the fan-branding of "Vision 6'9." That resulted in strong defences that could struggle to score in the half-court at times, and those weaknesses were exacerbated as additional pieces of the championship core left. The front office stayed the course, adding pieces like Jalen McDaniels, Thad Young and Otto Porter Jr. to the margins of a roster that already had Scottie Barnes, Pascal Siakam and O.G. Anunboy at the forward positions.
Today, Darko Rajakovic has the same roster vision applying a slightly more conservative defensive attack, trading in some turnovers for better individual defence and rebounding, and fewer mistakes borne of their gambles. Where Nurse employed size as a means of executing a hyper-aggressive, possession-tilting weapon, Rajakovic more selectively deploys that length, allowing a good game plan to play up as elite due to the incremental advantages of length at each successive point in a possession.
Not surprisingly, Rajakovic's team has excelled on defence and in transition while going dry for long stretches in the half-court game. No matter how useful length is, lineups that include two or more of McDaniels, Chris Boucher and Precious Achiuwa alongside one or two of the starting forward trio are going to be light on space. The bet is that, in time, with a system built around more egalitarian principles, a lack of spacing can be overcome thanks to the combination of size and playmaking around the court. For now, the offensive returns are in fits and bursts, like Sunday's franchise-record 44-assist game, around the 29th-ranked half-court offence.
Defensively, the vision is easy to see. The Raptors currently rank eighth in defence (filtering out garbage time), ranking in the top 10 in opponent shooting, defensive rebounding, opponent free-throw rate, and deflections, while grading as average in forcing turnovers.
Anunoby is one of the league's most versatile defenders, in terms of role and position, and he's been unleashed as more of a lockdown piece, guarding whoever the opponent's best scoring threat is on a given night. Barnes, meanwhile, has taken as big a leap defensively as he has offensively, placed in the lower half of the floor on defence so his elite length and play anticipation can create havoc as a roaming helper, producing an elite number of steals and blocks, individually. Siakam has embraced guarding more on the perimeter to allow Barnes to station low, and Jakob Poeltl has, at times (but not quite enough yet) stabilized the paint.
The parallels to the Magic are clear.
Orlando's search for a large, positionless hub started as far back as Aaron Gordon, and at one point hinged on Jonathan Isaac's development. As Gordon aged out and Isaac dealt with myriad injury issues, the Magic front office has stuck to prioritizing overall upside over fit in the draft. The 2021 draft produced Jalen Suggs, "just" six-foot-four but a strong defensive menace, and Franz Wagner, a six-foot-nine scorer who could turn into a point-forward in time. A year later, they landed their best bet at a massive offensive hub yet with six-foot-10 No. 1 pick Paolo Banchero. With two more lottery picks this past June, they took a six-foot-seven guard (Anthony Black) and a six-foot-eight wing (Jett Howard).
(An aside: There were strong rumblings the Magic would select Scottie Barnes fifth overall in 2021 if the Raptors didn't take him fourth. It's easy to see where he'd fit their vision. What's not clear is whether the degree to which Barnes outplayed Suggs in their rookie years would have taken the Magic out of range for Banchero. The butterfly effects of player development systems are impossible to know, but it's safe to say the Raptors are thrilled having gone off-chalk to take Barnes over Suggs.)
All told, the Magic only employ one player smaller than six-foot-four, and that's bench scorer Cole Anthony (six-foot-two). Of the 12 players who see regular minutes when healthy, eight are between six-foot-seven and six-foot-11. There is size everywhere, important both for good individual defenders to become great and for lesser defenders to at least have the ability to execute a space-evaporating system.
Like the Raptors, the Magic have proof of concept on the defensive end ahead of the offensive end. They rank fourth in overall defence, excluding garbage time, after improving from 24th to 17th to 11th over the last three years. They lead the league in forced turnovers, are fifth in defensive rebounding, and are league-average in opponent shooting and free-throw rate.
They have some of the prior Raptor defensive principles, willing to take some gambles due to the trust in their backline and help defenders, resulting in a worse opponent shot profile but a massive edge in the possession battle. And where the Raptors have had some trouble at their own rim but excel defending the floater-range area of the paint, the Magic will concede a 10-footer and erase more shots at the rim.
The primary issue holding Orlando back a little bit right now is that it is very ineffective turning all of those turnovers and defensive rebounds into transition buckets. For a team with so much speed and athleticism, the Magic are a difficult watch on the fast break. The Raptors generate fewer live steal-and-rebound opportunities than Orlando yet score seven more fast-break points per game.
Orlando struggles in the half-court mightily, too, that is just more expected, as it is for Toronto. The Magic (33.0 per cent) are one of the few teams who shoot the three worse than the Raptors (33.6 per cent), and the two sides are both bottom-five in half-court offensive effectiveness.
In short, Orlando has executed the defensive side a bit better, Toronto has executed the transition offence side much better, and Orlando is at 8-5 versus Toronto's 6-7, largely thanks to randomness and a bit of schedule strength.
This Magic team is gaining confidence in a way that could be troublesome for the middle tier of the Eastern Conference, and certainly for the Raptors in their in-season tournament pool. Winners of three in a row, Orlando is coming off its best offensive game of the season, one in which they held one of the league's best offences (Indiana) to one of their worst nights of the year.
Against Toronto, they'll throw a ton of size at Barnes and Siakam, daring outside shooters to be the ones to beat them. Markelle Fultz and Wendell Carter Jr. are out, but the Magic still have 10 rotation-calibre players, including seven who are six-foot-seven or larger. Goga Bitadze has found a nice role as their starting centre. Isaac has returned to his All-World defensive self (he just can't do, uh, much of anything on offence). Suggs is a terror and will live in Dennis Schroder's jersey while comfortably switching if the Raptors try big-small pick-and-rolls to hunt a mismatch. Wagner has improved at that end and Banchero is at least big.
It's a fascinating season for both teams. The Magic are on the way up, looking for their first winning season since 2018-19, with big contract decisions to make this summer on Suggs and Wagner. How Wagner and Banchero develop offensively will go a long way to determining the offensive viability of a team full of massive pseudo-wings. Toronto is no less committed to that approach but needs to determine the timeline on which they're operating.
At a time when the offensive skill level has never been higher in the NBA, Toronto and Orlando continue to believe that size is a prerequisite to best utilize that skill, long-term. It's clearly true, for both teams, on the defensive end. Tuesday's in-season tournament meeting could tell us which side is closer to turning it into good offence, too.