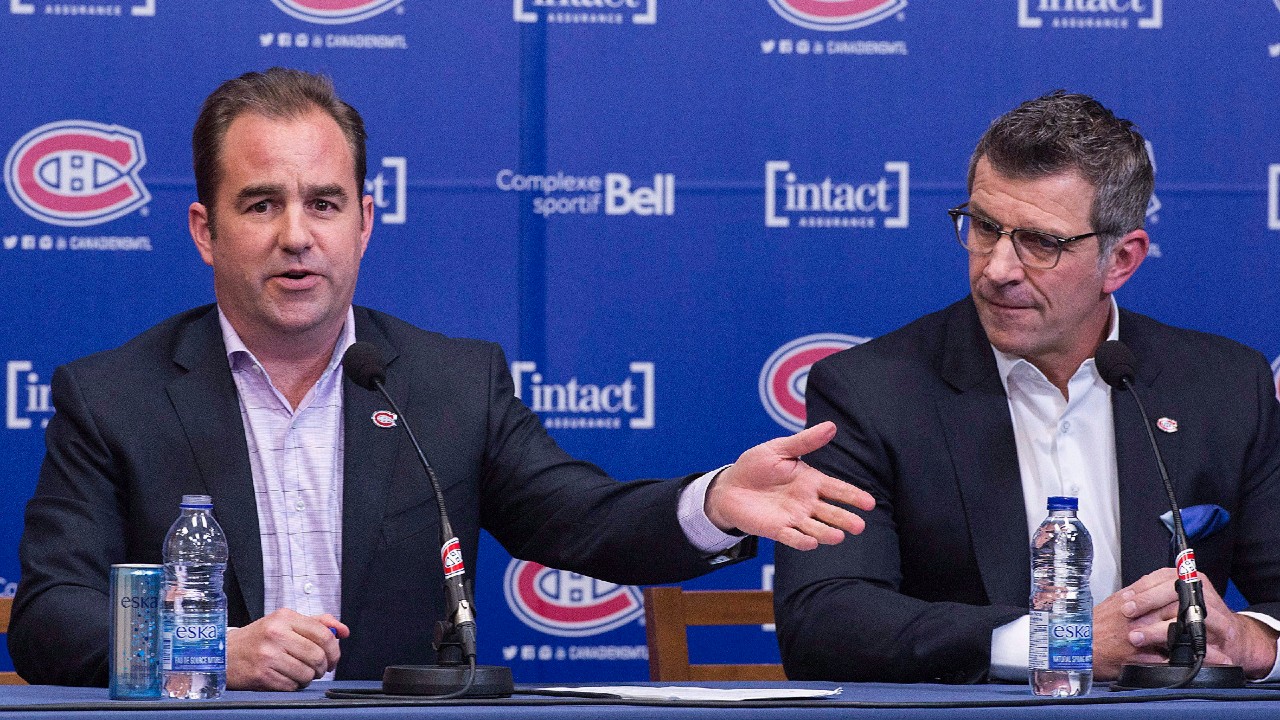 MONTREAL — When measured against the long list of things Geoff Molson miscalculated in allowing Marc Bergevin to select Logan Mailloux 31st overall at last Friday's NHL Draft, the one thing he got right on Wednesday won't immediately resolve how most Montreal Canadiens fans feel about this young player essentially facing minimal consequences — beyond minor legal ones — for a crime he committed.
The hope is that it does in time, but it's nothing more than a hope at this point.
Mailloux, who was charged and penalized only $1,650 in Sweden last year after sharing with SK Lejon teammates a photo of himself engaged in a consensual sexual act with an unidentified 18-year-old woman, renounced himself from the draft and labelled himself undeserving of the opportunity to join a team until he proves up his character, and the Canadiens should have heeded his request.
That the owner, president and CEO of the team only recognized this in retrospect—stating in an open letter on Wednesday that he apologizes "for the pain this selection caused" and following that up by telling a select group of media during a 17-minute Zoom conference that he made "an error in judgment" – won't be offset by the realization that how the Canadiens proceed now with Mailloux is more important than anything else they say on the matter.
But at least that's a start.
Several more things need to happen for Mailloux to prove he's worthy of the second chance the Canadiens offered him and both his actions and theirs moving forward will ultimately determine if any positives can be derived from his unacceptable and disgraceful act and their amoral decision to look past it just to add his talent to their prospect pool.
Uninviting the 18-year-old Belle River, Ont., native from Canadiens training camp in the fall was among the steps Molson announced he's taking, and it's a good one.
"That was a decision that, ultimately, I made," Molson told reporters. "I think that Logan does need time. He's only 18 years old. He needs to go away and learn to become a better person, and to have him show up in September at our training camp wouldn't make any sense at all."
Not signing the player before he shows he has taken tangible steps towards redemption — beyond showing remorse, which is the bare minimum society should expect of people who transgress in like fashion — is also pertinent.
"We need to evaluate his progress, we need to evaluate how he performs as a young adult and continue to assess and evaluate," said Molson.
"There's no question we'll be following very, very closely," he added, "and we're going to do everything to not only help Logan improve as a person but to use Logan's story to do well in the community."
That's the least the Canadiens can do.
Much more is in order, and that Molson at least admitted as much matters.
Never mind that he finally broke his extensive silence less than 24 hours after prime minister of Canada Justin Trudeau, a lifelong Canadiens fan, expressed his dismay at the team's decision to draft Mailloux and after corporate sponsors Desjardins, St. Hubert and Jean Coutu released statements saying they were rethinking their relationships with the Canadiens. As disappointing as it is that it took him as long to say something, or that it appears he's only doing so because of the heat he's taking, none of that matters as much as what he actually did say.
And nothing Molson said matters as much as what he's doing, and what he intends to do moving forward.
Though this bit, regarding Mailloux's victim, was a vital part of Wednesday's statement.
"I want to say that we do not minimize what she has had to, and continues to have to, live through," Molson said. "No one, especially not an 18-year-old, should have to suffer through a traumatic experience like this. We are there to support her and her family and respect their privacy."
Molson accepting blame for the insensitive decision to draft Mailloux was also a must.
"Shame on me for not taking into consideration the number of people I impacted by not thinking beyond the fact that a second chance is a good thing which all teenagers deserve," Molson said. "And we're going to work hard with Logan, but shame on me for not taking into account the victim, and shame on me for not taking into account how many people we'd impact with that decision."
And spelling out to what extent he understands he's got a relationship to repair with several Canadiens fans — and a reputation to redeem for the organization — was certainly also in order for Molson.
"I have no doubt we disappointed a lot of our fans," he said. "But I also have no doubt we disappointed a lot of people who maybe aren't our fans, who have been impacted by this type of thing. And this is where the Montreal Canadiens should be better. And I take full responsibility for that, and we will be better."
How exactly the Canadiens "will be better" has yet to be completely outlined, but at least these details emerged: In addition to a pledge to, over the course of the following months, "develop, in conjunction with local experts, a comprehensive plan to raise awareness and educate young men and young women about this serious issue," and "use our platform and our resources to turn a decision that hurt many people into one that brings meaningful and impactful change," Molson explained he's putting together a task force to oversee several Mailloux's rehabilitation and several other initiatives.
"We have ideas, many ideas," he said. "The person I've put at the head of our task force is Genevieve Paquette (director of community engagement for the Canadiens foundation). (Mailloux's) agency is also involved in the process with us.
"There's several steps (Mailloux is expected to take, too). It could be some counseling he's doing with people, it could be speaking with young players to explain his experience and how it's affected his life, and it could also be his involvement in the community and monetary investments made."
Bergevin later said Paquette would reveal the specifics at later date.
When asked about Molson's open letter, Bergevin added he agreed with all of it and echoed Molson's statement that the team's actions moving forward will be more relevant than anything that's been said or will be said on the matter.
They were both right about that. They were wrong to make the pick, wrong in not being more sensitive to the victim and her family, wrong to underestimate how it would be received, wrong to go so strongly against the prestigious brand the organization had cultivated over 100 years and wrong to think it would just blow over, but they're right in realizing what they do next will matter most.
"I understand that you expect more from us and we let you down," Molson said. "We will work to continue proving we are an organization this community and our fans can be proud of."