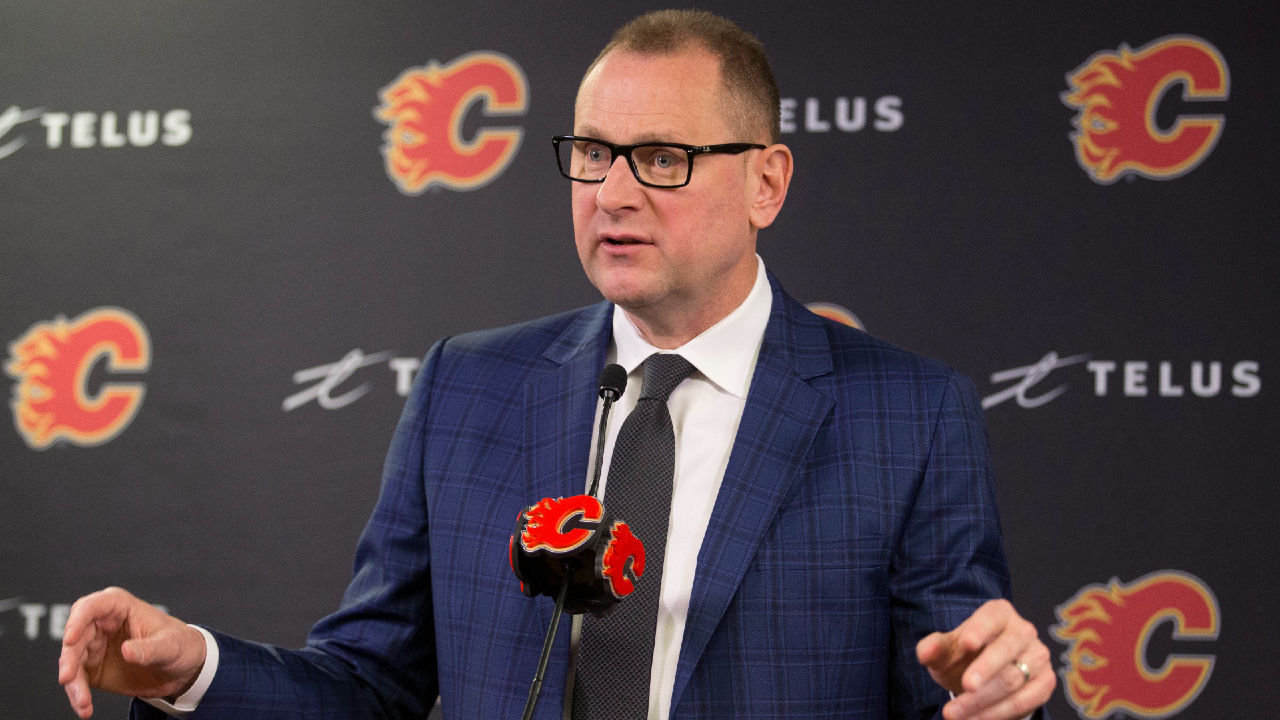 It didn't take long for new Toronto Maple Leafs general manager Brad Treliving to face some tough questions about the future of his newly inherited team.
At his introductory press conference Thursday, he answered questions on some of the Maple Leafs' hot-button issues, including the status of star-forward Auston Matthew and head coach Sheldon Keefe.
"There's a lot of priorities," Treliving said. "There seem to be a lot in the No. 1 spot. … We'll go pedal-down pretty quick. There's a lot to do and the clock is ticking."
One of those top priorities, of which there seem to be few, is sitting down with Keefe and deciding who will be behind the bench next season.
"I don't have a relationship with Sheldon," Treliving said. "But I've had a chance to talk to him, and there are a lot of things that are priorities, and Sheldon is as well."
Treliving also was upfront about this being a "unique situation" and admitted he will need to take some time and get to know Keefe before making any decisions.
"My outside lens of Sheldon … I think he's a really good coach," Treliving said. "My view is, determining whether a guy is good, bad or indifferent, you have to work with him. You have to get to know him. So, we're going to sit down and we are going to go through it."
Keefe has a 166-71-30 regular-season record over his three-and-a-half seasons as Toronto's head coach. He has one year remaining on his contract.
Treliving also was quick to remind everyone that he had a similar situation when he took over as GM for the Calgary Flames back in 2014, and Bob Hartley was the coach. Hartley remained on as bench boss and won the Jack Adams Award as the NHL's coach of the year in Treliving's first year with the team.
The Flames and Treliving mutually agreed to part ways in April after the team missed the playoffs.
Treliving was hired as Flames' GM in April 2014.
The Flames made the post-season five times in nine seasons under Treliving, with their best showing being two second-round appearances.
The Leafs cut ties with GM Kyle Dubas on May 19 after five years at the helm. The team was ousted in five games in the second round of the Stanley Cup Playoffs by the Florida Panthers – after losses in the first round of the post-season in Dubas' first four years in charge.
Three days later, Dubas' agent sent new financial requests to Leafs president Brendan Shanahan. The next day, Shanahan informed Dubas he was no longer GM. Dubas was hired to be the Pittsburgh Penguins president of hockey operations Thursday.
Not only does Treliving have to make a decision on Keefe, but he also has key decisions to make on some of the Leafs' top players.
Top forwards Matthews, Mitch Marner and William Nylander all have no-movement clauses that kick in July 1. Matthews is eligible to sign a long-term extension the same day.
Clearly, there is a lot to do. But the main reason Treliving decided to come here was because it was Toronto and is excited to be a part of a franchise that means so much to so many.
"It's the Leafs," he said. "It means something."