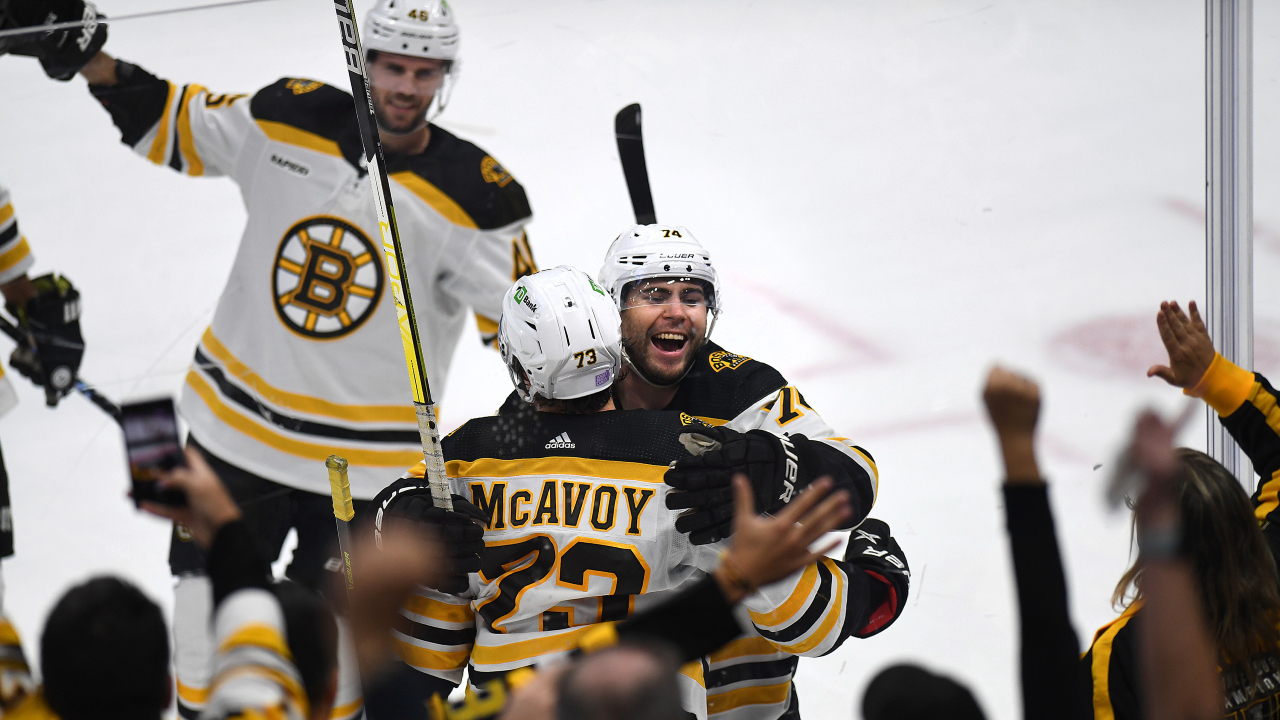 For six weeks, we've been framing all NHL takes with, "It's early, but…"
Well, with every team having already played 25 per cent of its schedule or about to shortly, it's time to ice that caveat and put some stock in our observations
Americans gobbling turkeys means we're one-quarter of the way through the NHL season and there's plenty to chew on in every city. From standout team performances to some borderline shocking individual showings, here's a look at what's happening around the league with a substantial amount of games in the books.
1. Boston Bruins (17-3-0) Most of us assumed both Brad Marchand and especially Charlie McAvoy would be out well past the quarter mark of the season. The fact they're already both back and producing — and joined a team that was soaring without them — speaks to just how well things have gone for Boston.
2. New Jersey Devils (16-4-0) It's not fair to the rest of the team to say this shocking Devils rise is all about three players, but there's no doubt Nico Hischier, Jack Hughes and Jesper Bratt are the straws that stir the drink. Hischier, in particular, has been a monster and if he can be a 90-point player with the way he defends, New Jersey is just getting started.
3. Vegas Golden Knights (16-4-1) Robin's Lehner's season-long absence due to injury could have really punctured this team's hopes of getting back to the playoffs. But Adin Hill and Logan Thompson have combined for a .920 save percentage and Thompson, in particular, has been one of the early stories of the year.
4. Colorado Avalanche (11-6-1) The defending champs were apparently just doing a little throat-clearing in October, going 4-4-1 in that month. Colorado is 7-2-0 in November and new goalie Alexandar Georgiev has been everything the squad could have hoped for.
5. Dallas Stars (12-5-3) Jamie Benn's resurgence — he's producing at his best clip in five years — isn't just a Dallas story, it's a league-wide event to see a former scoring champ come back like this at 33 years old.
6. Toronto Maple Leafs (11-5-5) The bottom line is, through all the noise, the early talk of a coach being in trouble and some very key injuries, Toronto sits second in the Atlantic Division and only five teams in the NHL have a better per game goals-against (2.62).
7. Seattle Kraken (11-5-3) You can't toss a salmon without hitting a good story in Seattle this year. Even if they can just hang around the playoff picture, it will be a huge second-year leap for the Kraken.
8. Carolina Hurricanes (10-6-4) We could be looking at a double-breakout situation for Martin Necas and Andrei Svechnikov. The former is on pace for 94 points, while the former is clocking a 50-goal campaign.
9. Winnipeg Jets (11-6-1) There was very little in the way of positive vibes around this team in the summer. And any time a squad takes the 'C' off somebody the way Winnipeg did with Blake Wheeler, you wonder where things are going. But Josh Morrissey is having a career year and Connor Hellebuyck has a .928 save percentage.
10. Detroit Red Wings (10-5-4) The most encouraging thing about Detroit's solid start might be that — with the exception of Dominik Kubalik — nobody is really out over their skis; it's not like the team is being carried by performances that seem unsustainable. Their underlying numbers aren't great, but the Wings have just quietly been pocketing points for 25 per cent of the season.
11. Florida Panthers (10-8-2) You sort of thought the Cats might take a step back after their Presidents' Trophy run last season and that's been the case out of the gate. Matthew Tkachuk, though, has been everything Florida could have hoped for and more.
12. Tampa Bay Lightning (11-7-1) By their standards, the Bolts have been pretty "meh" this season, but Mikhail Sergachev has taken his offensive game to a new level. The 24-year-old has basically been good for a point-per-game.
13. St. Louis Blues (10-9-0) From Games 4 to 11, the Blues went 0-8-0 and averaged 1.5 goals-per-game. Before that, they started 3-0-0. Since then, they've gone 7-1-0 and averaged four goals-per-game. It's been feast or famine in St. Louis.
14. New York Islanders (13-8-0) For a team that got buried by a 13-game roadie to start last year combined with a COVID outbreak, simply holding down a playoff spot right now is a nice spot to be in. Ilya Sorokin has been fantastic.
15. Calgary Flames (9-7-3) Calgary seems to have found its footing after a seven-game skid. If newcomers Jonathan Huberdeau and MacKenzie Weegar can crank it up as they get more comfortable, the Flames should be sitting pretty by the halfway point.
16. Pittsburgh Penguins (10-7-3) Nobody has had swings as pronounced as St. Louis, but the Pens season has gone as follows: Zero regulation-time losses in their first five followed by a seven-game losing streak followed by a 6-1-1 stretch. Big ups and big downs, all while Sidney Crosby continues to produce like he's in his prime.
17. New York Rangers (10-7-4) A quarter of the way through their third and fourth seasons, respectively, still no offensive breakout for 2020 first-overall pick Alexis Lafreniere and 2019 second-overall selection Kaapo Kakko. And, boy, would it make a huge difference for this club if they could ever become consistent threats.
18. Los Angeles Kings (11-9-2) Their five-on-five save percentage this year (.903) is a problem. Only three teams are worse.
19. Edmonton Oilers (10-10-0) Edmonton is giving up 3.6 goals-per-game, more than all but three squads in the NHL.
20. Minnesota Wild (9-8-2) Even after hanging six on Winnipeg Wednesday night, the Wild are averaging just 2.84 goals-per-game, which ranks them 23rd in the league.
21. Nashville Predators (9-9-2) Juuse Saros, a Vezina finalist last year, had a tough time out of the gate, but he's been improving in November and — not surprisingly — so have Nashville's results.
22. Montreal Canadiens (10-9-1) The main takeaway from the Canadiens' surprising start is some guys the club hoped would be long-term pillars of the franchise — Nick Suzuki, Cole Caufield, Kaiden Guhle — are showing they can be just that. The Kirby Dach deal also looks like a tidy bit of business.
23. Washington Capitals (8-10-3) We're just not used to seeing the Caps being the 26th-ranked team in terms of goals-per-game (2.76).
24. Buffalo Sabres (9-11-0) Tage Thompson (13-13-26) has gone from nice breakout story to one of the league's stud centres.
25. Philadelphia Flyers (7-8-5) An eight-game losing streak has buried the Flyers' strong start…as most of us suspected would happen.
26. Arizona Coyotes (7-9-2) The real story of the season may be just about to heat up in Arizona, as Jakob Chychrun has returned from injury and is firmly on the trade block.
27. Vancouver Canucks (7-10-3) For all that's gone on in Vancouver this year — and it feels like it's been three seasons' worth of news — the bottom line is only six teams score more goals-per-game than the Canucks and only two give up more.
28. Columbus Blue Jackets (7-11-1) Key injuries have flattened the Jackets, especially the shoulder injury that will sideline Zach Werenski for the rest of the year.
29. San Jose Sharks (7-12-3) Even if it's happening in a losing setting, Erik Karlsson's resurgence is a defining story of the league this year. Only four defencemen in the NHL are within 10 points of his pace-setting 30.
30. Chicago Blackhawks (6-10-3) Cue the Patrick Kane trade talks, because Chicago has two wins in its past 13 outings.
31. Ottawa Senators (6-12-1) This team was 4-2-0 after six games; it's 2-10-1 since and we're getting to the point where it feels like something has to happen.
32. Anaheim Ducks (6-13-1) The Ducks have some great pieces, but this was never going to be their year. They're bottom-five in both goals for and goals against.