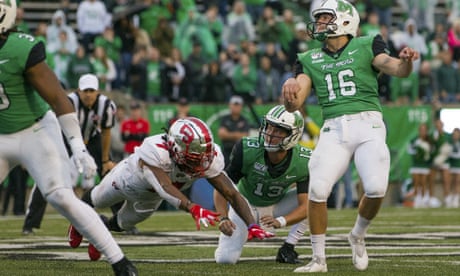 New England selected 23-year-old in last week's draft
Three Percenters have been described as extremist group
New England Patriots kicker Justin Rohrwasser has said he will remove a tattoo that depicts the insignia of a rightwing militia.
Rohrwasser was drafted by the Patriots in the fifth-round of last week's NFL draft but users on social media swiftly pointed out that he had a tattoo of the Three Percenters on his arm. The group, which advocates for gun rights, has been described as a rightwing militia. They have also been accused of advocating against immigrants, refugees and minorities.
Justin Rohrwasser had the Three Percenters tattoo as early as 2015, which was still seven years after the Three Percenters' formation. The symbol didn't just "change" in recent years. pic.twitter.com/oFh0iqFWHn
Related: Oregon standoff tension mounts as so-called '3%' groups refuse to leave