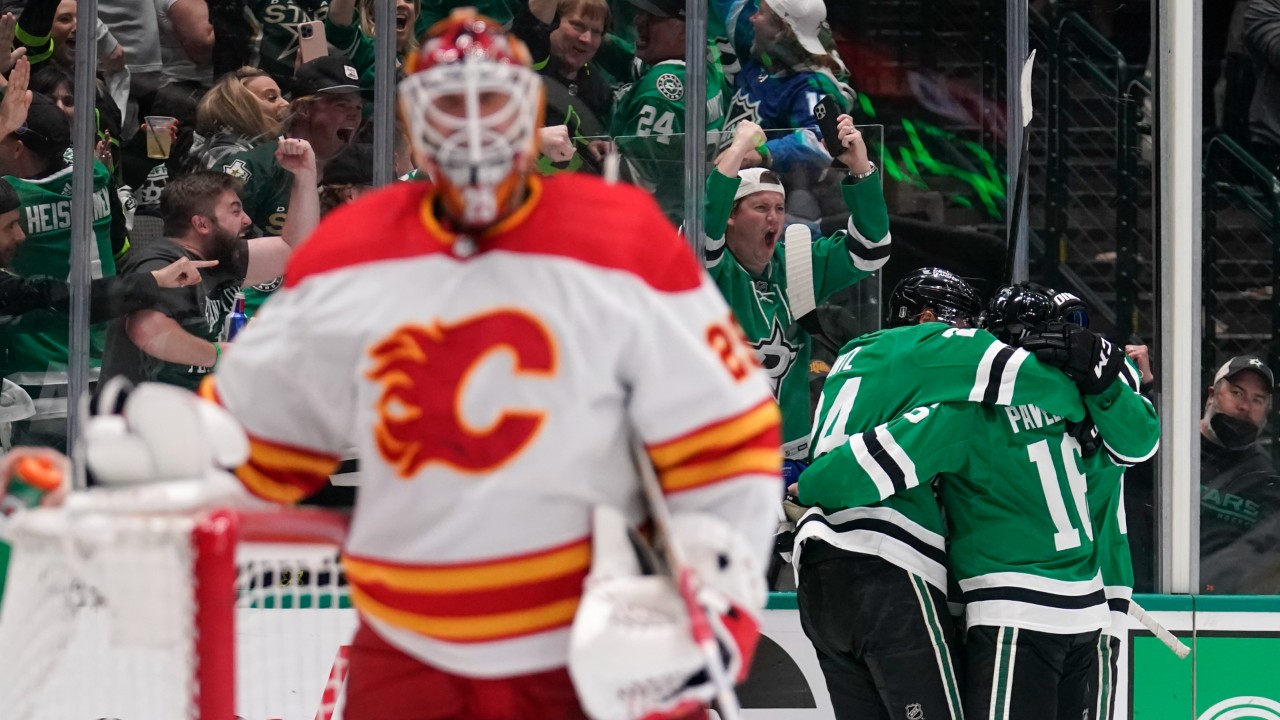 DALLAS — The disappointment still evident in his expression, Elias Lindholm was asked why he was still optimistic his Calgary Flames can make good on their second, and final, crack at eliminating the Dallas Stars.
"We've been a good team all year," said Lindholm, minutes after his club's emotional 4-2 loss in Game 6 at American Airlines Center.
"We have a lot of talent, and a lot of characters, and one of the best goalies in the league. And we have home ice, so we're excited."
What they likely won't have is their best defenceman, Chris Tanev.
Early in the second period of a game with more momentum swings than a Tilt-A-Whirl, Tanev left the game and did not return following the Stars' second goal.
With Oliver Kylington stumbling to the ice after being walked around, Tanev tripped over his defensive partner and lay prone on his stomach as he slid towards the Flames net. While reaching out with his left arm to try steering the puck off the goal line, Michael Raffl poked the puck in as he and Joel Kiviranta fell on top of Tanev's upper body.
In one of his shorter press conferences, Darryl Sutter clearly wasn't going to address Tanev's status or what it might mean.
Michael Stone did.
"Just means everybody's got to step up and try to do the things he does, and he does a lot for this hockey team," said Stone, whose local cult status grew with his first playoff goal since 2017.
"So, it's going to take six guys to step up and contribute."
They've done it by committee on the back-end all year long, so why not again for Game 7 Sunday in Calgary when the club hopes to end its seven-year wait for second-round action?
Problem is, that committee of six may also include Connor Mackey if the league chooses to suspend Nikita Zadorov for a neutral zone hit on Luke Glendening minutes before the Tanev injury.
The hit caught Glendening's head, buckling the Stars forward, who left for the balance of the period before returning to the bench after clearing concussion protocol. However, he told the coach he couldn't play due to a lower-body injury and simply wanted to stay with his teammates to watch.
In a game that featured an elevated level of hatred between the two clubs, Zadorov immediately skated past the Stars bench to exchange words with an irate group.
There was no penalty on the play, but how the NHL's Department of Safety proceeds will be interesting.
"The referees are sometimes put in a tough position," said Stars coach Rick Bowness.
"It's easy for us to look at the video, slow it down and say that's a headshot. The referees sometimes don't get the best angles, so you live with their call."
And so, Flames fans will be put through the wringer yet again.
A team that has only gotten through the first round twice in three decades will get another crack at closing out a wild-card team that returns to Calgary with nothing to lose.
The pressure is squarely on the Pacific division champs to take a talented roster with nine guys who've never won a playoff series and close the deal.
"I know we're not supposed to still be playing," shrugged Bowness, playing up the underdog role, even though his club beat out Calgary two years earlier.
"We're supposed to be on a golf vacation right now, but that wasn't our intention going in. We didn't get in the playoffs to be someone else's stepping stone for the second round. Here we are, going to Game 7, so our guys deserve a lot of credit."
They certainly do, especially after the Flames gave them every reason to panic midway through the second period when they saw their 2-0 lead disappear thanks to goals four minutes apart by Mikael Backlund and Stone.
However, late in the frame Miro Heiskanen steered away from Matthew Tkachuk at the point, walked in and beat Jacob Markstrom from 40-feet out.
Two nights after making their first third period comeback in a playoff game since 2015 (which is the last time the Flames advanced a round), the Flames weren't able to break through before Tyler Seguin's empty netter.
The Flames had the better first period and slightly more high danger scoring chances in a game that featured much more wide-open spurts, but when it mattered most Jake Oettinger and a stifling Dallas defence shut the door. An Erik Gudbranson shot off the post early in the third was as close as the Flames came to tying it.
The Flames are now 7-17 in Game 6's and will host their first Game 7 since 2006 when they lost to Anaheim.
The Flames have lost six of the last seven Game 7's they've played, which is, of course, irrelevant.
"It was a hell of a game, just couldn't get the equalizer," said a seething Sutter.
"You've got to win a game. It takes a lot. Some guys are still learning how much it takes. Said it yesterday and this morning."
Stone said his club traded too many chances with the Stars, but that when the group returns to Calgary on Saturday afternoon they'll do so by parking their latest setback.
"It's a seven-game series for a reason — sometimes it doesn't go all the way but that's three games apiece and it comes down to one," said Stone, who watched both goalies make 36 saves in the most entertaining game of the series.
"We're still feeling good about it. We've got home ice. That's one of the advantages of the way we finished the regular season. So we're looking forward to a big Game 7."