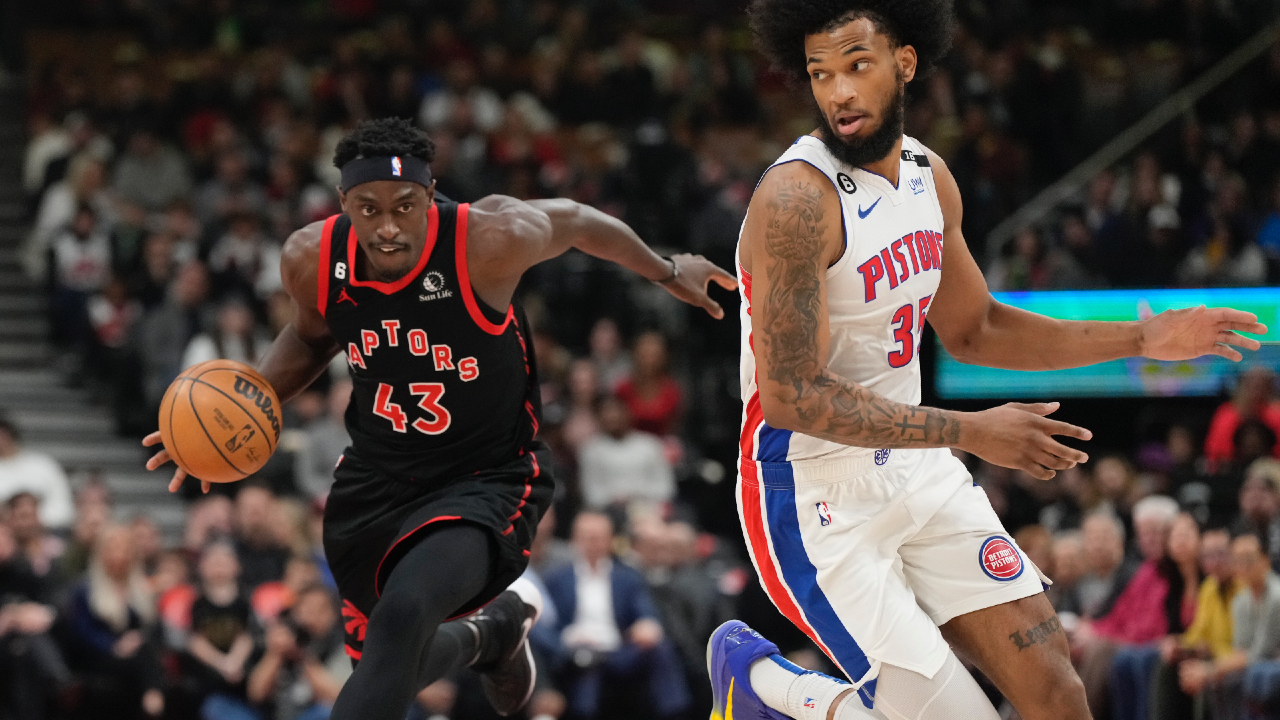 Dwane Casey didn't sign up for his: not all the losing and the daily clinics on basketball fundamentals and seasons more about accumulating lottery balls than victories.
But then again, the winningest head coach in Toronto Raptors history isn't complaining.
"We do a lot of teaching and film work," Casey said Friday while speaking just a few feet from his Scotiabank Arena office of seven years.
The question was about what it's been like shepherding a roster full of players barely old enough to drink in Michigan through a long, losing NBA season. It wasn't the plan when he was hired by Detroit in 2018-19, but that's what the job became, and he has embraced it.
"We let the guys go to the board and draw plays and let them tell us what they have to do in those situations … It's almost like going to school each day, which for me is energizing [and]that's how we kind of keep guys motivated," Casey said. "You give them small pieces of rope where we go 'let's get better tonight at rebounding; let's get better tonight at transition defence'. Whatever it is we want to concentrate on that night, we make that as a goal more so than just winning, even though winning is very, very important. You never want to lose sight of that; you want to stay hungry. But your goal is individual improvement."
Fair to say when Casey was fired following a team-record 59-win season and with coach-of-the-year trophy sitting in his office, he landed on his feet, as tough a pill as it was to swallow.
He headed down the Highway 401 for a job with the Detroit Pistons. He got a five-year, $35-million contract and inherited a team hoping to win.
That part didn't quite work out. While Casey has had plenty of success against his old team — 9-3 prior to this season — the Pistons only made the playoffs his first year and have been dismantling and rebuilding ever since.
They arrived in Toronto with the NBA's worst record, just 15 wins and a roster full of potential and questions marks in equal measure.
But he could smile about it.
That's not always been the case this season in Toronto, where his old club has endured an uneven season with more whispers about palace unrest than have been heard in other years. There were many times this season — as recently as Wednesday night when the Raptors dropped one they should have had to the visiting Indiana Pacers — that there was nothing 'fun' or 'energizing' about a season where the wheels haven't quite come off, but they've been spinning in place a fair bit.
The Raptors have plenty more wins — their 118-97 victory over the Pistons gave them a 4-0 sweep in the season series and improved their record to 36-38 as they try to move up from 9th place in the Eastern Conference. But whether it will all add up to anything meaningful is a very open question.
Toronto did their job against a Pistons team that has shut down their best veterans — Bojan Bogdanovich and Alec Burks — for the season and were without Canadian elder statesman Cory Joseph (chest cold), who has been playing well and usually has an extra jump in his step in his hometown. The Raptors were without Scottie Barnes (wrist); Precious Achiuwa (hamstring) and Gary Trent Jr. (elbow) for the second consecutive game, but it was not an issue.
The Raptors were up by as much as 16 after eight minutes played and were never seriously challenged. They led 38-26 after the first quarter and 72-52 at half as they shot 53.3 per cent from the floor, 8-of-19 from three and feasted on 12 Pistons turnovers. Pascal Siakam had 26 of his game-high 32 points before the intermission. Toronto led 92-73 to start the fourth quarter and garbage time ensued shortly afterwards.
So, the Raptors won the battle, but long-term it's not hard to argue that Detroit might have a more straightforward path to title contention than the Raptors do.
A .500-ish record, a quick play-in tournament exit, three key pending free agents (Fred VanVleet, Jakob Poeltl, and Gary Trent Jr.), their best players heading for their age 30 seasons and scarce talent in the development pipeline doesn't exactly shout fast-track.
The Pistons at least have a long-term plan.
For Detroit a lot will depend on what happens at the draft lottery on May 16th. Both Toronto and Detroit will be home and looking forward to their summers by then, but — presuming the Raptors reach their goal and qualify for the playoffs — only the Pistons will be holding their breath waiting to find out if they get a chance to select French phenom Victor Wembanyama. They will have a 14 per cent chance at the first overall pick, but even if Detroit don't get the first pick, they have a 52 per cent chance of picking in the top-four and they can't slide past five.
They're going to get an excellent prospect and considering they'll be welcoming 2021 No. 1 overall pick Cade Cunningham back after he missed all of this season with an injury, recently added 2020 No. 2 pick James Wiseman via trade, have 2022 No. 4 pick Jaden Ivey playing productive minutes, seem to have found a keeper in 19-year-old Jalen Duren, the 13th pick, and seem to be in the process of making 2018 No. 2 overall pick Marvin Bagley III into a useful player, it's fair to say raw talent won't be the Pistons' problem.
The problem is how long it will take the talent to be molded into something capable of winning. This is Casey's lot now, and even a month shy of his 66th birthday —and with his 30th NBA season rounding into view — he says he's prepared to see it through, and you believe him.
"You have to have patience. Where I am in my career I have a lot of patience because I understand the mission," he said. "…You never like the losing part, but you understand it's part of it when you put a young rookie (Ivey) out there going against a VanVleet … it's a lot to learn and (you're) probably going to get the short end of the stick about it. But he's gonna learn from that, those mistakes, and grow from it."
It's a similar story all the way up and down the Pistons lineup. The beauty of not operating with a win-now expectation is teams can take some chances. Last season they added Bagley at the trade deadline and this year it was Wiseman. Both have the physical attributes that stars often do but haven't quite harnessed them. Wiseman in particular is intriguing. Even near the end of this third NBA season he's not yet turned 22. He's 7-1, can run the floor and has some ball skills, but was an awkward fit on a veteran Golden State Warriors team in championship or bust mode. Enter the Pistons with a low-risk, high-reward play.
"He was hungry for an opportunity," said Casey. "And I don't know if it had been on Mars or wherever he was looking for an opportunity to play. And we present that platform for him to play. He's a great young man. He's a sponge. I don't think he knows what he doesn't know. He's one of those guys where he's just out there playing right now and we're teaching him as we go along. …. (but) we got a lot of young pieces that are gonna be in this league for a long time. This core group is going to grow together. We add some veteran pieces to this group, and we are going to be off the ground running pretty soon."
If you squint, you can see it. Ivey may not be the kind of floor general VanVleet is, but he's got track star speed and finds a way to get to the rim like it's magnetized. He finished with 20 points and eight assists. Wiseman remains a work in progress, but he's huge, quick and can fly. He had 14 points in 24 minutes and if sometimes looked a bit lost — a pass from Ivey bouncing off the back of his head in the 3rd quarter comes to mind — he knows how to finish in the paint: hard and fast. Bagley had 14 and nine.
And the Pistons are in position to give players with less pedigree a chance to prove themselves, such as Eugene Omoruyi, a powerfully built wing from Rexdale who they signed for the rest of the season after he was cut by Oklahoma City Thunder and who the Pistons like because of his ability to hit a shot off the catch, his motor, and his willingness to defend anyone. He had nine points and seven rebounds in his professional debut in his hometown.
That's the good stuff. But in the end, the Pistons leave Toronto with their 58th loss in 74 games after having won just 63 games in the three previous seasons. It's a long road, even if there is light at the end of the tunnel.
There's no guarantee that Casey will get to see the fruits of his labour flourish. He's got another year on his contract, but you never know if a decision is made that another coach might be better suited for the climb after the heavy lifting is done. The NBA can be brutal that way, and Casey only has to look back at what happened in Toronto to be reminded.
But that's for later. For now it's on to game No. 75 of 82, with a focus firmly on the bigger picture. It's not easy, but there's nobility in the pursuit, and Casey is here for it.
"The losses get harder … but you know, we won my last few years here, we won in Dallas, won in Seattle. So the losses never get easy. But the process gets easier," said Casey. "You're watching guys grow, giving them minutes, seeing incremental growth in different areas: defence, decisions, shooting. You see that but they don't always get rewarded with wins. As an organization, our ownership, we're all on the same page, which makes it much easier. The expectations is development. And we're gonna be judged on how these guys grow over these next couple of years."