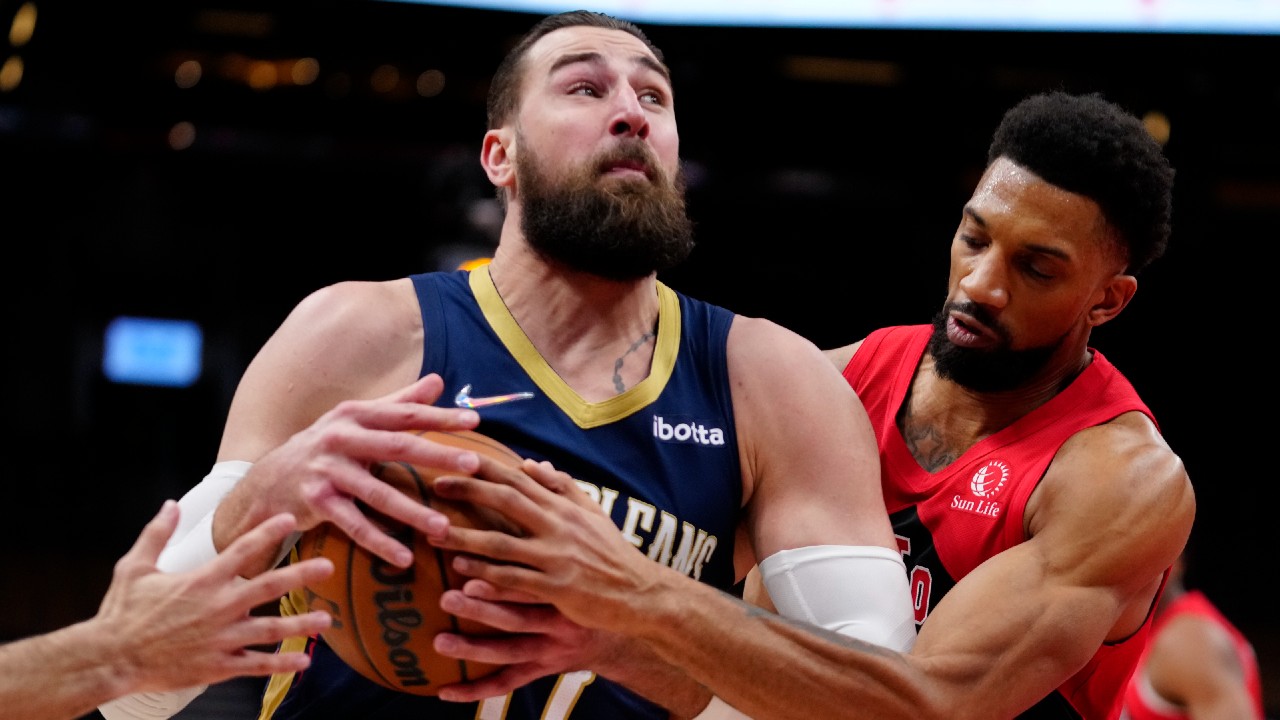 We'll skip over the last game Jonas Valanciunas played at Scotiabank Arena because, well, he came off the bench against the Milwaukee Bucks and didn't do much.
But the second-last game? The night he put up 26 points and eight rebounds and two assists on Joel Embiid and the Philadelphia 76ers in (am I reading this right?) 18 minutes?
Yeah, that deserves a mention.
And you can keep going from there. The big Lithuanian was in the midst of a career year when last wore a Raptors uniform. He split time with Serge Ibaka and was putting up numbers that would have required some conversation about him being a candidate for the NBA's Sixth Man Award were it not for injury and then a trade.
There are plenty of reasons to get a little nostalgic about Valanciunas playing his first game in Toronto since December of 2018. Among them: he's one of the nicest, most genial athletes to ever wear the uniform. Not quite Jose Calderon nice – the Spanish point guard is the nicest man in the world, so tough competition — but certainly in the Anthony Parker category.
Before the game, he found time to have a few words with security people, Raptors staff, former teammates and even some reporters. It was like he never left.
And Valanciunas wishes he never did.
"I do miss it," he said after the game of his seven-season run with the franchise that drafted him. "That was a moment, now it's memories. Nobody can change those things, [but]I do miss it. It was really good to see familiar faces. I have only love for the guys I've been with so it was great to see everybody."
Valanciunas might not have become the franchise saviour some were hoping for when he was selected fifth in 2011 by then Raptors president Bryan Colangelo, but his effort was always evident, the length he went to improve his game obvious and his good nature never wavered, and fans loved him for it.
It was legitimately sad when Raptors announcer Herbie Kuhn called Valanciunas' name in pre-game introductions and there were no cheers to greet it. The place would have been roaring in the before times.
"I have never seen this building empty," he said. "So it was kind of strange. … I used to see people really cheering for the team. It's kind of sad, but we hope for the best you know, it's for the bigger, bigger things. So, hopefully, next year, I'll come here and I'll see the 20,000 people in the stands."
But sentiment or nostalgia aside, Valanciunas was and remains a tremendously effective player.
He never played for the Raptors again after spraining his ankle against the Golden State Warriors a little after he blew up Embiid. The Raptors were 23-7 at that point and clearly a team that was going to contend for a title. But Valanciunas was out until the trade deadline and became the piece – along with Delon Wright and CJ Miles – that brought Marc Gasol to the Raptors.
You can't argue with a ring or the role Gasol's defensive and passing acumen played in getting it, but Valanciunas was averaging 24.5 points, 13.8 rebounds and 1.5 blocks per/36 with a TS% of .640 when he was dealt. Just crazy productivity in 20 minutes a game.
Predictably Valanciunas made his presence felt against his old team as he finished with 20 points and 17 rebounds in 34 minutes in what was a competitive, tough contest from start to finish.
Motivation aside, the Raptors have largely not bothered with even having a traditional centre on their roster since parting ways with Valanciunas and then Ibaka and Gasol [through free agency]in 2020], opting for a lineup that features length just about everywhere other than when Fred VanVleet is playing point guard.
It's working, more or less though it's a theory that hasn't been tested against stiff competition or in the playoffs. The Raptors had enough to outlast the Pelicans 105-101, extending their winning streak to a season-best six games and improving their record to 20-17 while the Pelicans, floundering with franchise player Zion Williamson likely out for the year with a foot problem, fell to 14-26.
It may be telling that they needed the smallest man on the roster — VanVleet — to come up huge again, however. He's been playing lights out over the streak, averaging 31.2 points, 6.7 rebounds and 5.8 threes a game, converting them at a rate of 44 per cent.
It was a pair of deep triples on consecutive possessions by the molten Raptors point guard that put the Raptors up three with 90 seconds to play after it looked like Toronto was in danger of letting the game slip away from them after leading by 10 with 2:43 to play. A tip-in by Chris Boucher helped as well, and that the Pelicans couldn't knock down a pair of open threes after Valanciunas drew double teams in the post didn't hurt.
VanVleet followed his first career triple-double on Friday with 32 points, four rebounds and four assists, his sixth 30-point outing in his last eight starts. The Raptors are now 15-3 in games when VanVleet scores 30 or more points.
Pascal Siakam added 29 points while snagging 10 rebounds and seven assists, as he's mounting an all-star push of his own.
VanVleet's play has made the Raptors go of late, it's inarguable.
But playing small – at centre anyway – comes with a cost. The Raptors are somewhat vulnerable against the league's bigger big men. Former Raptors centre Jakob Poeltl – who was traded in the summer of 2018 as part of the deal that brought Kawhi Leonard to Toronto – put up 19 and 12 in 23 minutes when he was in Toronto last week. On Friday Hassan Whiteside's like was pretty modest for the Jazz, but the amount of attention and effort the Raptors had to put into making sure he didn't punish them at the rim was one of the reasons the Jazz were able to go 17-of-38 from deep, even while missing almost all of their key rotation players.
The Raptors played both Birch and Boucher down the stretch to counter Valanciunas' bulk. But he drew fouls and punished the Raptors for switching, such as his lay-up over Siakam with four minutes left that tied the score 93-93
"He's a presence. You can't forget about him," said Boucher, who had six points and eight rebounds and played the entire fourth quarter, his sharp play of late earning a significant vote of confidence from Nurse. "You can't guard him with one person either, unless you have Joel Embiid and the same kind of body, he's really hard to guard. And he's got a lot better with his touch and he's shooting threes now he's a really a problem, especially when he rolls down there."
Toronto is last in the NBA in defensive rebound percentage. The Pelicans, it may be worth noting, are first, but the percentages didn't play out this time as the Raptors had 15 offensive rebounds to seven by the Pelicans, with Valanciunas getting two.
Still, Valanciunas is a more skilled player than he was three years ago. Most notably he came into the game shooting 43 per cent from three this season on a reasonable volume. He's not the space-eater he was in the past though he's still a handful in the paint as he showed when he turned hard right from the mid-post early in the fourth quarter and nearly put Chris Boucher in the basket.
The Raptors mostly handled by trying to be quick and efficient when their help. When Gary Trent Jr. had to set out with a sore ankle the Raptors started with Khem Birch, who drew Valanciunas. The Raptors set the tone early with VanVleet coming hard on a double on Valanciunas' first touch. In the second quarter – when Boucher was giving up nearly 80 pounds to the big Lithuanian – the Raptors sent size to help as soon as the Pelicans centre put the ball on the floor, with first Precious Achiuwa and then Scottie Barnes cause deflections as Valanciunas tried to pass out of the double.
It's one way to approach it. And at the other end, Valanciunas at times was lost defensively as the Raptors spread the floor and left him without a true big man or even a significant roll threat to stay home on.
But overall, Valanciunas has made strides as a defender since the days since then Raptors head coach Dwane Casey decided he couldn't keep Valanciunas on the floor late games when lineups typically get smaller and faster.
He showed it when the Raptors isolated the red-hot Siakam on him at the wing and Valanciunas kept his old teammate in front of him on the drive and got back to the rim to block Precious Achiuwa at the rim when Siakam dished off.
"He still plays – his size is conducive to protecting the paint and he does a really good job," said Nurse. "You don't get a whole lot of layups on him; you don't get a whole lot of lobs on him. He almost forces you into the mid-range game with his style. He's probably gonna be out there, he's kinda one of their main guys who finishes games now."
You can't help but wonder where Valanciunas might finish the season. He's got two years and $30 million left on his eminently reasonable deal. He's 29 years old. The Pelicans are a team in no man's land but will most likely be sellers at the trade deadline.
It would make sense anyway.
At some point, the Raptors will likely need a true big if they're going to make any real noise in the East.
VanVleet can't do it all forever.
They could do a lot worse than target Valanciunas. Imagine the ovation then.