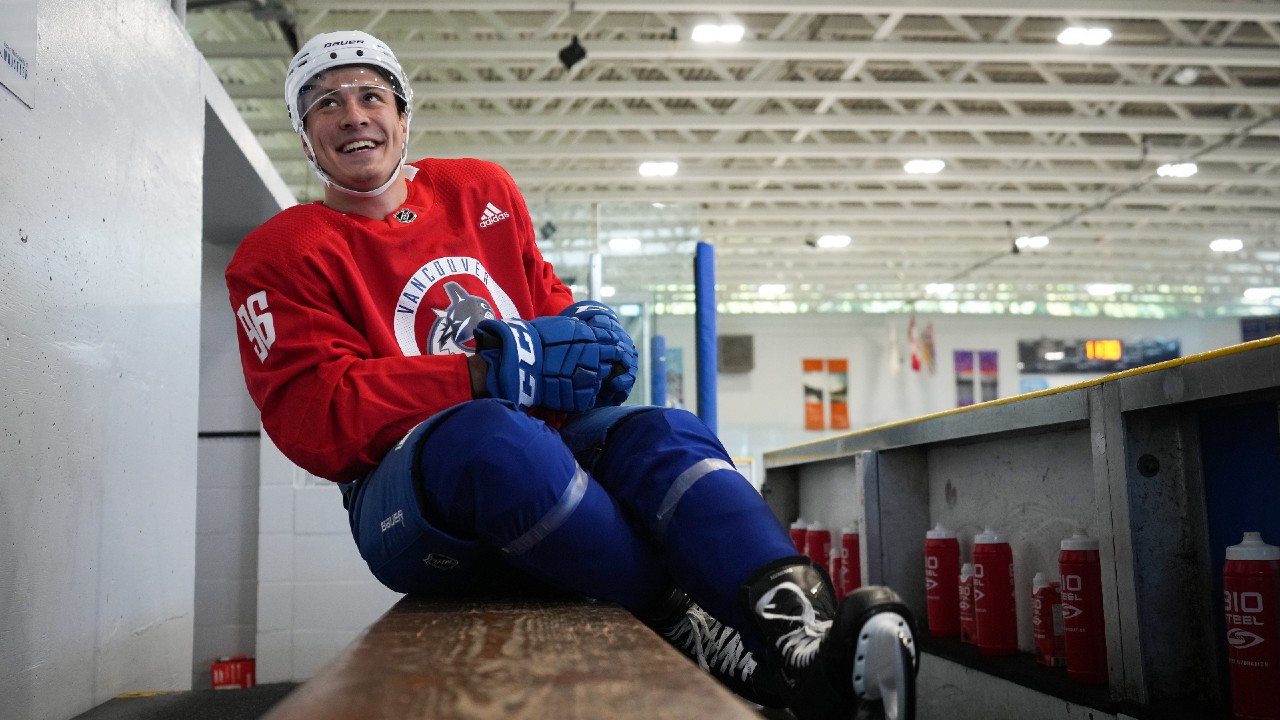 WHISTLER, B.C. — Andrei Kuzmenko is a star. Looks like he can even play hockey.
The most surprising and engaging moment of opening day in the Vancouver Canucks training camp was not when coach Bruce Boudreau unwrapped his forward lines for everyone to see — and debate. It was when Kuzmenko, the big fish the National Hockey League team landed in free agency from the Kontinental Hockey League in June, listened silently through several queries from reporters to linemate Ilya Mikheyev before finally getting asked a question.
The two Russians, Canucks centre Elias Pettersson's new wingers, did their media availability together on Thursday so Mikheyev could interpret for Kuzmenko.
But when finally asked a question, Kuzmenko, 26, lit up and said in English: "Oh, okay, some questions."
He then continued: "Now, I'm happy. Vancouver is a beautiful city for me. I like to play (near) the mountains, the oceans, the forest, I like it. The team is good team. I'm happy. It's a very simple game. Very smart players with me, and Ilya and Pettersson (are) very good, hard-work forwards. Is no problem, I think."
Last year's Canucks rookie, Vasily Podkolzin, didn't speak to Vancouver reporters in English until after the season. The previous Russian, one-and-done defenceman Nikita Tryamkin, barely uttered a word in English publicly. Maybe "goodbye" when he bolted back to the KHL in 2017.
But Kuzmenko looked like he could do standup comedy or sing karaoke in English, which we're guessing he has done since he is clearly an extrovert who embraces life, apparently with a twinkle in his eye.
Since moving to Vancouver in August, after the Canucks beat out at least 20 other teams to secure the NHL services of arguably the biggest free agent in Europe, Kuzmenko has been to a couple of Whitecaps soccer games and several concerts. He said Swedish House Mafia was his favourite. (Yeah, mine, too). He was photographed wakeboarding on Cultus Lake, and posted a photo promoting the car-deal he has already landed with a sponsor.
And then on Thursday, he finally went on the ice for a formal skate in North America and fairly dazzled on a line with Pettersson and Mikheyev, the former Toronto Maple Leaf who signed with the Canucks as a free agent in July.
Five-foot-11 but stocky and surprisingly quick with the puck in traffic, Kuzmenko exudes personality.
"One hundred per cent, yeah," Boudreau said. "I said that the first day I saw him: 'If this guy is as good as advertised, he's going to take the city by storm.'"
Surrounding Pettersson with the Russians was not surprising — even we got that projection right — because it is an enticing combination of high-end skills.
Pettersson is a gifted offensive player with under-rated defensive chops, a centre who last season showed himself capable of playing with anyone and in any situation. Mikheyev is a pure burner, a two-way winger who had 21 goals in 53 games with the Leafs despite receiving third-line minutes and ranking eighth among Toronto forwards in power-play time, just behind Nick Ritchie.
Kuzmenko is the great unknown. Undrafted by an NHL team, he spent eight seasons in the KHL and last year was the league's second-leading scorer with 20 goals and 53 points in 45 games for St. Petersburg.
His puck skills, especially the quickness with which he spins away from checks and releases heavy wrist shots, were obvious on Thursday. Will they translate to the NHL? Who knows.
The Canucks have been disappointed before by highly-skilled European prospects who were excellent in their domestic leagues but failed to gain an NHL foothold (Sergei Shirokov, Anton Rodin, Jonathan Dahlen).
But none of them, as far as we know, had a coach as credible as Boudreau say something like what he volunteered Thursday on Kuzmenko: "I don't want to make too many comparisons but, like, Kuzmenko's release is a lot like Ovie's release, looking at both of them off the left side."
For not wanting to make a comparison, sizing up Kuzmenko against 780-goal scorer Alex Ovechkin was a doozy.
Boudreau said he liked the skill and energy displayed by his new line.
"They wanted to make a good impression, and I think they did," he said.
Miller skated Thursday with wingers Brock Boeser and Tanner Pearson, while Horvat centred Podkolzin and Conor Garland. The fourth line in Day 1 was Jason Dickinson between Curtis Lazar and Dakota Joshua.
Nils Hoglander, as disappointing as a sophomore last season as he was impressive as a rookie two years ago, skated on the projected "fifth line" beside Swedish signees Linus Karlsson and Nils Aman.
All three of Pettersson, Mikheyev and Kuzmenko seem excited about their partnership.
"He is so smart guy," Mikheyev said of Pettersson, the former Calder Trophy winner who scored 26 of his 32 goals last season in the final 43 games under Boudreau. "I hope we can use our speed. We need time for work, but we start today."
"I think all three of us, we bring a different aspect to the game," Pettersson said. "Mikheyev is super fast; he opens up (space) for us. And me and Kuzmenko are maybe kind of similar with the way we play. But from this scrimmage and the scrimmages before (camp), it has been feeling good."
Mikheyev said he and Kuzmenko briefly played together for the Russian national team several years ago but neither can remember when and where.
Kuzmenko said he actually prefers the smaller NHL ice surface to international arenas because when "you win one on one… you go to shoot."
"Adaptation for me is every day," he said. "Every game is better, better, better, better."
Kuzmenko is wearing No. 96, not because it was Canucks Hall-of-Famer Pavel Bure's second number in Vancouver, but because he was born in 1996. Kuzmenko's first-choice number, 10, was unavailable in St. Peterburg, he said. It's unavailable in Vancouver, too. Bure wore it before it was retired by the Canucks.