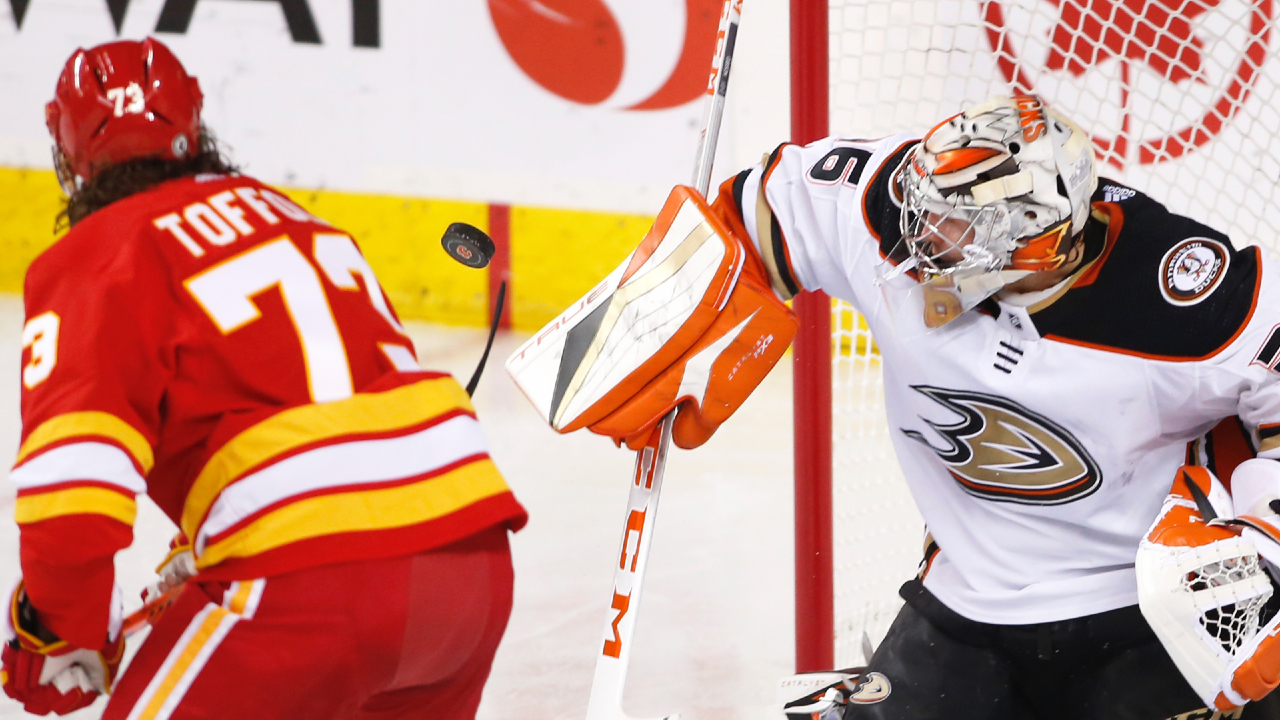 CALGARY — One by one they trudged out to the dressing room podium, hanging their heads after another devastating result.
The outcome, the questions, the frustration, all the same as they have been far too often this season.
A 3-1 loss to the Ducks of Anaheim Friday makes it three months and counting since these Calgary Flames pieced together a three-game winning streak.
Three nights after consecutive road wins seemed to breathe new life into the Flames sagging playoff hopes, they remind everyone why they are where they are:
They can't beat the teams they're supposed to beat — the inexperienced, rebuilding, struggling squads all vying for Connor Bedard.
Asked what can be read into the Flames' losing record against non-playoff teams, Darryl Sutter shrugged.
"Well, neither are we," said Sutter with a fact that is becoming increasingly apparent.
"Sixteen make it, sixteen don't.
"I don't put a whole lot into that at all.
"I don't think there's enough of a gap in the league."
Sure there's parity in the league.
But there are also bottom feeders.
The 29th-place Ducks sit dead last in the league in goals against per game, entering the evening allowing just over four goals an outing.
Their goal differential was the first in the league to hit triple digits.
On Friday the Flames made them look like a defensive juggernaut.
This is the same Ducks team that traded away two veteran defenders at the deadline and still put on a clinic on how to shut things down from the midway point of a 2-1 game.
This time it was John Gibson's turn to look like a star against Calgary's popgun offence, making 34 saves to deal the Flames yet another massive blow to their playoff dreams.
Mikael Backlund's power play deflection opened the scoring six minutes into the second, only to see the Ducks answer 64 seconds later.
Just after the midway point Calgary native Brett Leason put the Ducks up for good, setting up a late empty netter.
You simply can't lose a home game like that when you're trailing the final wild card spot by four points with 16 games to go.
It crushes the team's rare momentum, gives hope to the idle Jets and ensures you lose ground on the rest of the league by succumbing to a squad the rest of the league beat up on.
"Yeah, it's not acceptable — it's happened quite a few times this year," said MacKenzie Weegar of the team's season-long penchant for playing down to their opponent.
"It doesn't matter who our opponent is, we need to play better than our opponent every night and focus on ourselves.
"Dallas and Minnesota are two great teams, and we come up with two big wins on the road.
"Then we come here and we kind of shit the bed against a team I feel is not at our standard."
Just like their previous five games, they got the goaltending.
Jacob Markstom made several big saves to keep the game close.
Coach liked the compete-level too.
They're just not good enough up front.
"Honestly, I'm so frustrated," said Rasmus Andersson, searching for words like his team forages for finishers.
"We didn't score. That's the easy way to say it.
"We're dominating the game in the third and we just can't get the tying goal or the leading goal. "It's frustrating. It sucks.
"It's been the same story all season long. We've been in games and dominating games and losing one goal games … we just can't get that goal."
They can't get any traction either, missing out on yet another chance to build some semblance of mojo at the most crucial time of the year.
Hope is in short supply around these parts, for good reason.
The team is now 0-16-2 when trailing after two periods.
Just like last Saturday, they were booed off the ice, as a puzzled fan base voices a frustration the players wear on their faces in every post-game interview.
"Sure there's frustration," said Sutter.
"But not frustration that affects performance.
"They're givin' it."
Givin' it away.
What's left for the Flames is the league's "easiest" strength of schedule, based on the combined winning percentages of those they have left to play.
Just when you think the news couldn't get worse.