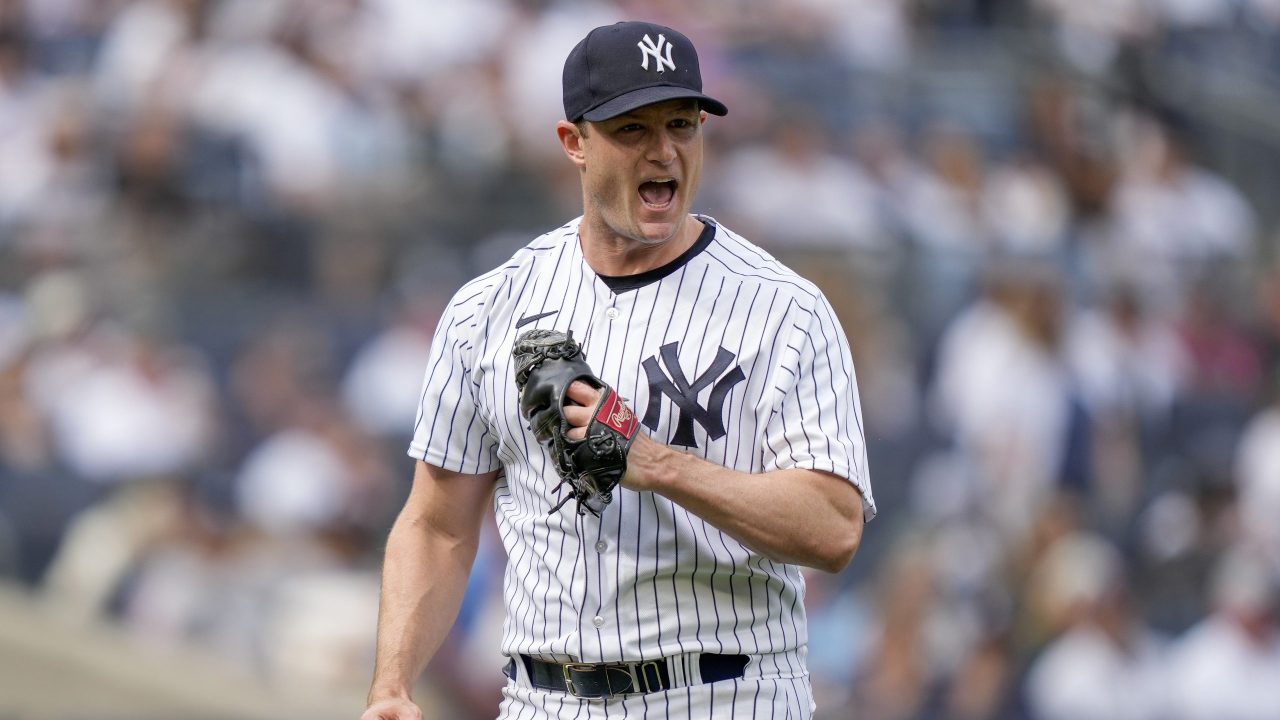 The wild-card race has been, well, wild in the American League this September.
Expect more of the same this week as the Toronto Blue Jays resume their battle for one of the AL's final two playoff spots during a three-game series in the Bronx against the New York Yankees.
After a 6-4 homestand in which they sandwiched four losses to the Texas Rangers with three-game sweeps of the Kansas City Royals and Boston Red Sox, the Blue Jays (83-67) head into their final road trip of the season one game up on both the Rangers and Seattle Mariners (tied at 82-68).
Here's a look at the first of two Blue Jays-Yankees series in the final two weeks.
Probable Pitchers
Tuesday, 7:05 p.m. ET / 4:05 p.m. PT: Toronto LHP Yusei Kikuchi (9-6, 3.81 ERA) vs. New York RHP Clarke Schmidt (9-8, 4.56 ERA)
Wednesday, 7:05 p.m. ET / 4:05 p.m. PT: Toronto RHP Kevin Gausman (11-9, 3.40 ERA) vs. New York RHP Michael King (4-6, 2.77 ERA)
Thursday, 7:05 p.m. ET / 4:05 p.m. PT: Toronto RHP Jose Berrios (11-10, 3.49 ERA) vs. New York RHP Gerrit Cole (13-4, 2.81 ERA)
All games on Sportsnet and Sportsnet+.
Latest on the Blue Jays
The Blue Jays didn't play beautiful baseball against the Red Sox, but you won't find anybody complaining about the result — a three-game sweep.
Despite scoring just 10 runs (two came in extra innings), the Blue Jays emerged on the right side of the scoreboard all three times thanks in large part to excellent pitching.
Matt Chapman's walk-off triple scored Cavan Biggio to give the Blue Jays a 3-2 win in the series finale on Sunday.
Vladimir Guerrero Jr.'s homer streak ended at three games in the win, though he still registered a hit.
The Red Sox went 1-for-14 with runners in scoring position on Sunday as starter Hyun Jin Ryu and four relievers eliminated many threats.
Latest on the Yankees
Barring a huge run along with some help, the Yankees (76-74) figure to miss the playoffs for the first time since 2016.
It's not quite a done deal yet, though, with New York still having six games left against Toronto. The Yankees are seven games behind Toronto and six games back of a wild-card spot.
The Yankees have turned it on in September, going 11-5 after three consecutive losing months (including a 10-18 August) took them outside the playoff picture.
The Yankees missed a chance at a three-game sweep of the Pirates with a 3-2 loss in Pittsburgh on Sunday.
Carlos Rodon, who missed almost the entire first half of the season with a forearm strain, went a season-high 6.2 innings and struck out 10. It's a good sign for next season as Rodon was signed to a six-year, $162 million deal prior to the 2023 campaign.
Cy Guy
Cole, Thursday's starter, is the favourite to win the Cy Young Award for the first time in his career.
Unfortunately for the Blue Jays, he's lined up to face Toronto this week as well as next week during a three-game series at Rogers Centre.
Cole has two no-decisions against Toronto this year, though he gave up zero runs in those starts (11.2 innings).
Judge Watch
Yankees star Aaron Judge isn't having the same kind of season as last year when he smashed an AL-record 62 home runs, but he remains a force.
Despite missing nearly two months with a toe injury, Judge has 32 home runs along with 63 RBIs.
Season Series
The Blue Jays are 3-4 against the Yankees this season. This marks the first meeting since late May when New York took three of four at Rogers Centre.
Out of Town
The Rangers continue a series in Boston on Tuesday, while the Mariners do the same in Oakland against the lowly A's.
The Houston Astros, who are 1.5 games up on Texas and Seattle for first in the AL West, continue a heavyweight battle against the AL-leading Baltimore Orioles.
Up Next
The Toronto Blue Jays play their final road series of the season against a Tampa Bay Rays team battling for an AL East title.