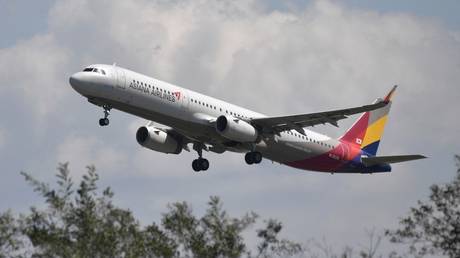 A male passenger was arrested after he opened an emergency escape hatch before the plane had landed
South Korea's Asiana Airlines has stopped seating customers next to emergency exits after a passenger opened an emergency door before landing, causing panic on board and injuring nine people.
As of Sunday, the airline told France's AFP news agency that it would no longer offer the 31A and 26A emergency seats on its fleet of Airbus A321-200 jets. "As a safety precaution, this measure will apply even if flights are full," Asiana stated.
The decision came after a passenger aboard an Asiana Airlines A321 bound for Daegu in South Korea opened the emergency hatch next to his seat while the plane was still 200 meters above the ground.
Video footage of the incident shows passengers clinging to their seats as wind rushed into the cabin. Nine teenagers were taken to the hospital with breathing difficulties after the incident, though none were seriously injured.
The passenger who opened the door was arrested in Daegu and charged with breaking aviation security laws. The man told police that he was suffering from stress having recently lost his job, and opened the hatch as he felt suffocated and wanted to leave the cabin immediately after landing. He faces up to ten years in prison if convicted.
It is still unclear how the passenger managed to open the door while the plane was off the ground. A South Korean Transport Ministry official said that it may have been possible to open the door due to the plane's low altitude at the time, as the air pressure level inside the cabin and outside would have been similar.