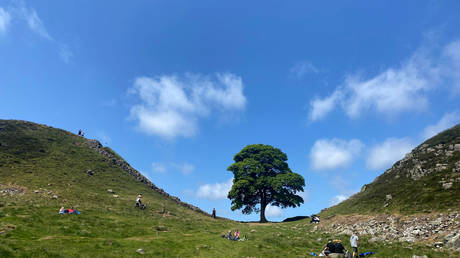 The iconic 300-year-old Sycamore Gap tree in England's Northumberland National Park was felled early on Thursday
UK police have detained a 16-year-old suspect over the felling of the iconic Sycamore Gap tree in England's Northumberland National Park. The tree, believed to be around 300 years old, was also commonly known as 'Robin Hood's tree' after featuring in the eponymous 1991 film starring Kevin Costner.
In a post on X (formerly Twitter) on Thursday afternoon, Northumbria Police said they had arrested a 16-year-old male in connection with the incident. A criminal damage case has been opened and the suspect is in custody assisting officers with their enquiries, officials added.
The authorities noted they are "keeping an open mind" as the investigation is still at an early stage.
Superintendent Kevin Waring appealed to the public for any information on the destruction of the "world-renowned landmark." He described the incident as causing "significant shock, sadness, and anger throughout the local community and beyond."
Officers and park rangers who arrived at the scene on Thursday morning concluded that one of Britain's most celebrated trees had been cut down with a chainsaw.
Locals told the authorities they had heard nothing suspicious during the night amid high winds from Storm Agnes.
The sycamore tree, which grew beside the Roman-era Hadrian's Wall, was named Tree of the Year in a competition organized by the Woodland Trust in 2016.
Describing the felling, National Trust general manager Andrew Poad said he was struggling to "see the logic" behind the act, calling the tree "part of this area's DNA." The heritage conservation charity has already announced it will collect seeds and take cuttings from the felled tree. Poad also noted that the "stump could try to regrow," acknowledging, however, that "it won't be the same."
Tony Gates, chief executive of the Northumberland National Park, said "there have been lots of really good ideas from the community already and so we need to be open and hear those."