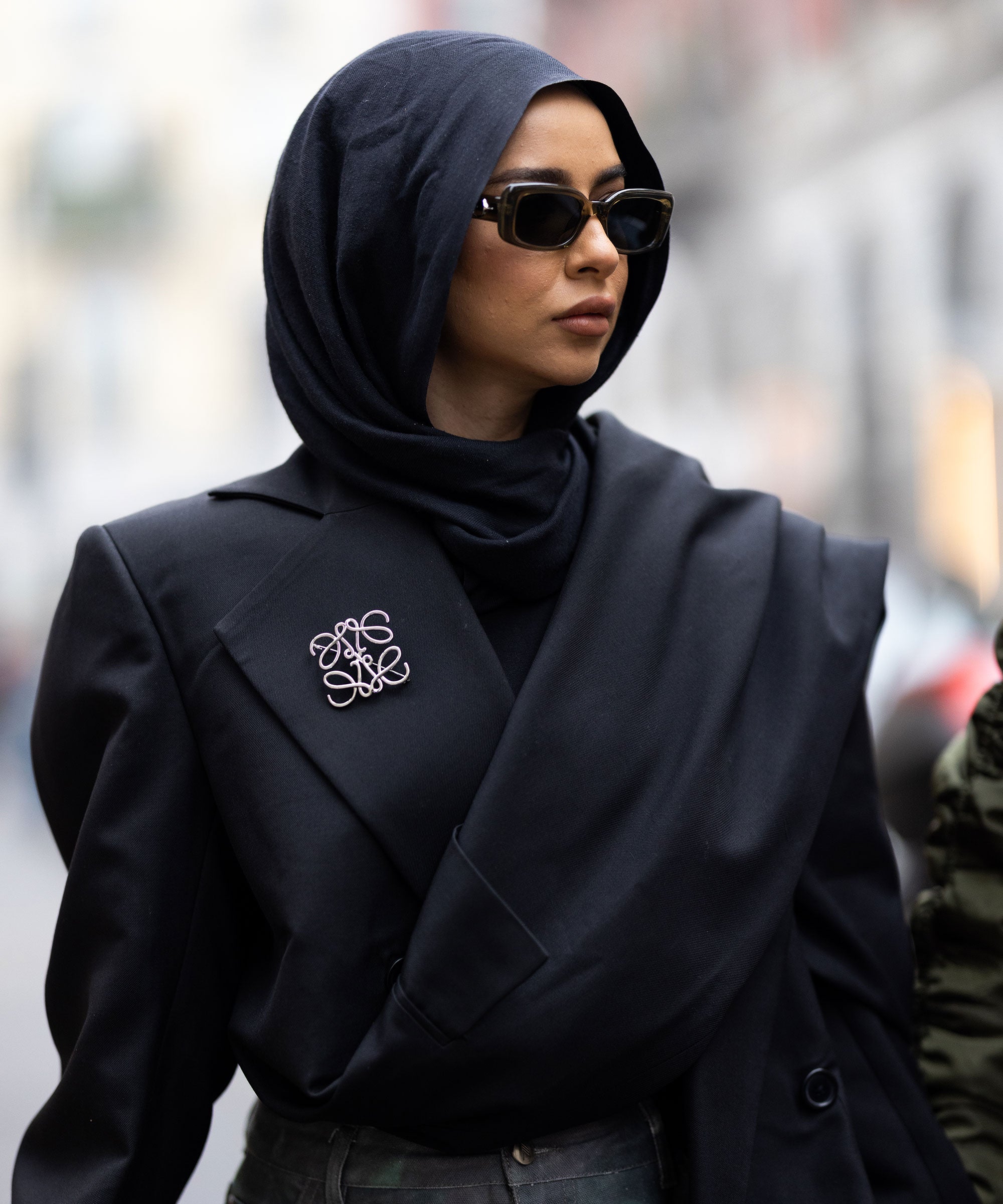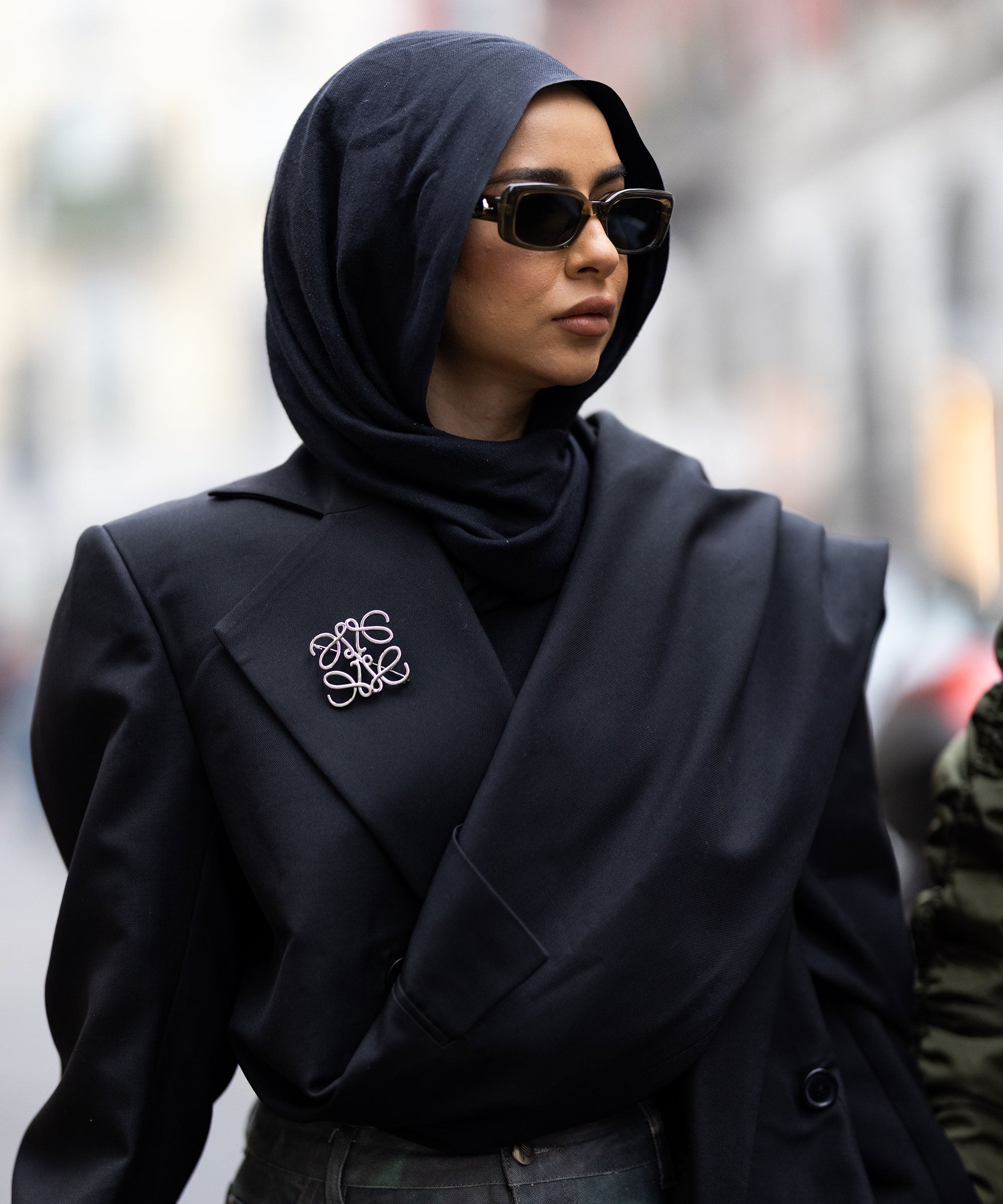 A few months ago, I found myself gasping at the sight of a Yves Saint Laurent logo brooch on Pinterest. Styled with a navy wool coat and an oversized striped shirt, the brooch looked nothing like the ones I grew up seeing in the baptist church I attended, where flora and fauna-shaped brooches were as customary as a Bible. Somehow, this one captivated me: Not only did it bear the initials of my favorite luxury brand, but it added just the right amount of accessorizing to an outfit I would have otherwise worn sans jewelry.
It seems I'm not alone in reconsidering the brooch as a must-have modern accessory. According to The RealReal's 2023 luxury consignment report, demand for brooches was up 27% during the 2022 holiday season, while pins from Gucci were up by 70%. On TikTok, creators are discussing the sartorial possibilities of brooches, beyond regal, bedazzled versions worthy of an appearance on The Crown, with the hashtag #brooch gathering over 100 million hits. They're also popping up on the runway: Take, for example, Jil Sander's spring 2023 collection, which included silver pins worn on oversized, simple shirts, while Acne's lineup featured ribbon pins worn as nipple covers, hinting at the DIY nature of today's balletcore and kitschy "Weird Girl" aesthetics. Most recently, Gucci also included modernized brooches in its fall 2023 collection: A bright blue sleeveless turtleneck was made bolder with draped pearl strings that closed up in a diamond-encrusted brooch, while a Gucci logo pin was worn over a classic fur coat.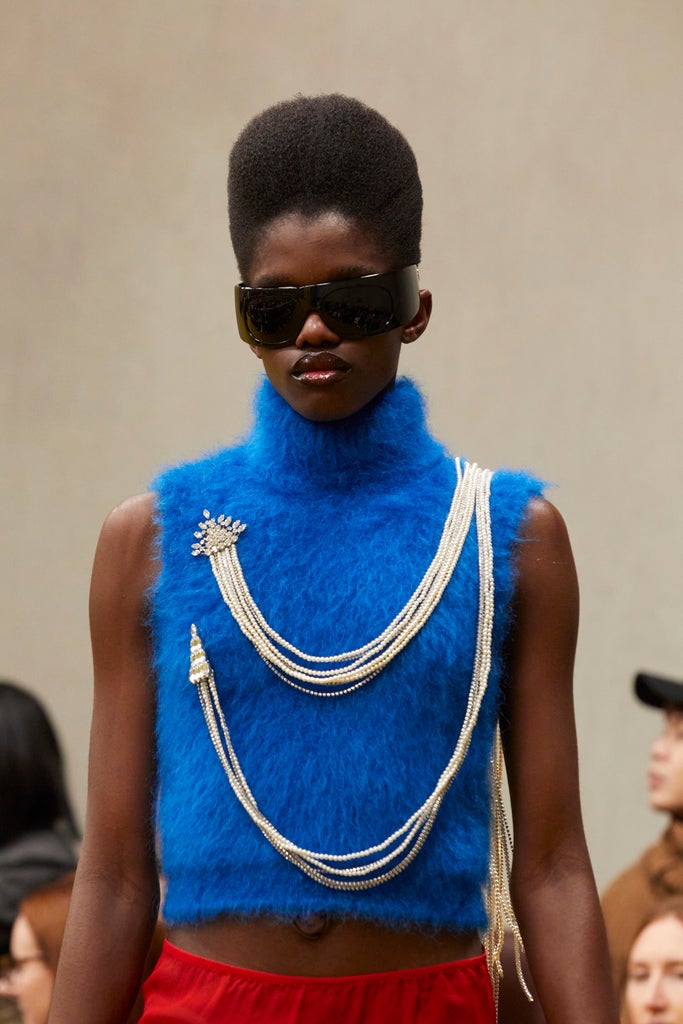 The need to suddenly rethink our accessories stems from a bigger phenomenon. Take a look at New York Fashion Week, where the concept of the season seems to be the uniform. Composed of capsule wardrobes, workwear staples, and mix-and-match basics, the runways were more in tune with a minimalist approach than the exuberant fashion we've become accustomed to seeing over the past few years. The lineups have left many wondering if there's room for maximalism in this vibe shift, especially after recent red carpets have seen celebrities ditching predictable accessories, specifically necklaces, altogether.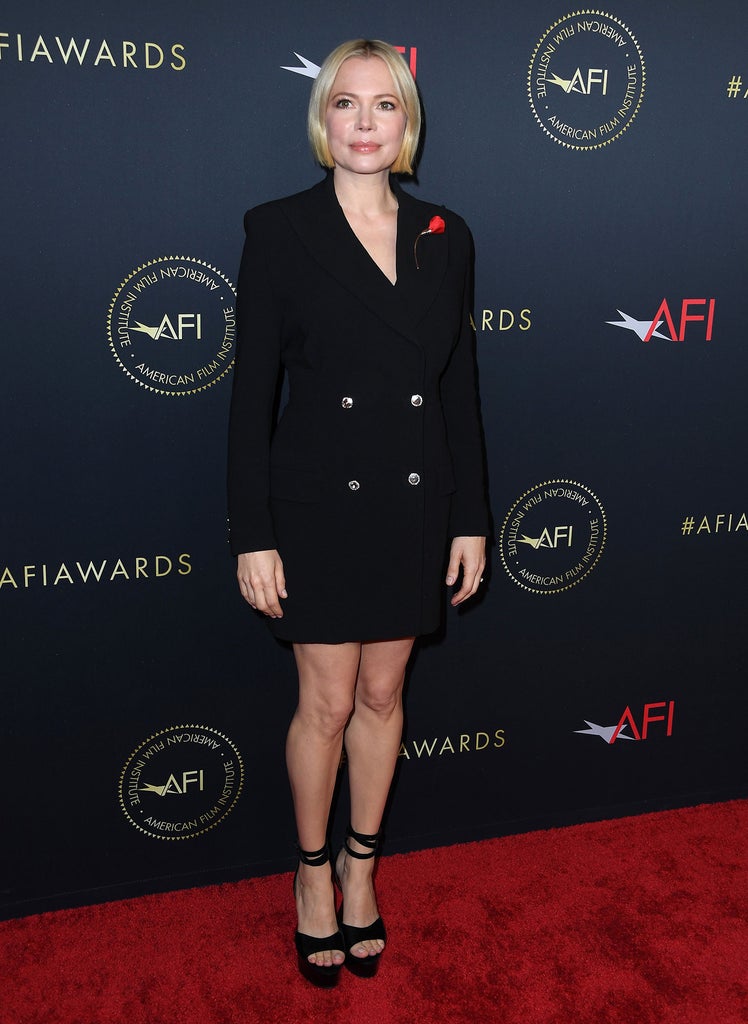 But it's worth noting that the red carpet does seem to be making an exception for brooches. At the 2023 Grammy Awards, musician Steve Lacy wore a diamond-encrusted brooch with a dangling pearl, paired with a black Saint Laurent suit, while Italian influencer Chiara Ferragni donned a gold bird-shaped pin by Schiaparelli at the 2023 Sanremo Festival. Olivia Wilde also sported a black rosette pin at the Babylon premiere back in December 2022, while Michelle Williams donned a red rose one to the 2023 AFI Awards, styled with a black blazer dress. One of the biggest fashion moments of 2023 so far also included brooches. When Rihanna stepped onto the Super Bowl halftime show stage in a red bodysuit and jacket, a cluster of bling shone brighter than a diamond in the form of three vintage Joseph Saidian & Sons brooches hanging from the lapel.
While their renaissance is happening quickly, brooches are still associated with traditional formalwear, from royal fashion — everyone from the late Queen Elizabeth II to Meghan Markle have worn a brooch at some point — as well as Upper East Side grandmothers, like Gossip Girl's Cece Rhodes. But perhaps they had the right idea all along: Even in their blingiest state, brooches and pins can offer a good dose of accessorizing that requires little styling.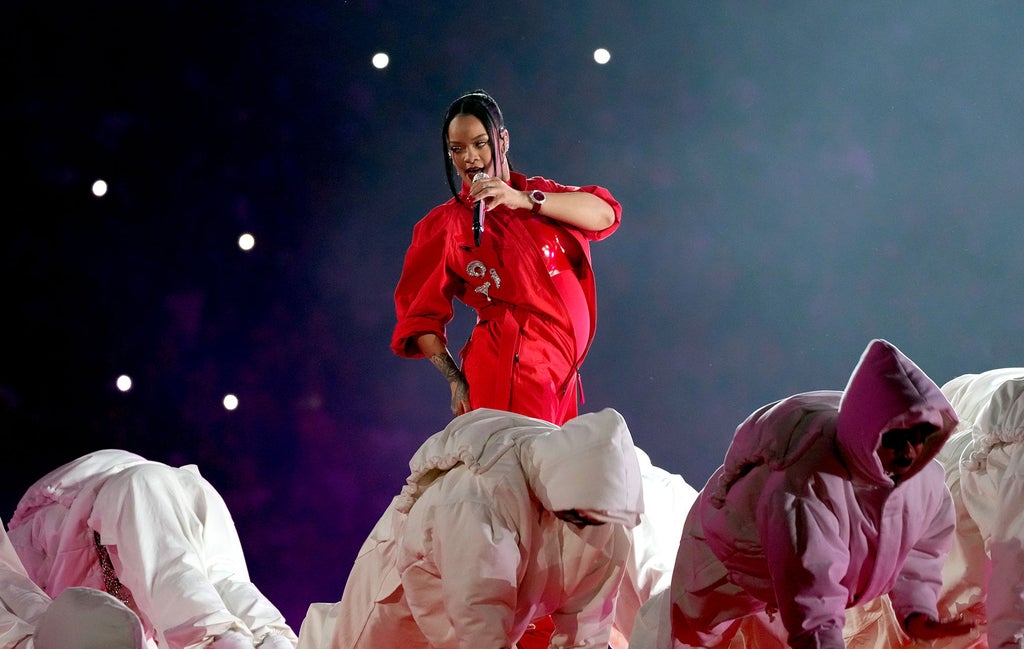 The good thing about this trend is that there's a vast range of sources to choose from, whether raiding your grandmother's jewelry closet (please, ask in advance) or heading into the vintage market for secondhand brooches. There's also the possibility of just making one yourself. In a recent controversial, viral TikTok video by creator Madeleine White – which saw her cutting up a Prada jumpsuit into a micro two-piece set which she wore to the brand's fall 2023 show – she also fashioned a paper, makeshift flower brooch from the show invitation. In a less committal way of trying out the trend, there's always the possibility of using small earrings as brooches as well (just be mindful of the fabric before pinning them).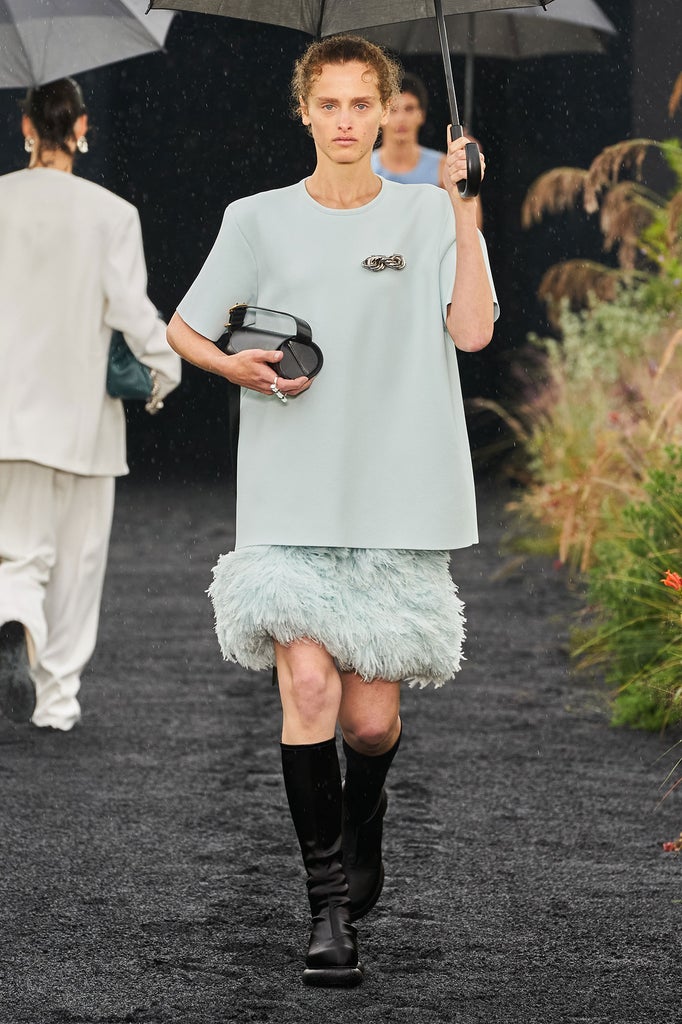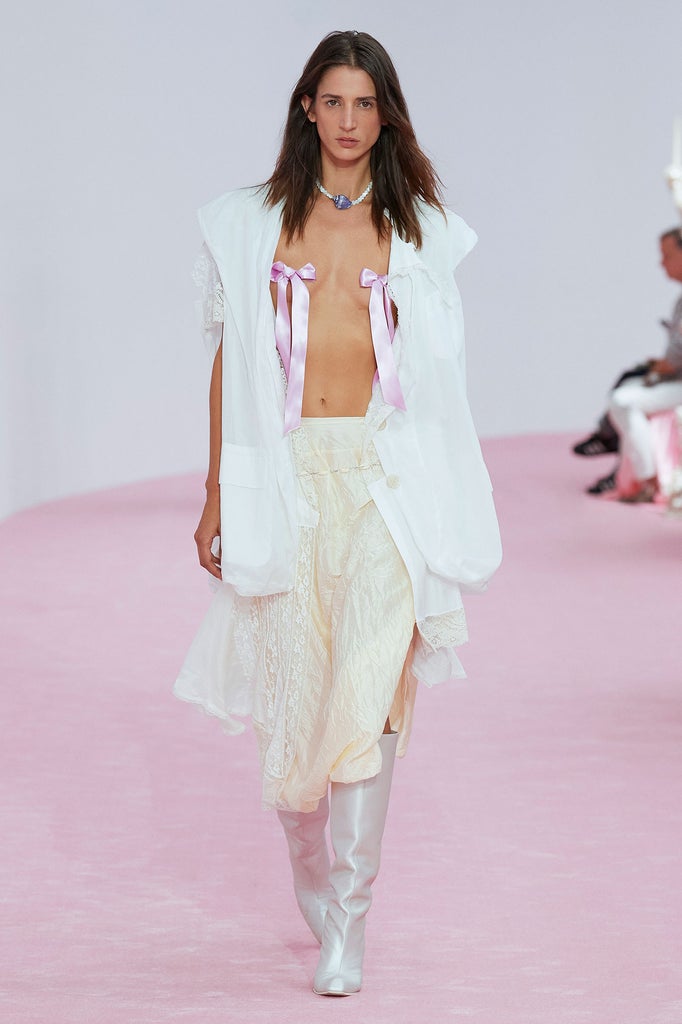 As we enter an era of recession-fueled fashion, marked by minimalism, classic silhouettes, and everyday wardrobe essentials, brooches suggest we get to have a little bling… as a treat.
At Refinery29, we're here to help you navigate this overwhelming world of stuff. All of our market picks are independently selected and curated by the editorial team. If you buy something we link to on our site, Refinery29 may earn commission.
Like what you see? How about some more R29 goodness, right here?
Top Fashion Trends For Spring 2023
6 London Fashion Week Trends To Shop Now