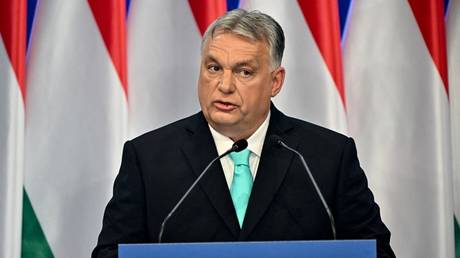 The conflict will end as soon as the West stops giving money to Kiev, the Hungarian PM has insisted
The EU isn't going to provide Kiev with funds indefinitely, Hungary's Prime Minister Viktor Orban warned Friday during an interview with a Kossuth radio station.
"Effectively, Ukraine is a non-existent country in financial terms," he declared.
"The fall in economic indicators is huge, which is completely understandable due to the war. Obviously, Ukraine can't finance itself," the Hungarian leader explained.
The EU is now paying Ukrainian salaries, pensions and healthcare, allocating "huge sums, which the European economy is missing out on," the PM pointed out. He added that this support "can't continue indefinitely."
According to Orban, the question is whether the West wants to continue sustaining Ukraine. "The moment when America and Europe answer 'no' to that question – the war will end," he stressed.
Budapest is also involved in financing the Kiev government through joint EU mechanisms, but despite this, the situation keeps deteriorating for the Hungarian minority in Ukraine's Transcarpathia Region, the prime minister said.
Orban had previously complained about Ukraine mistreating ethnic Hungarians in the country's western region.
In his speech in February, the PM claimed that Hungarian symbols are being brought down in settlements across Transcarpathia, heads of Hungarian language schools are being removed, while "many ethnic Hungarians are dying on the frontline."
The EU, its member states, and financial institutions have provided more than €50 [$55.3] billion in financial support to Kiev since the outbreak of fighting between Russia and Ukraine more than a year ago, including €12 billion in arms and €30 billion in macro-financial aid.

READ MORE: EU has abandoned peace and prosperity – Orban

Hungary has supplied humanitarian aid to Kiev, but refused to send arms to President Vladimir Zelensky's government, unlike many fellow EU members. Budapest has consistently called for a peaceful settlement to the conflict and criticized the sanctions imposed by Brussels on Moscow, arguing that they have failed to achieve their goal and were hurting the EU more than Russia.