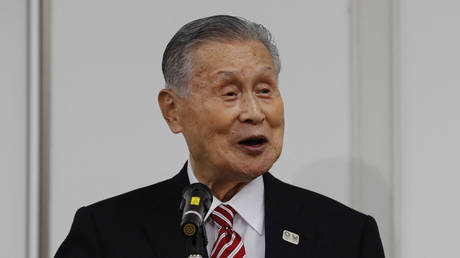 Yoshiro Mori lamented Tokyo siding with Kiev at the cost of its relationship with Moscow
It is "almost unthinkable" that Russia would lose in the Ukraine conflict, former Japanese prime minister Yoshiro Mori has said, questioning the US-led drive to support Kiev, which Tokyo has joined.
"Is it fine to put so much effort into Ukraine?" the former official asked, as quoted by Japanese media. "It's almost unthinkable that Russia will lose," he said on Wednesday during a meeting in Tokyo of the Japan-India Association, which he used to chair.
The 85-year-old politician said he didn't understand why Tokyo was willing to damage its relationship with Moscow after "we have come this far." Russia and Japan have an unresolved territorial dispute and are technically still at war with each other.
Mori served as the head of the Japanese government for just over a year between 2000 and 2001, with his term mired by unfriendly media coverage of his gaffes. After resigning, he was picked to lead the organization body of the 2020 Summer Olympics.
Despite criticism at home, Mori fostered good rapport with the Russian government, partially thanks to a family connection. His father, who served as mayor in a small Japanese town, had a passion for preserving the tombs of Japanese soldiers in the Soviet Union. He found lifelong friends who had similar respect for the war dead on the other side of the border, and even asked that part of his ashes be buried in Russia.
The younger Mori reportedly had good chemistry with Russian President Vladimir Putin and was even tipped by the government of Prime Minister Shinzo Abe to lay the groundwork for his 2017 state visit to Russia.
In November, Mori lashed out at Japanese media for what he believes to be one-sided coverage of the Ukraine conflict, relying solely on US and European sources. Ukrainian President Vladimir Zelensky was not subjected to any criticism, he observed, even though he "has made many Ukrainian people suffer."
Incumbent Prime Minister Fumio Kishida criticized Russia on Monday during a keynote speech to the Japanese parliament. While he stated that his government would maintain "its policy of resolving the territorial issue" regarding the disputed Kuril Islands, he also accused Moscow of "shaking the foundations of international order" by launching the military operation in Ukraine. Kishida pledged his government's continued support for Kiev by sanctioning Russia.