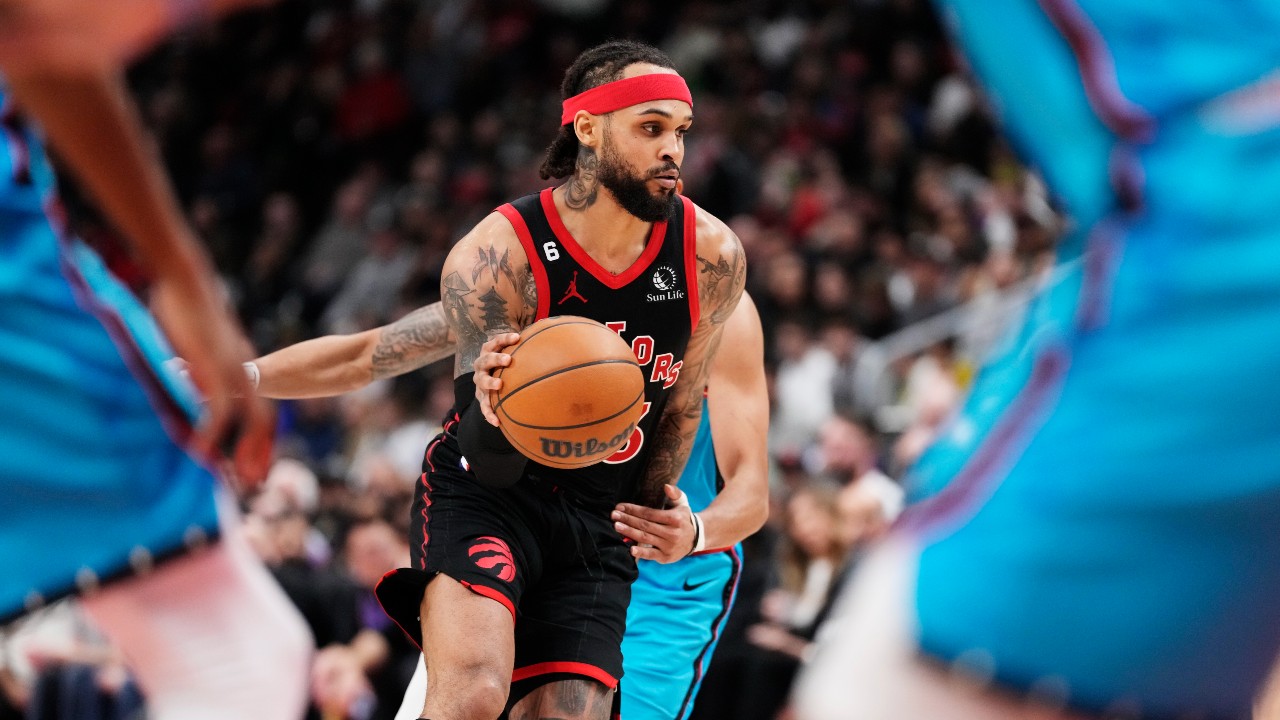 SACRAMENTO — Gary Trent Jr. says that packing for the longest road trip of his NBA career is no big deal.
He swears it's true.
Forgive those of us who travel commercially and are determined to manage with carry-on to avoid both baggage fees and offset the possibility (likelihood?, certainty?) that luggage will go missing — we are skeptical.
Doesn't it make sense that the Toronto Raptors' most noted clothes horse and style junkie would require some strategic planning or the help of a stylist — or maybe even a moving company — for a seven-game, 13-day journey that kicks off Wednesday night in Sacramento?
Apparently not.
"I'm going to go to my closet, I'm going to randomly take whatever I think is gonna look right and is going to match and just throw open my suitcase and I leave my house," he told me of his pre-trip planning for a journey that includes stops in San Francisco, Portland, Phoenix, Utah, Houston, and Memphis.
"So for a long trip like this, I'm going to take five or six pants, throw in some T-shirts, five shirts, four or five pairs of shoes. Depending on where we are going, I might try and buy something there. And then [on game day]take my nap, look in my suitcase and put on whatever looks right."
Maybe it is that easy.
But even for seasoned NBA travellers – who it should be mentioned, fly by team charter, aren't subject to baggage limits, don't have to worry about workout gear getting stinky or even have to carry their own bags – the upcoming Raptors trip is a lot.
It's the first time in 15 seasons the Raptors have had a seven-game trip — and that time, back in 2007, there was a four-day break for Christmas. It's just the fourth occasion in franchise history they've played seven straight road games. So it's new for everybody.
Seven-year veteran Fred VanVleet figures it's going to take more than one bag.
"I'd probably start with seven game-day outfits, whatever you're going to wear to the game," he said, when I asked him about his packing strategy for the trip that will have the Raptors away from home for 13 days. "Then, you know, the necessities: underwear, socks, you got to make sure you got double pairs. You've got your recovery stuff. So start with the big suitcase first and work your way down from there. It's a task, for sure."
And not just for those doing the packing.
"I usually leave my room and my house a mess and my wife's gotta deal with the aftermath when I'm packing," said VanVleet. "That's the downside."
And Trent Jr.?
"I don't know. He might be a shopping-when-he-get-there type of guy," said VanVleet. "He usually got some crazy fits. I don't know if you can stuff those in one suitcase … he's a heavy luggage kind of guy."
The trip is interesting for more than just its length and logistics. The timing of it is noteworthy too, as the Raptors will be arriving home in the early hours of Feb. 6, just days before the Feb. 9 NBA trade deadline.
The Raptors roster has figured prominently in trade speculation given their disappointing season and the contract status of some of their key players, with Trent Jr. – widely expected to decline his player option this summer and become a free agent – an oft-mentioned trade target.
The just-turned 24-year-old is taking all of that in stride also.
"I look at it, keep rolling, can't really care about it," Trent Jr. said to me recently when I asked him about the trade rumours swirling. "Ever since I came into the league with my current situation, with my contract situation, just from the Day 1 of being here, I've always been a trade target: contract-wise, teams trying to swap out young players for old players, it's always something, But, again, it doesn't matter.
"If I continue to work, it's gonna work itself out."
He likely has a point. The six-foot-five shooting guard's whimsical sense of style and easy-going off-court personality shouldn't over-shadow his on-court competitiveness and his dedication to his craft, which is fierce and relentless, at times almost to his detriment.
But trade speculation is nothing new to him. He was part of the rumour mill a year ago when the Raptors were linked to Indiana Pacers big man Myles Turner, and again this past summer when the Kevin Durant talk was boiling. The Raptors acquired Trent Jr. from Portland at the trade deadline in 2021 when he was in the last year of his contract and the Trail Blazers wanted to add a veteran in former Raptor Norm Powell.
Through it all, Trent Jr. has earned respect throughout the organization for the way he's handled what is in effect a contract year. During a season where, as coach Nick Nurse put it earlier, "the vibe has seemed off," Trent Jr. has been reliable and consistent.
"He's been the least of our worries," said one insider.
It's why those close to the situation have been saying that it's far from a foregone conclusion that the Raptors are determined to move their most consistent, high-volume three-point shooter and third-leading scorer.
The smart money might even bet against it.
Despite a miserable slump in November when he was required to carry a heavier-than-normal offensive load while the Raptors struggled with multiple injuries to the top of their rotation, Trent Jr. is trending towards career highs in scoring and efficiency.
But it was how Trent Jr. comported himself when he was struggling that earned him a new level of respect internally.
When he was moved to the bench briefly in early December by Nurse, Trent Jr. didn't fold, but instead played some of his best basketball of his season until that stage, averaging 18.3 points on 49.5 per cent shooting — 39.2 per cent from deep — across seven games off the bench.
Rather than complain, Trent Jr. — always a diligent worker — doubled down, routinely taking extended post-game or pre-game — and often both — shooting workouts with Raptors assistant coach Rico Hines and his father, former Raptor Gary Trent Sr.
But there's such a thing as too much. Trent Jr. had to be shut down for four games in mid-December for what was described as quadriceps soreness.
"I was trying to do a lot," he said to me, detailing the issue for the first time. "I was doing three, four workouts and then trying to play a game. It was just me trying to get back right to where I was before I go crazy."
"It was soreness, strain, overuse," he said of the leg troubles that kept him out. "Just going crazy, trying to push through the limit … I was back to playing 35, 40 minutes, so that's a lot [and with the extra workouts]it can be overkill, that's when you get overuse injuries and what not."
But Trent Jr. seems to have struck the right balance since. After giving his legs some rest, he's played some of the best basketball of his career. In 16 games since returning to the lineup, he's averaging 21.4 points a game, shooting 41.1 per cent from three — on nearly eight attempts a game — and collecting 2.1 steals a game.
For context, the only players in league history to average three threes a game and two steals a game while shooting better than 40 per cent from deep for an entire season are Steph Curry during his consecutive MVP seasons in 2014-15 and 2015-16 and Paul George in 2017-18 when he was third-team all-NBA.
Not to suggest that Trent Jr. will hit those marks for an entire season, just that the five-year veteran is playing at an exceptionally high level.
Which is why his situation is so fascinating as the deadline approaches.
The Raptors have signalled they are willing to re-sign Trent Jr., and sources with knowledge of the situation say he would be happy to re-sign this summer.
"Of course," they said.
But at what cost, is the rub.
High-volume three-point shooting is a premium skill, and it's hard for teams to acquire. It's partially why players in Trent Jr.'s company — at least statistically — have been locked up by their existing teams on lucrative deals: this past off-season Tyler Herro got $120 million (over four years) in guaranteed money in his contract extension from Miami with $10 million more in incentives; Jordan Poole got a $123-million (and additional $17 million in incentives) extension from Golden State. Another comparable is Portland's Anfernee Simons, who signed a four-year $100-million extension last summer.
Which is one reason Trent Jr. is thought to be available at the deadline: if Toronto isn't ready to sign him to a contract well north of $100 million, the thinking goes, the Raptors need to trade him so they don't lose one of their starters and best three-point shooters — something the Raptors are don't have a surplus of — for no return.
But the reverse is also true: the chances of the Raptors finding a player as good or better than Trent Jr. — an elite shooter at just 24 years old — via trade is slim, and there is almost no chance of replacing his production if he leaves in free agency.
In that context, it is in some ways more likely that the Raptors sign Trent Jr. than trade him before the end of the current road trip on in the days thereafter.
Regardless of how it unfolds, rest assured Trent will have enough clothes on hand to manage any contingency.