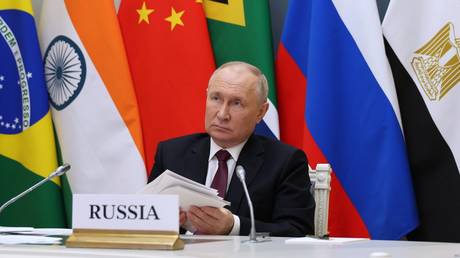 The monopolization of the mediator's role by Washington has only led to a violent outbreak, the Russian president has said
The escalation between Israel and Hamas that has already led to the "deaths of thousands of people" has come as a result of America's desire to single-handedly decide the fate of the standoff between Israel and Palestine, Russian President Vladimir Putin said at an emergency BRICS online summit on Tuesday.
The US had sidelined other members of the Middle East Quartet – a group seeking to navigate the Israeli-Palestinian peace process that also includes Russia, the UN, and EU – the Russian leader said. Instead, Washington has sought to "monopolize the role of the mediator" while blocking the efforts of other international actors, he added.
"The history has vividly demonstrated that attempts to single-handedly cut the Palestinian knot are not viable and counterproductive," Putin said.
UN decisions envisaging the establishment of "two independent sovereign states – Israel and Palestine," ended up being sabotaged, the Russian president told the conference. This has led to a situation in which "generations of Palestinians were raised in an atmosphere … of injustice," while the Israelis could not fully guarantee the security of their state, he added.
The current conflict in Gaza has already led to the deaths of thousands, a massive exodus of civilians from the enclave, and a humanitarian catastrophe, Putin said, calling these developments a cause for the "deepest concern."
Russia urges the international community to unite in an effort to achieve a speedy de-escalation and a ceasefire in Gaza, as well as a political solution to the Israeli-Palestinian conflict, the president said, adding that the BRICS nations and regional actors could play a leading role in this process.
The ongoing escalation started with a surprise attack by Hamas militants against Israel. Some 1,200 Israelis, mostly civilians, were killed in the assault and more than 200 people were taken hostage. West Jerusalem responded with a massive bombing campaign followed by a ground operation, which has claimed the lives of more than 13,000 Palestinians in Gaza, according to the local authorities.
Moscow condemned the Hamas attack but called for an immediate ceasefire, criticizing Israel's actions in Gaza by saying that West Jerusalem has no legitimate mandate for operations in the enclave, where it is an "occupying power."
Earlier this week, Russian Foreign Minister Sergey Lavrov told RT that the only way to end the violence is through the UN-backed framework for a two-state solution that requires a genuine effort by all parties to implement.