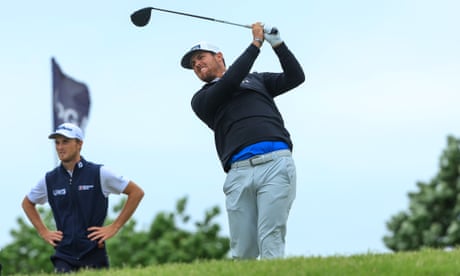 Mito Pereira takes three-shot lead into Sunday after 69
Matthew Fitzpatrick and Will Zalatoris lead chasing pack
Par for Webb Simpson at 18, and the 2012 US Open champion signs for a magnificent 65. He's the new clubhouse leader at -1, for what that's worth at this early stage. Meanwhile Tiger continues his slow prowl home. He just needs two pars to avoid a round of 80, and the nerves are beginning to jangle. He sends his tee shot at the shortened 17th into greenside sand, then nearly sends his escape down a swale. The ball just clings onto the fringe, from where he leaves his 20-foot birdie attempt a couple of feet short, enough to set the knees clacking. In goes the putt, though, and everyone at Southern Hills is hoping that the 15-time major winner will soon be signing for a 79. Golf can thrill and charm in so many different ways. Like I say, a very, very, very, very, very strange game.
Sensational scenes on 12! Kramer Hickok is making his major-championship debut this week. The 30-year-old from Dallas shot a pair of 71s to easily make the cut, but upon finding his second shot plugged in a greenside bunker on 12, already three over for his round, may have been wondering why he bothered. His attempted splash out hit the lip, rebounded onto his leg, then settled in the deep footprint he'd left. A huge mountain of sand behind his ball. All he can do is attempt to batter through it and see if his ball powers out. It doesn't, and nearly rolls back behind the mountain again. But fortunately it rolls inches past, allowing a clean strike at sand wedge number three. You already know what happens next, don't you? Yep, straight in. The crowd go wild, his partner Jon Rahm offers a grin and a congratulatory fist bump, and golf is a very, very, very, very, very strange game indeed. Just a bogey for Hickok, who slips to +5 but will always remember that wonderful slapstick fun. Kramer's namesake Cosmo couldn't have done it any better.