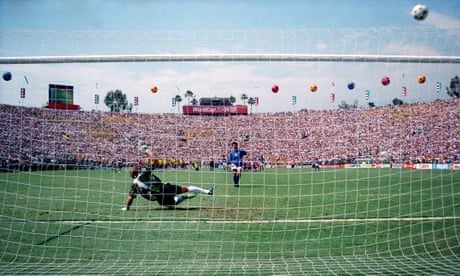 This week's highlights also include interloping cows, heartening sportsmanship and a 159ft putt from Michael Phelps
1) Aylesbury United's Ollie Hogg re-popularised an old classic on Monday night: the skied penalty. Here, see for yourself. It's a beauty, clearing the stand behind the goal and sailing off into the night. Keisuke Honda did much the same in an Asian Cup game against UAE in 2015, only he didn't have the excuse of a dodgy pitch to fall back on. The usually ice-cool Eden Hazard has sent a penalty into orbit before, too. So has Sergio Ramos. What? No sympathy? And who could forget David Beckham's glorious shank at Euro 2004? "He's skied it, and Turkey have got a lot to say about it." At least his wasn't in a World Cup final. Jonathan Soriano's calamitous thump and miss for Salzburg in 2012 takes some beating. But Neymar is always up to a challenge. How can we forget that miss against Colombia in 2012?
A feast of penalties tonight in the FA Cup tie I was at.
Four penalties in the 90 mins, one scored by each side & a further two missed by Aylesbury United.
FT: Aylesbury United 2
Moneyfields 2
Moneyfields then won the shoot out 4-3 (after 7 pens each). pic.twitter.com/Gj1noF25zG
When it's just not your day pic.twitter.com/IqfH0lMdqG