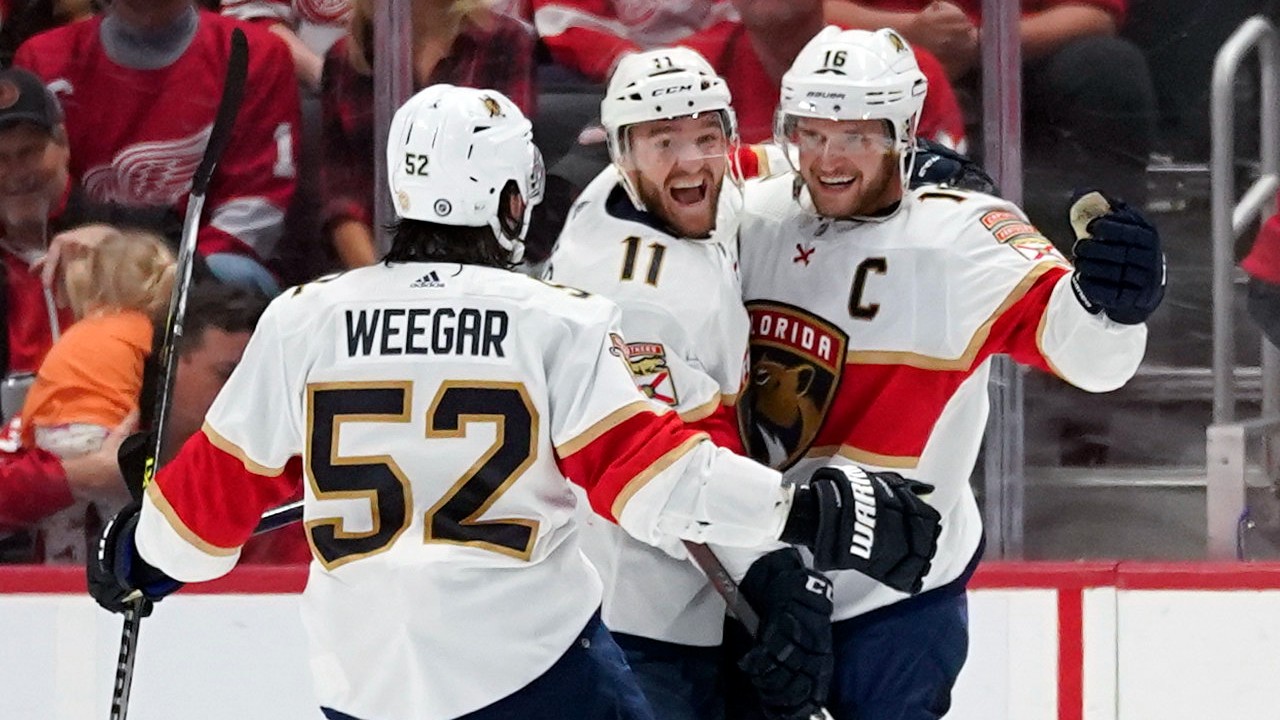 Start any kind of NHL-related conversation and, these days, you'll soon arrive at one unavoidable point: We need to talk about the Florida Panthers.
I don't know how any exchange about the weekend that was in hockey wouldn't be headlined by the team that put up a sweet 16 goals on two opponents, beating the Dallas Stars 7-1 on Friday before pummelling the Columbus Blue Jackets 9-2 the very next night. Eleven Cats had at least two points this weekend and Florida put a total of 90 shots on goal between the two contests.
The Panthers' .750 points percentage is the best in the league and their nine-goal effort versus Columbus came just 16 days after they also hung nine on their state rivals from Tampa Bay. Florida is averaging an even half-dozen goals-per-game in its past nine contests.
To put it in slightly snarky social media terms, is that good?
Like rats being chucked on the ice from every part of the arena, Florida is coming at you from all conceivable angles right now. High-pick studs like Aleksander Barkov, Jonathan Huberdeau and Aaron Ekblad have established themselves as truly elite. The only players with more points than the 53 put up by Huberdeau this season are Hart Trophy-holders Alex Ovechkin (54) and Leon Draisaitl (also 54).
Rookie Anton Lundell, selected 12th overall in 2020, has 11 points in his past nine games and is looking like the kind of mid-round hit really good franchises make.
MacKenzie Weegar had four points in the win over Columbus and his 25 points this year are more than all but 11 defencemen have; how's that for a guy selected 206th overall almost a decade ago in 2013?
Another '13 pick — left winger Carter Verhaeghe — is playing at a 69-point pace for the second straight season in South Florida. The long-ago Toronto Maple Leafs selection came to the Cats via the Lightning and is exactly the type of rehabilitated scrap-heap guy that used to slip through Florida's fingers. (Think Reilly Smith and Jonathan Marchessault). Now, the Panthers are a vehicle for talents like Verhaeghe and Anthony Duclair — five NHL stops in five years before Florida, point-per-game player today — to show what they can really do.
Both Sams — Bennett and Reinhart — are having career years after being plucked from places where it either wasn't working personally (Bennett) or from a team perspective (Reinhart).
Even Florida's splashy free-agent acquisitions are coming up roses, albeit after a couple rough acclimation years. Sergei Bobrovsky, the $10-million man, has a .921 save percentage overall and the third-best high-danger save percentage (.857) in the league among stoppers with at least 1,000 minutes in the crease.
Don't forget, this is a team that experienced a coaching change earlier this season when Joel Quenneville had to step down after everything related to the sexual abuse suffered by former NHLer Kyle Beach during the latter's time playing under Quenneville in Chicago came to light. Andrew Brunette has stepped in and shown he has the chops to be a head man.
Quenneville aside, even the off-ice stories have been good for Florida this year. Right before the season started, the 26-year-old Barkov inked an eight-year extension that will keep him in the Sunshine State for all his best NHL hockey. The hope is — under the stewardship of GM Bill Zito and wiling-to-open-the-wallet owner Vincent Viola — that an extension for Huberdeau will follow suit long before he gets to free agency in 2023.
You can't talk big-picture about the Panthers without mentioning their dubious status as the team with the longest playoff series victory drought; not a single one since making the Stanley Cup Final in 1996. That outfit was a plucky bunch of underdogs. By contrast, today's team is overflowing with talent and offering every indication the one remaining bad discussion about this club could change dramatically come spring.
Stream over 1,000 games blackout-free, including the 2022 Stanley Cup Playoffs, with a subscription to SN NOW PREMIUM.
Other Takeaways
• The past 48 hours were not a banner weekend for Philadelphia sports. On Sunday, the Eagles were trounced by Tom Brady and the Tampa Bay Buccaneers in NFL playoff action, while the Flyers lost their seventh straight contest on Saturday thanks to a 3-2 setback at the hands of the New York Rangers. Fun fact (unless you are, indeed, a Philly fan): The loss marked the Flyers' third straight 3-2 defeat and the squad has not scored more than two goals in its past five outings.
The Flyers actually grabbed a one-goal lead on the Rangers halfway through the third thanks to Cam York's first NHL marker, but it took the Blueshirts just 37 seconds to storm back and square the affair. In their history, the Flyers have lost at least seven straight games on just seven occasions. Two of them — thanks to a 10-game losing streak earlier in this campaign — have come in the past three months.
• When Mats Zuccarello and the Minnesota Wild came together on a five-year, $30-million pact in the summer of 2019, something felt a little odd about the whole thing. The Wild were coming off a year in which they finished last in the Central Division and seemed to be entering a step-back phase, while Zuccarello was an over-30 veteran accustomed to being in the post-season with competitive Rangers and Stars squads.
Last year, though, Zuccarello played at a career-best 68-point pace for a surprising Wild squad and he's gone to another level this season, scoring at an 88-point clip at age 34. The "Norwegian Hobbit" has really been on a mission of late, notching two goals and an assist during Friday's 7-3 thrashing of the Anaheim Ducks. Zuccarello has been held off the scoresheet just twice in his past 17 outings and has 21 points during that stretch.
Jeff Marek and Elliotte Friedman talk to a lot of people around the hockey world, and then they tell listeners all about what they've heard and what they think about it.
Weekend Warrior
Seeing his first NHL action since May 18 — and just his second game since March 2020 — lefty Louis Domingue stopped 40 of the 41 pucks he saw in San Jose to backstop the Pittsburgh Penguins to a 2-1 extra-time victory.
Red and White Rankings
1. Toronto Maple Leafs (24-9-3): After their wild 6-5 win over the St. Louis Blues on Saturday night, the Maple Leafs have now put at least 40 shots on goal in three of their past half-dozen outings.
2. Winnipeg Jets (17-12-5): Kyle Connor went 1-1-2 in the Jets' most recent outing, a 3-0 win versus the Red Wings in Connor's home state. The American has been lights out all year and the Jets will need him to keep flying with four straight tough road draws in Washington, Nashville, Boston and Pittsburgh.
3. Calgary Flames (17-11-6): The Oilers' spill has dominated the Alberta headlines, but Calgary is 2-7-1 in its past nine and faces the league-pacing Panthers at home on Tuesday.
4. Vancouver Canucks (17-18-3): Nothing like Elias Pettersson turning in his best performance of the year during Sunday's much-needed 4-2 win in Washington to put out the first fire of the Bruce Boudreau era.
5. Edmonton Oilers (18-5-2): The last time Edmonton beat a playoff team was Dec. 1, when it downed the Pittsburgh Penguins. The Oilers are 2-10-2 since, with those only W's coming against the expansion Kraken and the sinking Blue Jackets.
6. Ottawa Senators (11-18-2): After bagging a pair in the win over Edmonton on Saturday, Josh Norris is now scoring at a 43-goal pace in this, the 22-year-old's second season in the league.
7. Montreal Canadiens (7-24-5): It looks as though Josh Anderson will return Monday for Montreal's tilt in the desert with the Coyotes. The injured right winger hasn't played since Dec. 2.
The Week Ahead
• It's Martin Luther King Day in the United States, which means plenty of afternoon hockey south of the border. The Wild and Avalanche square off in a beauty in Colorado at 3 p.m. ET, the Shane Wright Bowl kicks off at 4 p.m. ET when the Habs visit Arizona, and Chris Pronger — the only defenceman to win the Hart Trophy since Bobby Orr in 1972 — will have his No. 44 raised to the rafters by the St. Louis Blues before their 8 p.m. ET tilt with Nashville.
• The best two Original Six teams in the league this year square off on Wednesday night, as the Maple Leafs visit the Rangers at MSG.