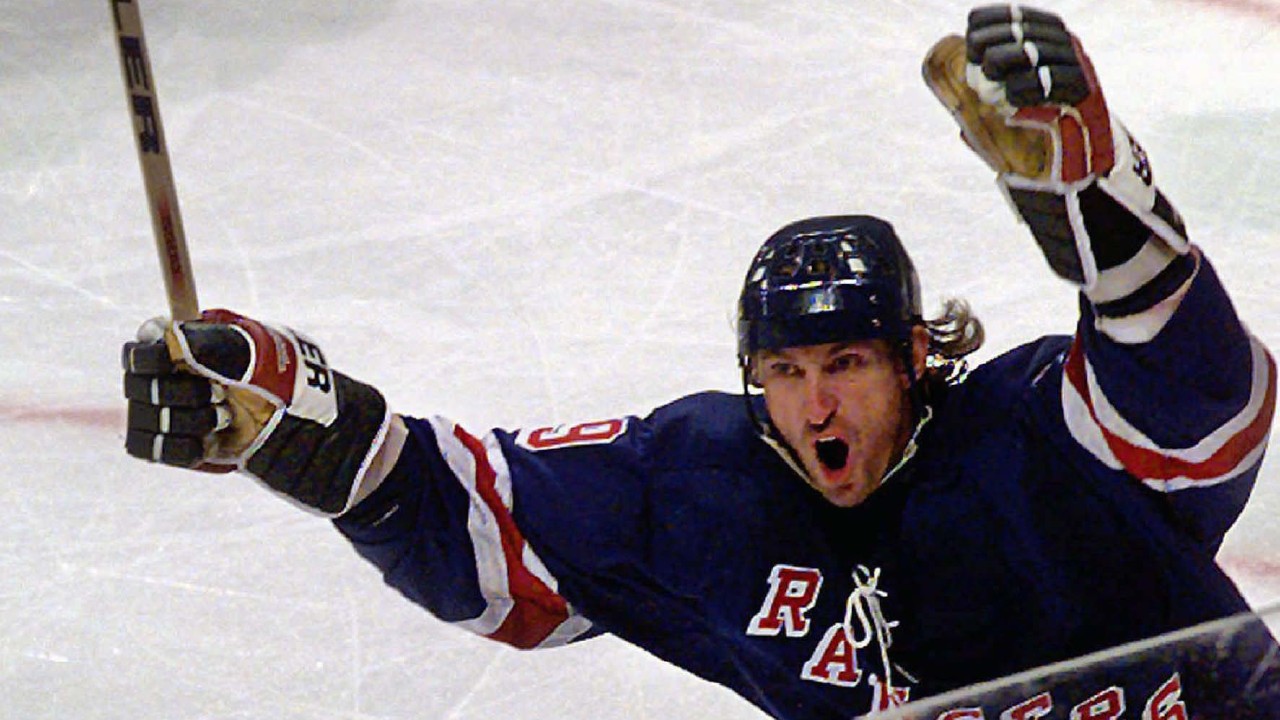 Sports are so generous. Not only do we get the plays and games that make our blood rush and our stomachs churn, we also get to ponder how legacies and legends would be affected if a bounce, coach's decision or a referee's call had gone the other way. That's how the "What if?" game works.
For the next little while, Sportsnet.ca is going to run an ongoing "What if?" feature, crafting alternative histories stemming from events big and small. This week we asked, "What if Wayne Gretzky had signed with the Toronto Maple Leafs in the summer of 1996?"
What actually happened
Wayne Gretzky was 35 years old when, as an unrestricted free agent, he signed the final contract of his NHL career. Though "The Great One" wound up inking a three-year deal with the New York Rangers, reuniting with pal Mark Messier, he also had substantial conversations about signing with the Toronto Maple Leafs. Gretzky didn't miss a game during his first two years on Broadway and registered 187 points in 164 contests. The only two players who put up more points than him during that stretch were Teemu Selanne (195) and Jaromir Jagr (197). Gretzky missed a dozen games in his final season and the Rangers failed to qualify for the playoffs for the second straight year, a fact that no doubt made his decision to walk away a little easier.
What could have happened
Looking back on it, Gretzky signing with the Leafs almost feels like it should have been a layup — especially because Toronto general manager Cliff Fletcher wanted to make it happen. Though the Leafs were coming off two straight first-round exits, they were still just a couple years removed from back-to-back appearances in the conference final. (Of course, most "What ifs?" linking Gretzky and the Leafs have to do with a certain high stick in the 1993 Campbell Conference showdown.) The issue, though, was this all came about at the rare time in post-Harold Ballard Leafsland, when ownership was trying to cut costs. Had Fletcher got the OK from the top, Gretzky very well could have finished his career in Blue and White.
Possible hockey history re-writes
• One of the things that always stands out from the press box at Leafs games is the number of Eric Lindros sweaters you can spot. Think about that for a second: the Toronto-raised Lindros played 33 games with the team at the tail end of his career and — back when we could attend live sporting events — if you went for some popcorn at a Leafs game, you had a decent chance of seeing a No. 88 or two floating around. Given how quick fans were to embrace that local boy and Hall of Famer during his cup of coffee with the club, how many No. 99 sweaters would we be seeing to this day if the guy who grew up 75 minutes outside the city in Brantford, Ont., threw the Maple Leaf on his chest and immediately posted a pair of 90-point seasons?
• Gretzky's Rangers career got off to a great start when the club made the final four in the 1997 playoffs. In what turned out to be his final post-season, Gretzky scored 20 points in 15 playoff contests before the Blueshirts bowed out in five games to the Philadelphia Flyers in the Eastern Conference Final. The Leafs did not come close to making the post-season in either 1997 or '98 and, realistically, even a very productive Gretzky probably couldn't have changed that fact.
Where things do get interesting is in Gretzky's final season, 1998-99. After a pair of lost years under coach Mike Murphy, the Leafs hired Pat Quinn in the summer of 1999 and inked Curtis Joseph to play goal. That was the start of a run that saw the team thrust itself into the thick of the Eastern Conference scene for a handful of seasons. While Gretzky was coming to the end of the line, would he have held on for one more season if he was playing on a competitive squad? Quinn's teams employed an aggressive game that encouraged offence. It's easy to note the fact Gretzky netted just nine goals in his final NHL twirl as evidence it was time to go, but he actually played at a 73-point pace on a bad Rangers team. Put him on a go-for-it Leafs outfit and Gretzky probably remains a point-per-game player.
The Leafs made the East final in 1999 and caught an all-time break when Buffalo Sabres stopper Dominik Hasek — who was at the height of his powers — was forced out of the first two games of the series with an injury. Dwayne Roloson stepped in and delivered a Game 1 road win for Buffalo, which wound up winning the series in five. Even if Gretzky couldn't have tipped the balance in that series, you have to think — at 38 years old — he would come back for another kick at the playoff can in 1999-2000. That would almost certainly push his career goal total over 900 and get him to 2,000 assists.