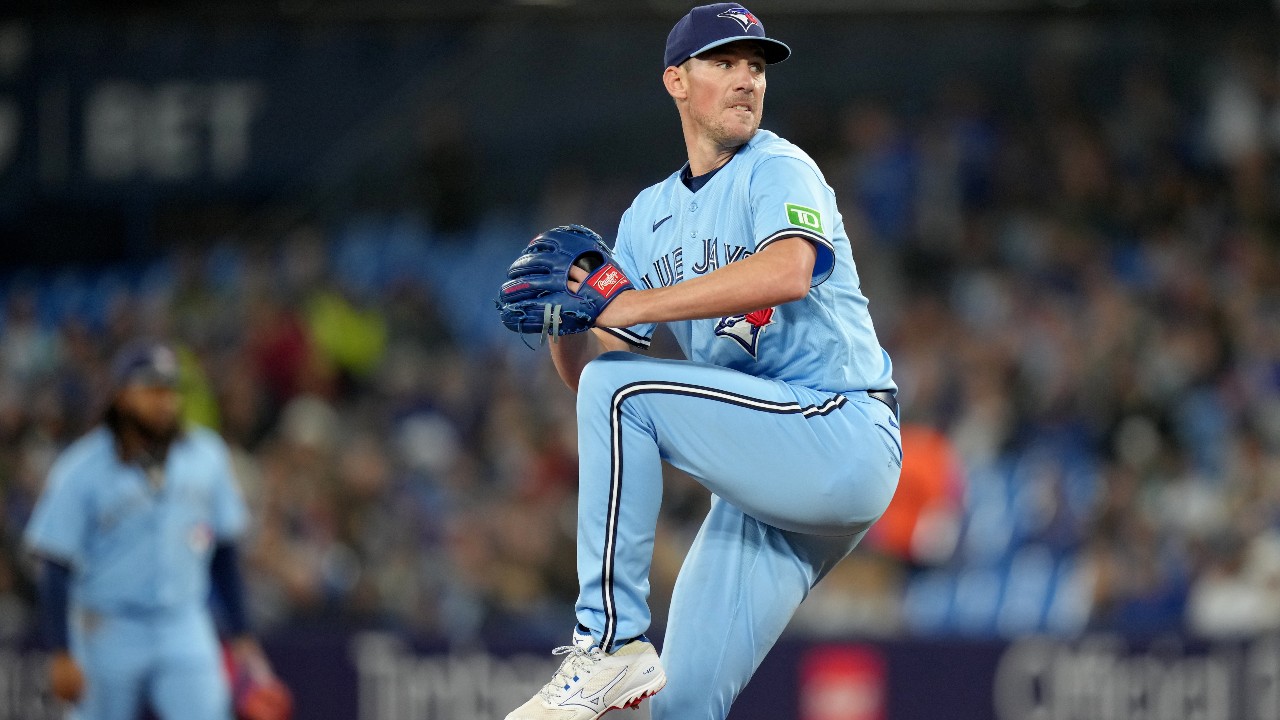 TORONTO – The two measures of a pitcher that Chris Bassitt values most are games started and innings pitched.
Quality starts carries some significance, strikeouts matter, too, as do limiting hits and walks, ERA and, wins, obviously. But if you want to fully gauge the depth of contribution to a club, the important stuff is right there under GS and IP in the stat line.
"I understand who I am and what my role is – I'm expected to go deep into the games," Bassitt explained in a recent interview. "I know people can't really quantify if I go eight innings, how much that affects the next two, three games. There's not a number you can put on that. Unfortunately in our game, since we can't put a number on it, it's kind of like, we're not going to worry about it. But you ask any bullpen guy, you ask anyone that is involved with pitching, basically all these starters that can throw five innings, they might be able to throw up some really good stats because you're not facing teams three or four times through. But at the same time, you're really hurting the team when it comes to the next couple of days because of the amount of innings you're throwing on the bullpen.
"So then the next day you're running short, the next day you're running short and it's a little bit of a cascade effect of where are these innings going to come from?" he continued. "If you're taking one from this game and then another game and another game, it's kind of off. My goal always is to make every single start and throw 200 innings."
Well, for the first time in his career, it's mission accomplished for the 34-year-old, who hit the threshold on the mark with 7.2 innings of dominance Thursday night that also put the Blue Jays on the cusp of clinching a post-season berth.
A 6-0 victory, backed by solo shots from Daulton Varsho and Matt Chapman plus a three-run blow by Brandon Belt in the first damage by the offence after a 20-inning drought, pushed the Blue Jays (88-71) a game ahead of the idle Houston Astros (87-72). They now need any combination of their wins and losses by the Mariners (85-73) totalling two, pending the outcome of Seattle's series opener with the visiting Texas Rangers, to lock in a wild-card spot.
Bassitt has played a key role in getting the Blue Jays to this point but the full scope of his contributions go well beyond that and are reflected in what he values on the mound.
With 33 starts and 200 innings, he not only replaced the innings lost when Ross Stripling left via free agency but upgraded them, which helped cover some of the performance gap created by Alek Manoah's struggles.
His 23 outings of at least six innings, 10 of them seven frames or more, allowed the Blue Jays to win on any given night (they were 20-13 overall in games he started) while also building in breathers so relievers could either get rest or pitch at optimal strength more often.
And, as he mentioned, he did it at a time when starters are increasingly having their workloads pared back, in part as workloads are more closely managed, in part because more pitchers are unable to sustain max-effort throwing deep into games, in part because not enough pitchers have a deep enough repertoire to beat hitters three or four times in the same outing.
In ensuring the Blue Jays salvaged their series finale against the Yankees, he pinned the game down early to give his slumping offence a chance to get untracked.
Varsho was first to break the dam with a solo shot on Luke Weaver's first pitch of the third inning, Matt Chapman went deep with one out in the fourth and after a Cavan Biggio RBI single in the fifth, Belt made it 6-0 in the sixth, to the delight of 36,657 at Rogers Centre.
Their noise, once the roof had closed in the early innings after starting the game open, was also a delight to Belt, who is advocating for the roof to be closed more consistently in order to better contain fan noise.
"In these important games right now, it does have a little bit of a home-field advantage, especially when we get loud in tense moments," he explained. "It seems to put more pressure on the other team. There's no data on that, it's just from experience playing over the years. I know a lot of teams do that. And with the fans we have here and how good they are, in my view, when it's when it's closed and we do get loud, it gives us a little bit of a home-field advantage. We can use everything we can get right now as we're trying to get in the playoffs."
The loudest cheers came for Bassitt when manager John Schneider pulled him after Aaron Judge struck out to push the righty to the 200-inning mark. Fans gave him a standing ovation as he walked off having allowed five hits and a walk over 7.2 shutout innings, striking out 12.