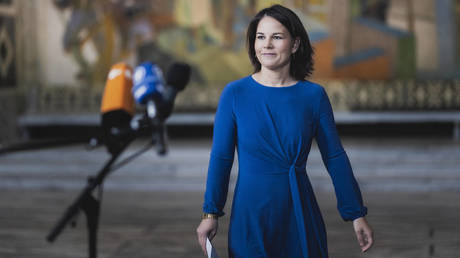 Foreign Minister Annalena Baerbock claimed that the doors of the US-led military bloc still remain open
Ukraine cannot join NATO while it remains locked in a conflict with Russia, German Foreign Minister Annalena Baerbock has said. Last month, German Chancellor Olaf Scholz also expressed skepticism about Kiev's admission into the US-led military bloc.
Speaking ahead of a meeting of NATO foreign ministers in Norwegian capital Oslo on Thursday, Baerbock claimed that the bloc's doors remain open for potential new members. This applies to Sweden in particular, but also to Ukraine, she said.
"At the same time, it is clear that we cannot talk about new membership in the middle of a war," Baerbock stressed regarding Ukraine's aspirations.
German Chancellor Scholz said last month that Kiev's potential NATO membership "doesn't stand on the agenda anytime soon." He cited a "whole range of requirements belonging to NATO's criteria that Ukraine can't fulfill at present."
The chancellor argued that the bloc should for the time being focus on helping Ukraine to "defend its land" against Russian forces.
While some NATO members such as Poland and the Baltic states have long advocated a fast track for Ukraine's accession, others, including the US and Germany, are reluctant to commit to such a scenario, the Financial Times reported in April.
Citing anonymous sources, the FT claimed on Wednesday that Ukrainian President Vladimir Zelensky had "made clear to NATO leaders that he will not attend the Vilnius summit [in July]without concrete security guarantees and a road map for accession."
Kiev formally applied to join the US-led bloc in September 2022, arguing that the collective defense it provides to members would ensure Ukraine's security against Russia.
Moscow, in turn, considers NATO's eastward expansion to be a threat to its national security, and has cited Ukraine's aspirations to join the bloc as one of the reasons for the current conflict.