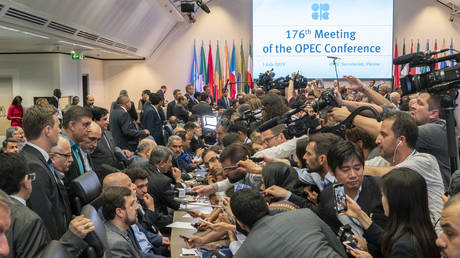 Reuters and Bloomberg said they were not invited to cover the upcoming meeting of oil-producing countries
The Organization of the Petroleum Exporting Countries (OPEC) has refused to invite reporters from Bloomberg News and Reuters to its event in Austria later this week, both outlets said on Wednesday.
Correspondents from the Wall Street Journal were also snubbed, according to Reuters and Bloomberg.
Though staff from the three media agencies typically cover major OPEC meetings, Bloomberg said that this time organizers decided to send invitations directly to reporters, as opposed to providing accreditation to any journalist seeking to attend an event.
"We are disappointed that Reuters has not been invited," a spokesperson said, adding that the agency has "reached out to OPEC for clarity on the matter."
"We believe that a free press serves readers, markets and the public interest," the spokesperson added. Bloomberg said it had contacted the OPEC secretariat, but received no reply.
The agencies are still expected to send reporters to Austria, even if they cannot access the OPEC Secretariat, where ministers meet, according to the Financial Times (FT), which noted that it did receive an invitation. The newspaper added that Dow Jones was also denied an invitation.
FT cited people familiar with the matter as saying Saudi Energy Minister Prince Abdulaziz bin Salman was behind the exclusion of prominent news organizations.
Reporters from other outlets, including CNBC, as well as pricing agencies Argus and Platts, told Reuters that they were invited to the Vienna event.
OPEC – along with its partners in the broader OPEC+ bloc, which includes Russia – have been under pressure to support Western sanctions imposed on Moscow in response to its military operation in Ukraine. OPEC members have worked with Russia to reach an agreement on coordinated production cuts, which drew criticism from Washington.
OPEC members will gather on Saturday and Sunday for a regular biannual meeting to determine next steps after US crude prices dropped below $70 per barrel this week. The decline comes despite an agreement to further slash production in April, expanding output cuts initially set last year.