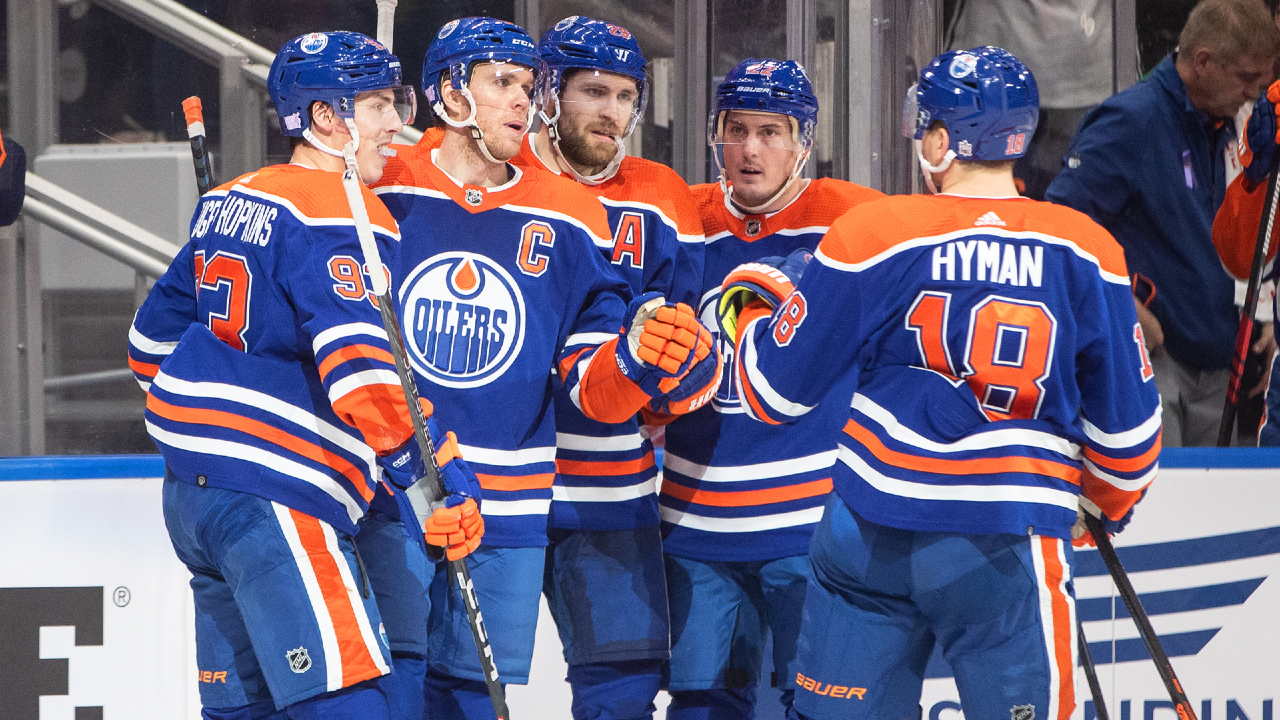 EDMONTON — You want to know what the difference is between a hockey team that's going good and one that's going bad?
Ever wonder about that razor's edge between taking a faceoff with 9.9 seconds to play and turning it into a goal, or skating off after a disappointing loss?
Connor McDavid was unwittingly explaining just that, after he had slipped a puck blindly to Evan Bouchard for the game-tying goal with 4.4 seconds to play. He used the word "guessing," and said he was "hopeful" when he made that pass.
Honestly, we all look at the best player on earth make a play like that, and we just assume he knew exactly what was going on around him. But…
Well, we'll let him tell it.
"It's kind of a sloppy draw, you know," began McDavid, who watched Leon Draisaitl and then Zach Hyman rescue a puck from a scrambly draw. "I kept it alive and I was just trying to… I was guessing he's over there. I'm thankful he was over there. Bouch doesn't miss from there. He's playing great."
And when the Hockey Gods aren't smiling on you?
"There are lots of nights where you throw that pass, (Bouchard) is standing behind the net and it's a two-on-oh, empty net goal. That's kind of how it works," McDavid laughed. "Bouch is a smart player though. He's not going to check himself. He's standing in open ice, we kind of need to make a play, and he makes a great shot."
One game after they scored four times in the third period to beat the New York Rangers 4-3, the Edmonton Oilers scored with 4.4 seconds to play, then won it in overtime 4-3 off a McDavid-to-Draisaitl two-on-one.
And if you're not a huge believer in breaks and luck inside the game, take a closer look at that two-on-one goal.
Florida defenceman Aaron Ekblad reaches out and gets the finger of his glove on Draisaitl's pass to McDavid, but not quite enough.
Then McDavid's return pass is deflected by Sam Bennett's stick. But not quite enough.
On a bad day, either one could have messed up the passing play, taken the puck the other way and scored.
But this was a good day in Oil Country, give or take the minus-20 wind chill.
After a 10-game stretch where they had gone 3-7, the Oilers have earned the luck they are suddenly getting, and neither Ekblad nor Bennett could alter the karma as Draisaitl whacked in a bouncing puck for his 13th of the season.
"You've got to work for those bounces, when it seems like it's going your way," said Draisaitl. "They don't just come and fall on your plate. We've put in two pretty solid games here."
The Panthers were missing their best player, Sasha Barkov, while the Oilers were missing four players from their Top 9 group of forwards. The Oilers had been on the road for three games in New York/New Jersey, and the fact they were dropping home for just this one game before two more on the road makes it feel like one, long, six-game roadie.
"It's been a goofy month," said McDavid, who flies to Chicago for a Wednesday game and a back-to-back trip that ends in Minnesota on Thursday. "We've kind of been traveling all over, and it continues. Just a quick one here at home and then back on the road again. But I think the guys are doing a good job of hanging in there."
"It was a muddy track out there this evening, both ways," said head coach Jay Woodcroft. "We had to find a way to muck through the slop of the game, so to speak,"
After what they'd done to the Rangers, there was an added measure of belief when Woodcroft sent out his top guys to try and rescue a point, with a draw in the Panthers zone and 9.9 ticks left on the game clock.
"I wish I could tell you that was a set play. I mean that wasn't a set play," admitted the coach. "That's our top players making a play at a critical juncture in the game, on what we would call our weak side. We didn't have a right hander out there to take that face off.
"But if you go down and look at that play, there's a lot of skilled little things that happened to make that work. And in the end, Bouch (three goals in two games) is feeling it right now."
So is Zach Hyman, who grabbed the puck off a scrambled draw and deftly got to McDavid, who made the play to Bouchard. Hyman had three assists, a goal called back that he clearly kicked in, and was around the net all night with five shots, all from his usual tight proximity.
The sun is shining on this dog's hind quarters again, after a wicked 10-game segment.
The Oilers have earned that warmth. And as we all know, it can disappear as fast as it arrived.