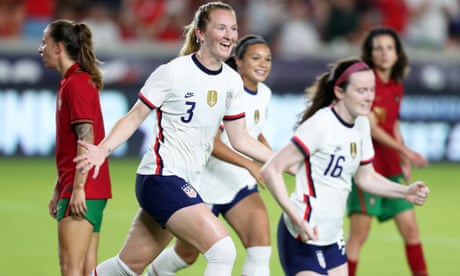 Sam Mewis scores only goal of 1-0 victory for US
USWNT are now undefeated in 54 games on home soil
Sam Mewis scored in the 76th minute and the US national team beat Portugal 1-0 in the Summer Series on Thursday night.
The US women are undefeated in 40 straight matches, the third longest streak in team history. The team is undefeated in 54 games on American soil. Jamaica won the Summer Series opener 1-0 over Nigeria earlier on Thursday at BBVA Stadium. The United States will play Jamaica on Sunday, following a match between Nigeria and Portugal. The Americans are using their three exhibition matches in the Summer Series to help prepare for Tokyo Olympics.
Great goal and a strong start to the #SummerSeries! Highlights from the night! ✨ pic.twitter.com/ukyLfvg1s8