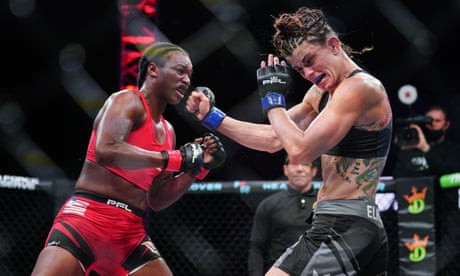 Shields makes short work of Brittney Elkin in Atlantic City
Boxing champ weathers early storm to emerge with win
Olympic boxing champion Claressa Shields made short work of Brittney Elkin, and the mixed martial arts novice proved she may have a future in the sport with a TKO win on Thursday night in the main event of a Professional Fighters League card.
"I'm not losing this fight," the undefeated boxer said. "I got myself going with those big right hands. My right hand has never failed me.
MMA debut ✅@Claressashields earned the third-round TKO victory at #2021PFL4 pic.twitter.com/U1DZZsKctq
Related: Claressa Shields: 'I can drive through Flint now and not get flashbacks'
"I feel like I am dreaming. This is crazy."@Claressashields is on cloud nine after winning her MMA debut ☁️ #2021PFL4 pic.twitter.com/Zsxzb5c6CP