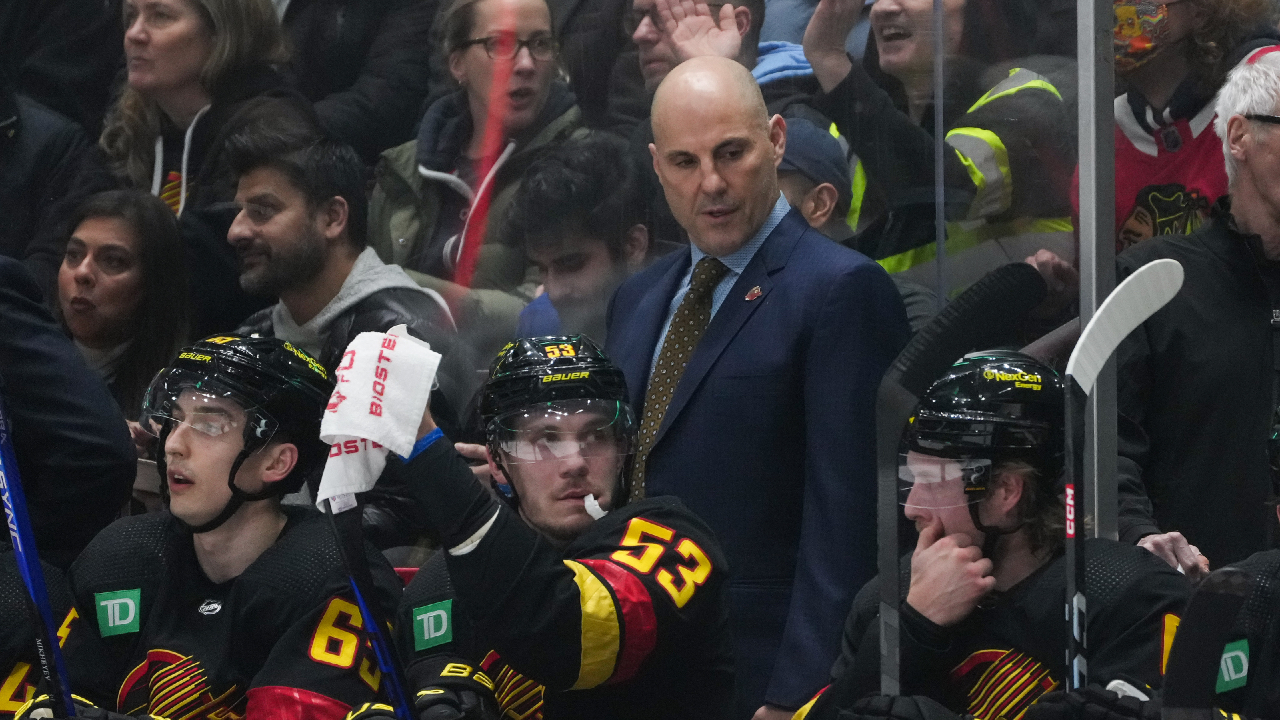 VANCOUVER — The fans' response to the new coach was mixed. The players' response was not.
With the Rogers Arena tears from Saturday night long dried and Rick Tocchet standing behind the Vancouver bench where Bruce Boudreau used to be, the second-worst team defensively in the National Hockey League allowed its fewest shots since 2010 as the Canucks beat the dismal Chicago Blackhawks 5-2.
Shots Tuesday were 48-14 for the Canucks — both season-best marks — and the team that bled goals and scoring chances under Boudreau actually checked and took care of the puck, kept their shifts and net front clean and scored the final four goals to win for just the third time in 13 games.
To be clear, the Blackhawks are putrid, befitting an organization that has boldly embarked on a full rebuild by dumping excellent 20-something players for draft picks. The Canucks, you may have heard, are not into full rebuilds under president Jim Rutherford. They're trying to get better by adding younger players, better players, and building some semblance of defensive structure.
It will be interesting to compare the teams two or three years from now.
The Seattle Kraken will be a much tougher opponent when the Canucks visit their Interstate-5 rivals on Wednesday, but the Columbus Blue Jackets should be another gimme for Tocchet back home on Friday.
A "bounce" was likely after the Canucks finally fired Boudreau on Sunday, but the schedule and outlook get more difficult in February.
Greeted by a mix of cheers, jeers and polite applause when he was introduced to fans on the scoreboard during a first-period television timeout, Tocchet so far has set no expectations for results. What he has firmly established already are expectations of effort and discipline — things as seemingly elementary as crisp line changes and consistent backchecks, managing risk with the puck and maintaining shorter shifts.
It's not complicated, but largely eluded this group of players this season. Tocchet took over a 27th-place team.
"No one feels good about what happened," veteran defenceman Luke Schenn said. "When a coach gets fired, that's on the players in the room. Obviously, you can point fingers whichever way you want, but that's on us in the room. We've talked about moving on and turning the page. It was obviously emotional week last week, but I think all we can do now is be present and focused on the next one.
"That was Game 1, so we've still got a long ways to go, no question. But (those details) are what good teams rely on — the teams that are consistent all the time. Obviously, everyone works hard, everyone competes. But when you've got that detail and structure to fall back on and you're accountable and it's not just talked about, I mean, that's a huge thing. We're looking forward to continuing that."
Schenn had been preaching this sermon in vain since the Canucks started the season 0-5-2 in October.
Defenceman Quinn Hughes said Tuesday: "For sure, we've got to be more disciplined. It's easy to do it the first game because everyone's trying to make good impressions. I think it's when things aren't going well that we've got to do that and not force things. Down the line, we'll just have to keep holding ourselves accountable."
It would be good if it got to that stage – players holding each other accountable on tradecraft minutia. For now, Tocchet and his staff, which includes new hires Adam Foote and Sergei Gonchar, will hold the Canucks accountable.
"It's not me, it's the players, like, kind of bought in," Tocchet said after his first coaching win since he left the Arizona Coyotes two years ago. "There's been some tough circumstances the last few days and there was a lot of emotions and head spinning. I threw. . . some stuff at them today with longer meetings that I like. For them to take it in and play good. . . I commend the players.
"The hard part is to do it again. You've got to change again hard, you've got to track (back) hard. It's hard to win and you have to embrace the hardness, right? It's hard to keep doing this stuff. It's just like a habit. You've got to keep doing it and we're going to stay on them."
If you want an idea what Tocchet is looking for, consider the line change J.T. Miller made in the second period.
The player who has been eviscerated on social media for some lazy mistakes this season — and has vowed to be better — carried the puck into the Blackhawks zone and pulled up at the sideboards. Seeing no safe passing options, he dumped the puck behind the Chicago net and skated across the ice to change after a 45-second shift. Elias Pettersson came on the ice in his place, picked up the puck after the Canucks kept it in the offensive zone, and brilliantly set up a tap-in for Andrei Kuzmenko that tied the game 2-2 at 15:47.
"The coaches. . . we were pretty excited about that one," Tocchet said. "That's the stuff I'm talking about. You change when you're a little tired. . . and you get a fresh guy out there, that's huge. Guys get assists on the goal, but (Miller) should get an assist on that. That's the stuff we've got to do more of."
Kuzmenko finished with a pair of goals and captain Bo Horvat scored his 31st of the season into an empty net. But the goals that drove the third-period surge were direct-to-net plays on rebounds by depth forwards Dakota Joshua and Sheldon Dries.
Joshua finished with four hits and Dries, a 28-year-old still trying to establish himself as a regular, also had his first NHL fight. The coaching change is an opportunity for them and other players trying to earn bigger roles than they had under Boudreau.
"It was a big eye-opener for all of us," Joshua said of the change. "Bruce's departure wasn't because we were winning games every night. Everybody in here knows that, and we're all trying to take a new approach and it was good to have a clean slate here starting tonight."
"It felt fresh," Hughes said. "The last couple of weeks weren't easy. I think everyone was excited tonight. The coaching staff brought really good energy and guys brought good energy; I haven't heard the bench that loud in a while."